Menu and Party Ideas
Wedding Taco Bar Recipes
These are recipes and stories from Cody and Chanté Howard's amazing wedding weekend in northeastern Arizona over Mother's Day Weekend in 2018. You may go to this LINK to see the complete taco bar with all the chopped toppings that are not included in this recipe list.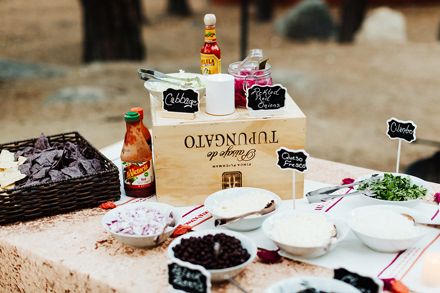 Photo courtesy of griffithimaging.com
Fillings:
Toppings:
Sides:
Signature Cocktails:
2022 Christmas Potluck Appetizer Party Menu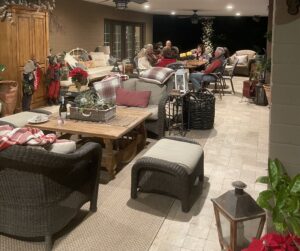 Tortilla Roll-up Christmas Tree with Salsa
Pickled Pepperoncini Deviled Eggs
Jalapeno-Cornbread Mini Muffins
Smoked Salmon Bites with Shallot Sauce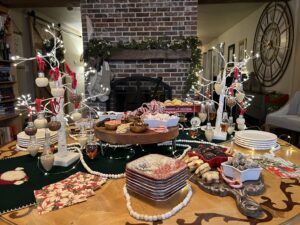 Friday the 13th Dinner Party Menu
We had an absolute ball at this "lucky/unlucky" themed dinner party. Initially, I was going to have a total of 13 attendees. But one of my BFF's, Anne, wasn't sure if she was going to be able to make it until the day before. She brought the headcount up to fourteen. Luckily, that worked for the theme too. You see, there are French socialites called Quatorziens (fourteeners), who are available to fill in as a 14th dinner guest to rescue the other 13 attendees from bad luck. President Franklin Delano Roosevelt also believed in this superstition and refused to have 13 guests at dinner parties.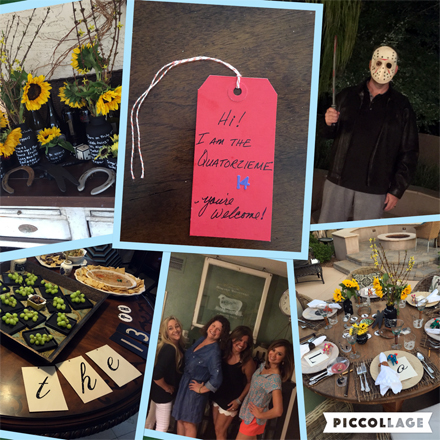 Garlic Confit & Chevre on Toasts
Long Noodles with Buttery Garlic Shrimp
Lentil Salad with Wild Mushrooms and Caramelized Onions
Grilled Marinated Bavette Steaks
Banana Cake with Boiled Brown Sugar Frosting
Roasted Strawberry & Toasted Coconut Cream Pops
Spring Reunion Menu
This is a fun dinner party I hosted for six. Our dear friends and former neighbors, Jonathan and Lori, were in town for a visit. Lori and Johnathan met our other wonderful friends, Steve and Tram, at Marissa's wedding, only 4 months earlier, and loved each other as much as we love all of them. So much so, that a couple of months after the wedding, Tram and I took a girls' trip to Chicago to visit and stay with Lori and Jonathan and had the time of our lives. So, of course, the dinner party was "a must" when they came to Arizona. Not only do you have the menu below but check out this LINK for the tablescape too.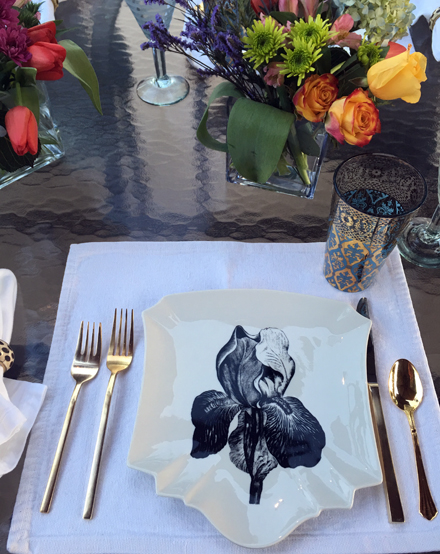 Fresh Fruit Smoked Salmon Spread
Layered Fruit and Mozzarella Salad
Grilled Chicken and Asparagus with Creamy Goat Cheese
Grilled Shrimp, Vegetable and Farro Salad
Holiday Potluck Cocktail Party
As I explain in the post about this party, for years I hosted a fun holiday party that all my friends loved and looked forward to. These recipes are from my resurrection of the theme when I hosted the party again in 2015. All of the recipes below are linked to my post about the party …. read about it and then scroll down the post to be linked to each individual recipe. Trust me, it'll all make perfect sense when you get there.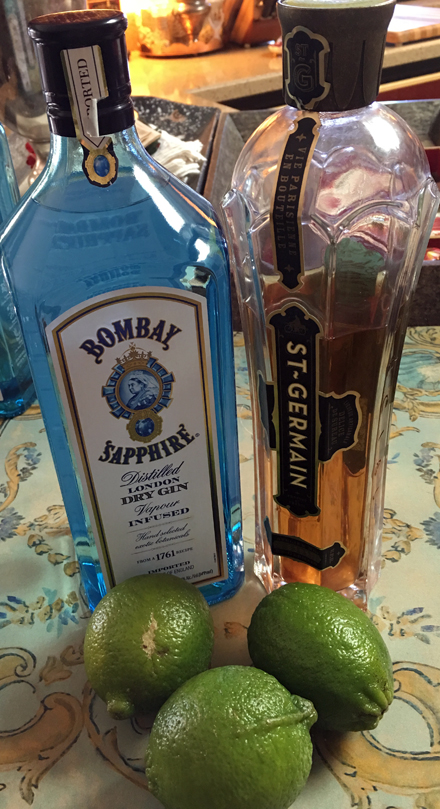 Creamy Sausage Stuffed Mushrooms
Parmesan Crusted Crab Cake Bites
Sweet Corn Cake Chorizo Poppers
5 Layer Greek Dip with Fresh Pita Wedges
Avocado Feta Cheese Orzo Salad
Book Page Bridal Shower
Two of my dear friends, Barb and Kim, along with my sister, Sloane, hosted a bridal shower for my darling daughter, Marissa. Marissa has always been an avid reader and has a long and ever-growing list of "must read" books. So, book pages was the theme. I worked on the theme and the decor, while the hostesses put on a scrumptious spread and provided us with a stunning venue. Here are the details from Marissa's May Bridal Shower.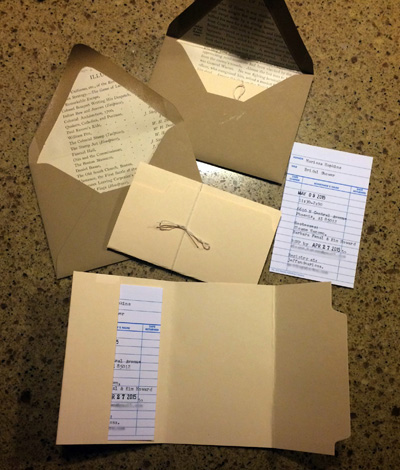 Invites and Book Page Table Runner
Vintage Book Succulent Planters
Clementine and Avocado Salad with Poblano Buttermilk Dressing
Asparagus and Roasted Red Bell Pepper Tart
Prosciutto, Fig & Mascarpone Bruschetta
Roasted Red Bell Pepper & Goat Cheese Bruschetta
Mozzarella, Tomato & Basil Bruschetta
Salty-Sweet Butterscotch Cookies
Chewy Double Chocolate Chip Cookies
"Milk Bottle" Coffee & Tea Bar Details
"Cocktails & Cupcakes" Bridal Shower
This menu is from Megan's Bridal Shower. Megan loves cupcakes and what goes better with cupcakes, lovely young women and a beautiful Arizona February after than cocktails? Yes, it was perfection!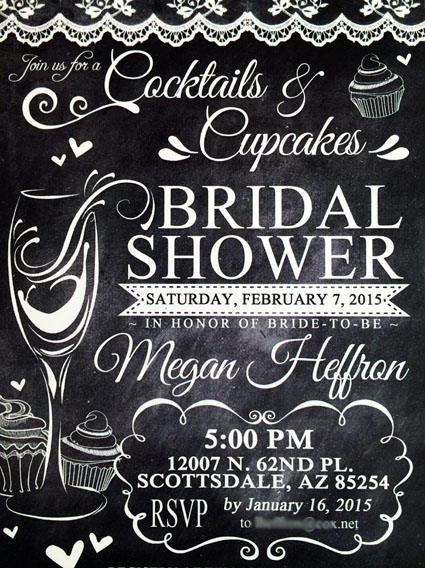 Korean-Style Meatballs with Sweet and Spicy Glaze
Mini-Lemon Cupcakes with Lemon Curd and Lemon Buttercream Frosting
Stout and Irish Whiskey Cupcakes with Bailey's Irish Cream Frosting
Wedding Day Bridal Party Lunch
My beautiful niece, Maureen, was married on New Year's Eve 2014 in Chicago. I prepared a lite lunch for the bride and her bridal party to enjoy while they were getting their hair and make-up done for the wedding. What an honor and a joy! This is the sort of party where a big neon sign would be perfect to pose in front of for all of those romantic wedding selfies. I didn't get one this time around, but somewhere like www.neonfilter.com has a huge range of custom neon signs that would be perfect for any couple's special day.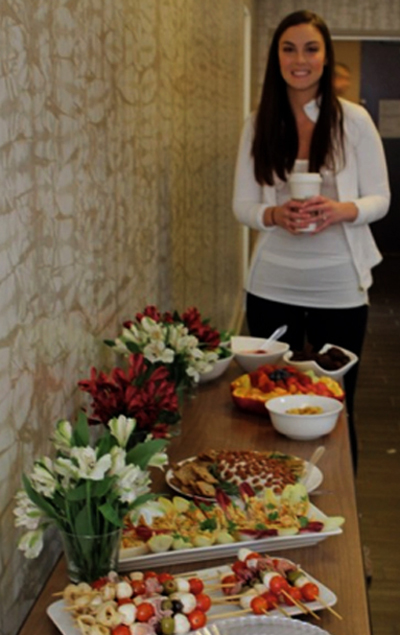 Raspberry Honey-Mustard Dip for Fruit & Crudites
Antipasti Kabobs
"Mad Men"

Cocktail Party
These are my top five "go to" hor 'd oeuvres which I use over and over again, along with an easy "group cocktail". Coincidentally, each is a sort of updated old-school cocktail favorite, hence, the "Man Men" reference. For the actual cocktails; a full bar is a must, plus a Signature Cocktail to get the party started. Have it ready to hand your guests, at the door, as they arrive. Say something like, "This first drink is on me, after that- you're on your own, the bar is right here, please help yourself!" I raise my martini to Don Draper and friends.
Lemon Mandarin Orange Champagne Cocktail
Peperoncini Peppers Stuffed with Smoked Salmon
European Dinner Party
This lovely dinner party was for just four of us. Since I don't enjoy or excel at baking, I didn't make a dessert. Instead, I bought a few little bites of sweets from Trader Joe's. If you'd like to add a dessert of your own, I'd suggest this very easy crème brûlée.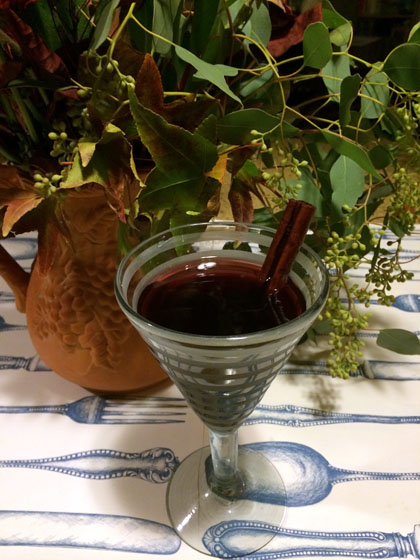 Spanish Tapas Plate with Marinated Chickpeas
Brussels Sprouts & Roasted Garlic Crostini
Bitter Greens Salad with Pomegranates & Parmesan
Lamb Shanks with Rustic Potato Topping
4th of July Pot-Luck Pool Party Menu
Here are a few fun, festive and fantastic menus for not only the 4th of July but any summer outdoor gathering!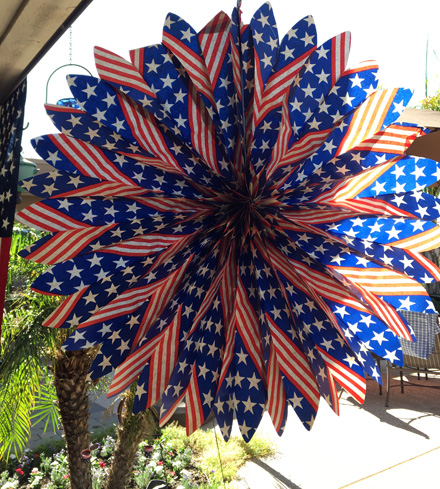 The 4th of July Decorations 2016
Watermelon, Basil & Blueberry Salad
Red White & Blue Berry & Burrata Salad
Grilled Corn on the Cob Three Ways
Slow Cooker Pulled Pork Sandwiches
All-American Berry-Cherry Flag Pie
Another Patriot Picnic Menu
Barbecued Chicken with Blueberry Bourbon Sauce
Succotash Salad with Creamy Basil Dressing
Creamy Dijon & Dill Potato Salad
Root Beer Baked Beans
Red, White, & Blue Trifle
Lazy Sunday Morning
If only every morning could be a Sunday morning, how sweet life would be! The big newspaper delivered to the driveway; complete with colored funnies pages. The relaxed attitude and laziness of the day. Are you old enough to remember when all businesses were closed on Sundays? It feels like 10 lifetimes ago, but it's true all the same. As a tribute to those "good old days" be sure to buy everything needed for this late morning breakfast a day or two beforehand, so you don't need to run out to the grocery store. Stay home, get the family to take part in the cooking, serving, and clean up. Then lounge around and read a book, play a card game, or watch the football on the tube.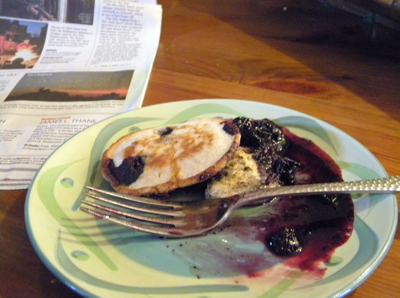 Juice, Coffee, and Mimosas
Pizza Party
When I think back on what pizza was to me when I was a kid… so much different than now! It wasn't until I was in 8th or 9th grade that we knew about "delivery" pizza. We never had homemade pizza; didn't even think about it and wouldn't have known where to begin even if we had. My only exposure to pizza when I was young, was every once in a while, after my brother's Little League baseball games. The whole team and their families would gather at a pizza parlor in Scottsdale on Hayden Road near Thomas or McDowell. This happened maybe once or twice a year, that was it for pizza in my life. How things have changed… during college and my own kids' younger lives, pizza was a mainstay, especially delivery pizza. Now, we forego the chain delivery and make our own. So much so, in fact, that the third post of this very blog was a full pizza menu, CLICK HERE to check that out! Here are some of our family favorites.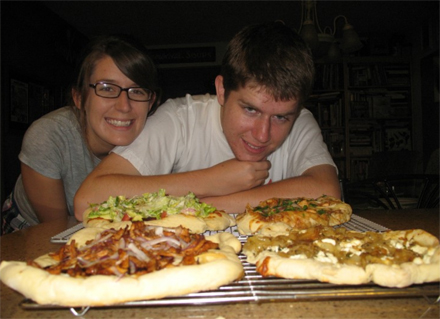 Romantic Dinner for Two
Honestly, a romantic dinner can consist of macaroni and cheese or spaghetti with meatballs, it all depends on the couple, the day, and the mood. But for a special occasion- plan ahead dinner, this one will fit the bill nicely. Beginning with a cool and calming martini, followed by a leisurely salad/tart combo. You could easily stop right there and go directly to the smooth, creamy, scrumptious chocolate dessert; or forge on with the full menu… you decide!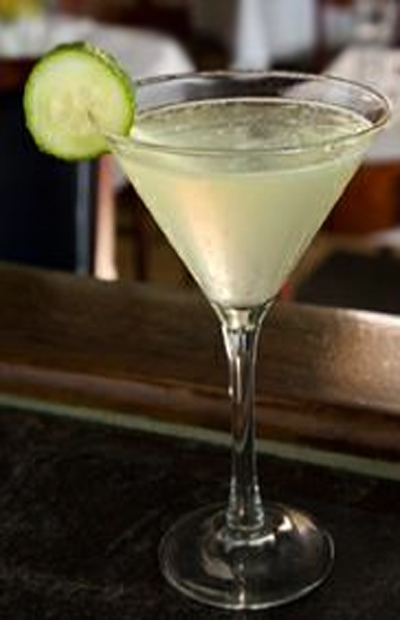 Artichoke and Olive Tart atop Mixed Greens
Pomegranate Molasses Lamb Chops atop buttery mashed potatoes
Haricots Verts with Roasted Tomato Vinaigrette
Chocolate Pudding, Old-Fashioned
This is such a fun "girl's night out" party idea. If you don't want to have to do all the cooking immediately after the big feast, dole out the recipe to some of your BFF's and ask them to be your co-hosts. It's a great way to get together with friends before the "holiday crunch time" really kicks in. Click on the party title above to get some cute decorating ideas too.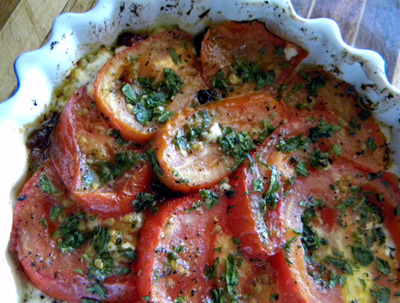 Hot Feta and Tomato Spread with Pita Chips
Potato, Parsnip, Pear, and Parmesan Shooters
Blue Cheese Marinated Mushrooms
Rustic Goat Cheese Tart with Caramelized Balsamic Onions
Feta Cheese, Roasted Red Pepper, and Pine Nut Dip
BEVERAGE IDEAS
Splits of Freixenet
Red and White Wine
This is a birthday party menu for a sit-down dinner for 30. "Over the Top" because of the rich menu and because you're going to need to have some deep pockets to pull it off.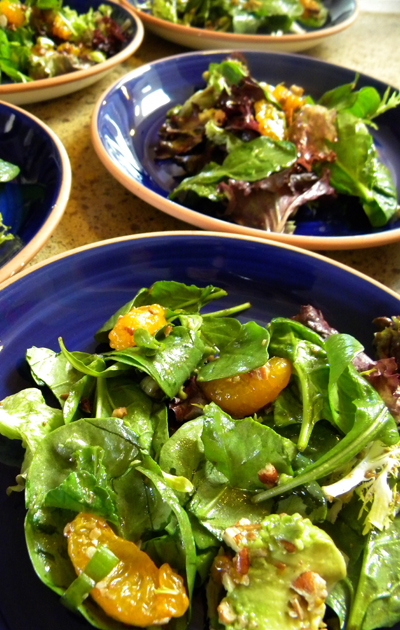 Avocado-Mandarin Orange Salad (x4)
Beef Tenderloin with Horseradish-Brandy Sauce (x3) and Brandied Mushrooms (x6)
Parmesan Roasted Asparagus (x5)
Balsamic Roasted Red Onions (x6)
Green Onion Parmesan Mashed Potatoes (x6)
Lemon "Nothing Bundt Cakes" birthday cake
Copyright 2001 – 2023 Les Petites Gourmettes

Save
Save
Save
Save
Save