Patriot Main Course
This is the final recipe from my Red, White & Blue holiday cooking class at Les Gourmettes. The summer provides three excellent chances to get together to celebrate our country; Memorial Day, Independence Day, and Labor Day. Invite friends over and enjoy!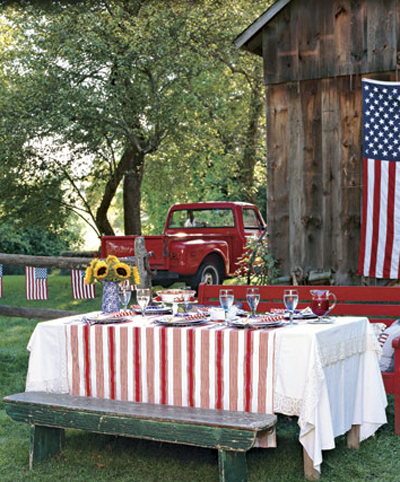 Image via Country Living
The ingredient list for this chicken dish is lengthy, but please don't let that scare you off. The marinade keeps the chicken juicy and is put together the night before.
The grill only needs to be manned for a few minutes, since the chicken is only "marked" on it… it is cooked through in the oven. This is a serious plus in Phoenix! The hottest 4th of July on record happened in 1989 when it reached 118°F. Manning a grill in that heat – no thank you! But if you live in a more moderate climate and you'd prefer to use the grill to cook the chicken through, that works too.
The BBQ sauce is sweet and tangy and is equally delicious and used with shrimp, beef, or pork. It is an absolute delight.
I doubled the recipe for class, so you'll notice I had to use two zip-lock bags to marinate in – the single recipe needs only one.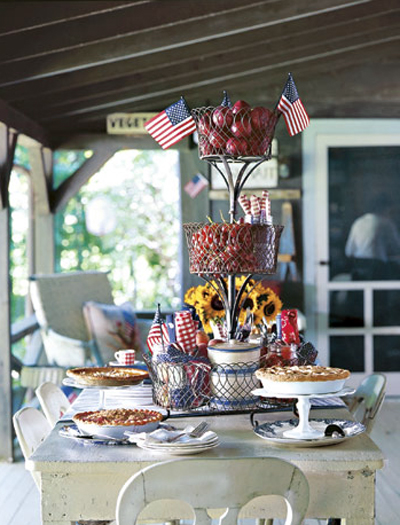 Image via Country Living
Patriot Picnic Menu
Barbecued Chicken with Blueberry Bourbon Sauce
Succotash Salad with Creamy Basil Dressing
Creamy Dijon & Dill Potato Salad
Root Beer Baked Beans
Red, White, & Blue Trifle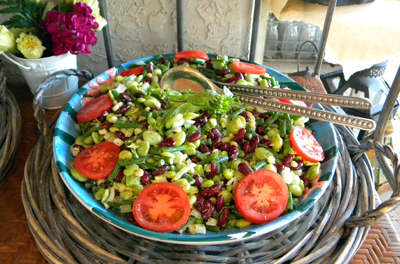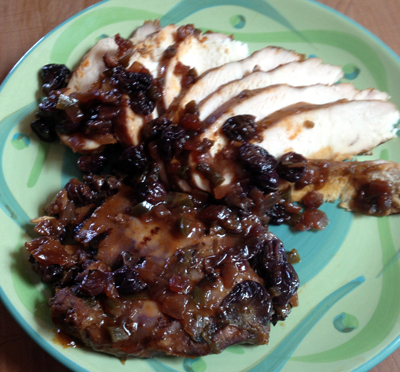 Barbecued Chicken with Blueberry Bourbon Sauce
Marinade
1/3 cup apple cider vinegar
1/3 cup honey
1/4 cup Worcestershire sauce
1/3 cup Dijon mustard
1/4 cup soy sauce
2 tablespoons olive oil
1 teaspoon onion salt
1 teaspoon garlic salt
1/4 teaspoon crushed red pepper flakes
4 boneless, skinless chicken breasts
8 boneless, skinless chicken thighs, trimmed of visible fat
Blueberry Bourbon Sauce
1 tablespoon olive oil
1 small red onion, peeled and diced
4 cloves garlic, peeled and minced
2 jalapenos, stemmed, seeded and minced
1/2 cup bourbon or whiskey
2 cups fresh blueberries
1/2 cup ketchup
1/3 cup apple cider vinegar
2 tablespoons packed brown sugar
1/4 teaspoon ground allspice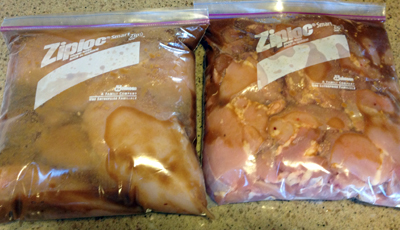 Marinade: Combine all the marinade ingredients in a gallon-size zip-lock bag.  Add the chicken pieces to the bag and marinate overnight in the refrigerator.
Sauce: Heat oil in a large saucepan over medium heat. Add onion and cook until tender, about 4 minutes. Add garlic and jalapeno and cook for 30 seconds.  Add bourbon, increase heat to high and bring to a boil; cook until most of the liquid has evaporated, about 5 minutes. Stir in blueberries, ketchup, vinegar, brown sugar, molasses, and allspice; return to a boil. Reduce the heat to a low simmer, stirring occasionally, until thickened, about 20 minutes.
Grill Chicken: Preheat oven to 375 degrees.  Also preheat the grill to medium heat.
Take the chicken out of the bag and place it on paper towels; discard the unused marinade. Pat the chicken dry with paper towels. Arrange the chicken pieces on the preheated grill and cook, turn once mid-way, cooking for a total of 7 minutes, just enough to grill-mark the chicken.
Transfer the marked chicken to a foil-lined baking sheet, brush liberally, coating all sides with the barbecue sauce, and place in the preheated oven. Cook the chicken for 5 minutes. Baste again with sauce and return to the oven for another 10 minutes, basting the chicken for a third time halfway through the remaining cooking time. Insert an instant-read thermometer into the thickest part of the largest breast and largest thigh, the chicken is done when the temperature reads between 160 and 165 degrees.
Transfer chicken thighs to a platter. Transfer chicken breasts to a cutting board and cut in half on the diagonal, add to the platter, and pass with the extra sauce.
Serves 8 (1/2 breast and 1 thigh each)