knock-off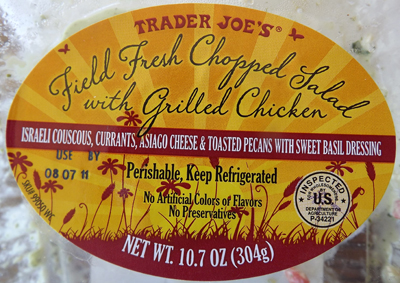 Last Monday morning, once Marissa had left for work and I returned to her apartment after taking Dave to the airport, I sat down to eat lunch. It consisted of a boxed salad I'd picked up at Trader Joe's the day before. My plan was to eat half of it and save the remaining half for lunch on Tuesday – that didn't happen.
I scarfed down the entire tasty thing.  Monday night, when Marissa came home from work, we jumped in her car and headed back to Trader Joe's to do her "big" grocery run.  She would finally have stocked shelves, refrigerator, freezer, and wine rack and could stop eating like a "third-grader with a drinking problem."
Instead, she is now a young woman with healthy choices and plenty of nice wine to accompany her adult meals. (Did you know that in California "Two Buck Chuck" is actually two bucks, well actually $1.99?  Not that the $2.99 we pay in AZ is a bad deal, but I always wondered why it was called "Two Buck" when it really cost three bucks… now I know.)
Anyhow, point is, I picked up another box of the same salad for my Tuesday lunch… and finished it off again after a long morning of shopping for the apartment. I'd made myself a long "must get" list, which resulted in a late (as in around 2:30) lunch, so I was famished. 
Now what was I going to do for my lunch on Wednesday?  You guessed it… I bought another box of the same salad.  And this time, I didn't even bother transferring to a dinner plate, just ate it right out of the plastic box, pitiful!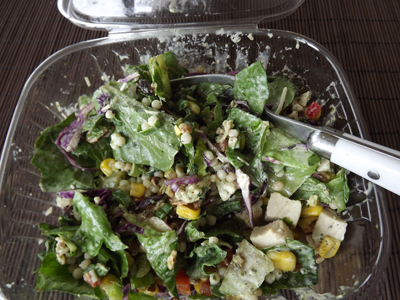 Believe it or not, I'm not sick of it yet… so I made it for dinner last night.  Best part? There are leftovers. I'll be having it for lunch today, and I'm already looking forward to it.  The recipe I'm going to give you has several revisions, substitutions, and two regrettable omissions.
I used seared scallops instead of grilled chicken, just because I had scallops in the freezer I wanted to use up. Any protein will do, chicken, fish, beef, or pork… or none at all, it's a filling salad with or without.

I substituted Jarlsberg Swiss cheese for the Asiago, again because I had it on hand, I've decided I prefer the Asiago.

I used red Belgium endive instead of red cabbage because I didn't want a nearly full head of cabbage leftover and I adore those little packs of 2 white and 1 red Belgium you can get at TJ's.  They never go to waste around here.

I subbed other dried fruits for the dried currants in the TJ version. There is a package of TJ's Triple Fruit Treat in my pantry (a mix of dried mango, cranberries & blackberries). This, I recommend highly, it really added to the salad. Besides, currants are hard to find, even TJ's rarely has them available.

And finally, I forgot that the salad had corn and diced red bell peppers in it until I went to post the picture here a few minutes ago. So you won't see corn or peppers in the picture of my salad, but I'm adding them to the recipe, they are a must!

Field Fresh Chopped Salad with Seared Scallops and Sweet Basil Dressing ala Trader Joe's
Sweet Basil Dressing
2 cups packed fresh basil leaves
1/3 cup honey
2 tablespoons water, or more to adjust to desired consistency
1/4 cup fresh lemon juice
1 large garlic clove, peeled and smashed
1/2 teaspoon salt
1 cup olive oil
Freshly ground black pepper, to taste
Salad
1  3/4 cups water
1  1/3 cup Israeli couscous
1 pound sea scallops, defrosted and patted very dry
Salt and freshly ground black pepper
1 tablespoon olive oil
1 tablespoon unsalted butter
3 hearts Romaine lettuce, chopped
1 head red Belgium endive, thinly sliced
1 cup frozen corn, defrosted and patted very dry
3 green onions, thinly sliced
1 small red bell pepper; cored, seeded, and diced
3/4 cup dried TJ's Triple Fruit Treat, or any dried fruit of your choice
1/2 cup grated Asiago cheese
3/4 cup chopped toasted pecans
Dressing:  Place all ingredients, except the oil and black pepper, in a blender or food processor and blend on high until well combined. With the motor running, add oil in a steady stream through the feed tube, until the mixture is thick and emulsified. Taste and thin with more water if desired. Season with black pepper, to taste.  Makes about 3 cups. May be stored in a jar for up to 12 days in the refrigerator.
Salad: Bring the water to a boil in a medium saucepan. Add the couscous and simmer, covered, for 8 minutes. Remove from heat and let sit, covered, for 10 minutes. Fluff with a fork and spread out onto a large baking sheet to cool to room temperature.
Meanwhile, pat scallops dry and generously season with salt and pepper. Heat a large skillet over high heat and add olive oil and butter.  When the butter is bubbling, add the scallops. Do not crowd the pan, leave space between each scallop; sear until golden brown on one side, turn over and sear on another side until golden brown and just cooked through, about 4 to 5 minutes total. Transfer to a plate. When scallops have cooled slightly, cut each into 4 pieces.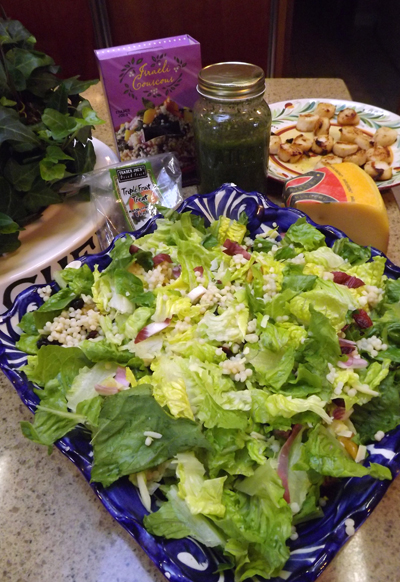 In a large serving bowl, toss together the cooled couscous, Romaine, endive, corn, green onions, bell pepper, dried fruit, and cheese. Divide between 6 dinner plates or large flat bowls and top with toasted pecans and scallops. Pour dressing into a small bowl or pitcher. Pass at the table and allow guests to dress their own salad.
Serves 6
Save
Save