"sufferin' succotash"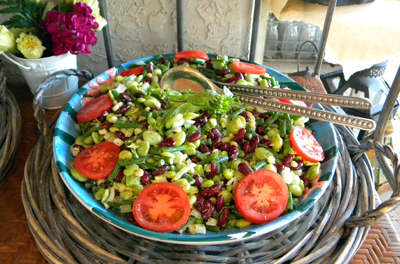 Succotash is a hot bean and corn dish that was  popular during the Great Depression because of the ingredients were more readily available than most other foods and relatively less expensive. I'm not a fan of traditional succotash… but turn it into a cold salad with basil dressing, and I'm all in!
Succotash Salad with Creamy Basil Dressing
2 cups frozen baby lima beans, thawed
2 cups frozen shelled edamame, thawed
1 tablespoon salt
1 pound green beans, trimmed, cut into 1/2-inch pieces
Two 15- to 16-ounce cans red kidney beans, rinsed, drained
3 cups frozen corn kernels, thawed
2 cups peeled and diced sweet onion
1 cup coarsely chopped fresh basil, divided
1/2 cup plain Greek yogurt
1/2 cup mayonnaise
1 tablespoon red wine vinegar
Salt and freshly ground black pepper
3 Roma tomatoes, sliced
Bring a large saucepan of water to a boil. Add the lima beans, edamame, and salt and cook for 2 minutes. Add green beans and cook until all beans are just tender, about 4 minutes longer. Drain. Rinse beans under cold water; drain well. Transfer to a large bowl. Add kidney beans, corn, and onion.
Puree 3/4 cup of basil, yogurt, mayonnaise, and vinegar in a blender or food processor. Add dressing to bean mixture; toss to blend well. Season salad with salt and pepper.
Transfer salad to a platter. Surround with tomato slices. Sprinkle the remaining 1/4 cup basil over salad and serve.
Serves 8