zucchini crostini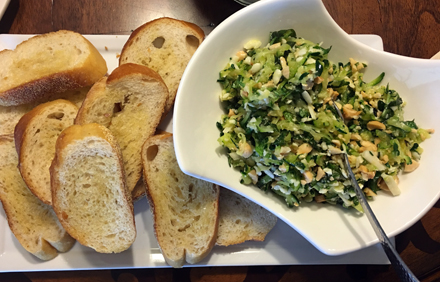 Before I made this light and easy appetizer for the Friday the 13th Dinner Party, I'd made it the Wednesday before as part of my "Summer Entertaining" cooking class menu at Les Gourmettes Cooking School.
I loved the bright colors and freshness of it then and I loved it on the appetizer table for the dinner party just as much. It has no special powers or meaning in the "lucky/unlucky" aspect of the party, but it was a popular dish, nonetheless.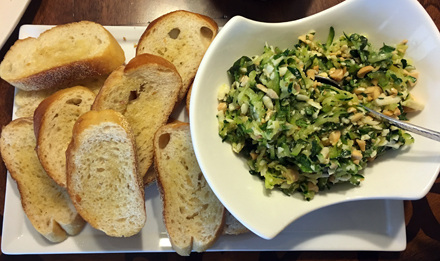 Zucchini-Basil Crostini
1 sourdough baguette, cut into 1/2-inch slices
Olive oil
1 pound zucchini, washed and dried well
2 teaspoons salt
2 garlic cloves, peeled and minced
1/2 cup chiffonade basil
1 tablespoon fresh thyme leaves
1/2 cup freshly grated Parmesan cheese
1 teaspoon lemon zest
2 teaspoons fresh lemon juice
1/4 cup olive oil
2/3 cup Marcona almonds, toasted and finely chopped
Salt and freshly ground black pepper, to taste
Preheat the oven to 350 degrees.
Brush each slice of baguette with olive oil on both sides and toast for about 5 minutes on one side, turn the bread and toast for about 4 minutes more on the second side, or until golden brown. Let cool.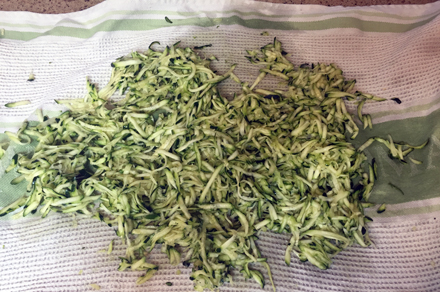 Using a box grater, coarsely grate the zucchini. Place the shredded zucchini in the center of a clean kitchen towel and sprinkle with the 2 teaspoons of salt.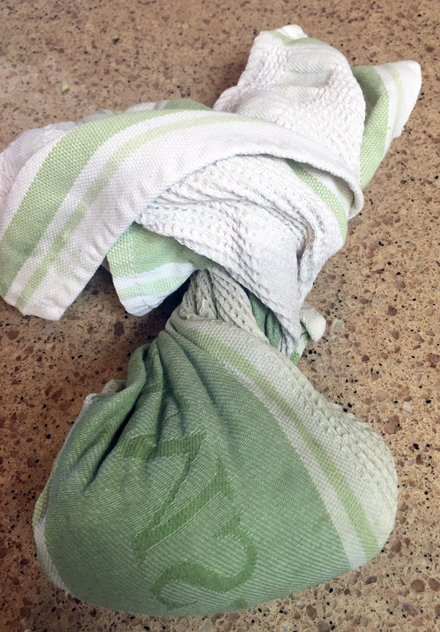 Let sit for 5 minutes and then wrap the towel up and squeeze the towel to remove excess moisture from the zucchini.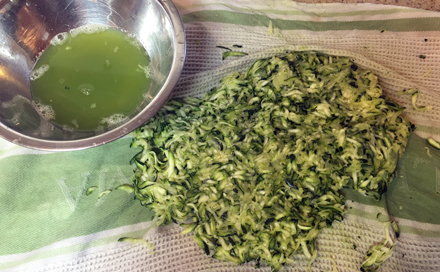 Repeat until as much liquid as possible has been released; then transfer the zucchini to a medium bowl.
Add the garlic, basil, thyme, Parmesan, lemon zest, lemon juice, and olive oil to the bowl; toss to combine.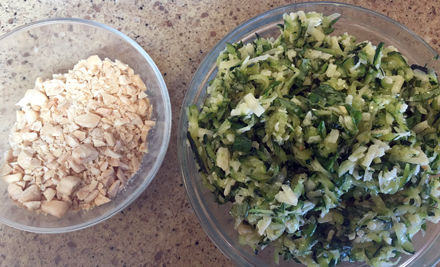 If you are planning to serve within the hour, add the almonds and stir to combine. If not, hold back on adding the almonds until 60 minutes before serving.
Once almonds have been added, season to taste with salt and pepper and refrigerate for an hour.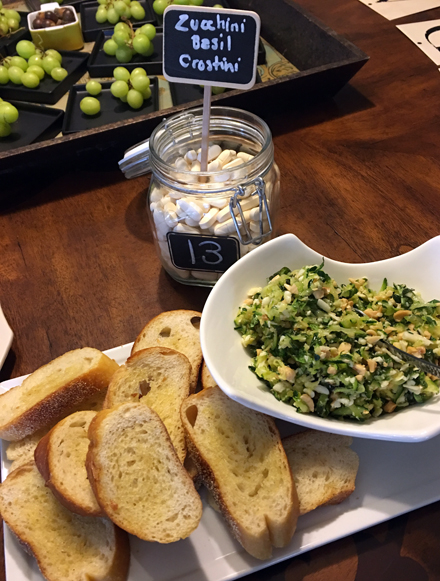 Either place the zucchini-basil mixture in a bowl and set it on a platter with the toasted bread and let guests serve themselves or top each slice of bread with about 3 tablespoons of the zucchini-basil mixture and serve immediately.
Makes about 20