BFCP Menu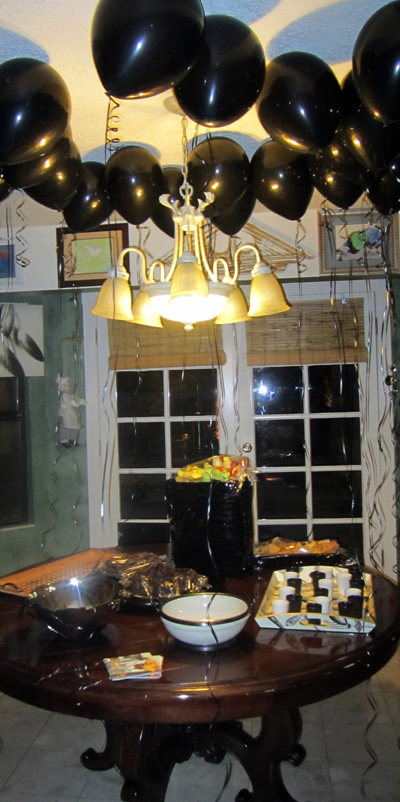 There were about 25 lovely ladies at my BFCP last night, none of whom actually went shopping earlier in the day. A few did admit to cyber-shopping, but no one went near the malls… smart friends, have I!  
Below is the light menu I served and while typing it up I realized that it is basically a vegetarian menu, even though none of the attendees are vegetarians. You can get away with this when it's an all-girls group, but don't try it when men are involved!
I say "basically vegetarian" because my shooters used chicken stock, but one can easily substitute vegetable broth. And luckily, everyone loves cheese, because just about every recipe has it!
The first three dishes have already been posted here and you can access them by just clicking on the desired recipe name. The final two are from a wonderful cookbook called The Big Book of Appetizers by  Meredith Deeds and Carla Snyder. Meredith taught classes last week at Les Gourmettes Cooking School and these were two of the delicious recipes she demonstrated. Not only was the food great, but Meredith was a wonderful and entertaining teacher. I highly recommend the book, check it out on Amazon by clicking on the title above. With Meredith's permission, I am posting the recipe for the tart today and the dip will be up tomorrow. Bonus: There is a special "Black" playlist to go along with the menu at the bottom of this post.
Black Friday Cocktail Party Menu
FOOD
Hot Feta and Tomato Spread with Pita Chips
Edamame Hummus with Crudités
Potato, Parsnip, Pear, and Parmesan Shooters
Blue Cheese Marinated Mushrooms
Rustic Goat Cheese Tart with Caramelized Balsamic Onions
Feta Cheese, Roasted Red Pepper, and Pine Nut Dip

BEVERAGES
Splits of Freixenet
Red and White Wine
Martinelli's Sparkling Cider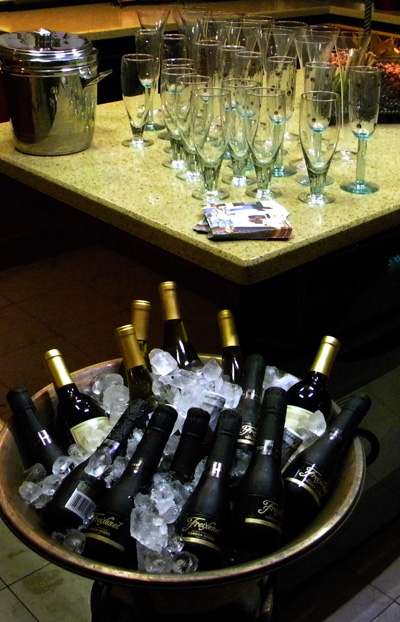 Not surprisingly, the Martinelli's went untouched. I told you that I have smart friends. I have to say that the cutest thing at the party was my idea to have the crudites popping out of the top of a black shopping bag (a gorgeous sleek shopping bag/purse that Kim Howard brought me back from Fauchon in Paris, France and gave me for my birthday… AND… today is Kim's birthday! Happy Birthday and thank you again, beautiful Kim!) That said, I want to apologize for the lack of and the poor quality of the pictures here. I find it difficult to remember to take photos when putting on a party… too busy with all the other details to get that detail quite right.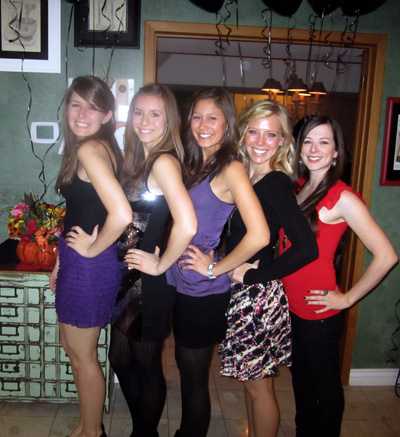 Rustic Goat Cheese Tart with Caramelized Balsamic Onions
Courtesy of Meredith Deeds and  The Big Book of Appetizers
1 sheet puff pastry from a 17.3-ounce package
4 ounces soft, milk goat cheese, such as Montrachet
3 ounces grated fresh mozzarella cheese
1/4 cup sour cream
3 tablespoons grated Parmesan cheese
Salt and freshly ground black pepper
1 large egg
1 tablespoon water
2 tablespoons unsalted butter
2 large onions, peeled and sliced
Pinch of sugar
2 tablespoons balsamic vinegar
Preheat the oven to 400 degrees.
Roll out puff pastry to a 14 x 10-inch rectangle and place on a baking sheet lined with a sheet of parchment paper. Refrigerate for 15 minutes.
Mix goat cheese, mozzarella, sour cream, and Parmesan in a bowl, and season with salt and pepper. Spread cheese mixture on chilled dough, leaving a 1  1/2-inch border. Cut out little 1  1/2-inch squares from the four corners of the pastry. Fold the uncovered edges of the pastry over the cheese mixture.
Mix together the egg and water with a fork in a small bowl, and brush the egg wash along the folded-up edges of the pastry. (At this point, the tart may be lifted off the baking sheet with the parchment paper and wrapped first in plastic wrap and then in foil, and frozen. When ready to bake, do so directly from the freezer and add 5 minutes to the baking time.) Place in the preheated oven and bake for 20 minutes or until golden brown.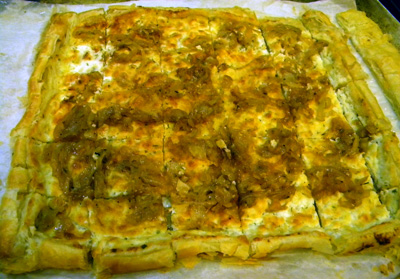 As the tart is baking, heat the butter and oil in a large skillet.  Add the onion and sugar and cook over medium-low heat until the onions are a deep golden brown, about 50 minutes.  Add the vinegar and season with salt and pepper, to taste.
Place the tart on a cutting board and arrange onions on top. Cut into small squares transfer to a serving platter and serve warm or at room temperature.
Makes about 25 appetizer size pieces
Black Friday Cocktail Party Playlist
Back to Black – Amy Winehouse
Black and White – The Dog Night
Black Water – The Doobie Brothers
Black or White – Michael Jackson
Fade to Black – Dire Straits
Paint it,  Black – The Rolling Stones
Black is Black – Los Bravos
Man in Black – Johnny Cash
Black Betty – Ram Jam
Black Magic Woman – Fleetwood Mac or Santana
Black Velvet – Alannah Myles
Black Cat – Janet Jackson
Black Night – Deep Purple
Black Gold – Soul Asylum
Black Eyed Boy – Texas
Back in Black – AC/DC
Black Muddy River – The Grateful Dead
Men in Black – Will Smith
The Deepest Blues Are Black – Foo Fighters
Black Dog – Led Zeppelin
Blue Days, Black Nights – Buddy Holly
Long Cool Woman in the Black Dress –  The Hollies
Black Hole Sun – Soundgarden
Black Balloon – Goo Goo Dolls
Black Friday – Steely Dan
The Old Black Magic – Tony Bennett
Black – Sarah McLachlan or  Pearl Jam
Fourteen Black Paintings – Peter Gabriel
Black Cadillac's – Modest Mouse
Baby's In Black – The Beatles
Black Butterfly – Deniece Willams
Blackbird – The Beatles
The March of the Black Queen – Queen
Black and Blue – Van Halen or Louis Armstrong
Anything by the Black Eyed Peas or Black Sabbath