the playoffs -GO CARDS!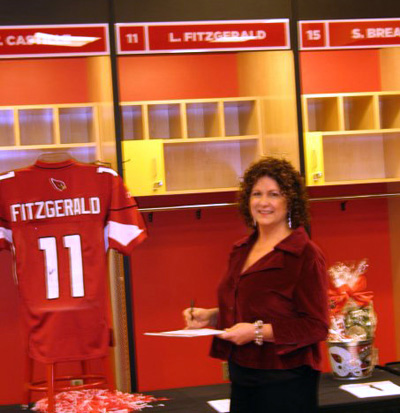 There is very little time allotted in my schedule for posting today – the Arizona Cardinals are in the second round of the playoffs and it is almost impossible for me to concentrate on much else! After the heart-stopping victory against Green Bay last week, I'm not sure how much more I can take – so here's hoping for an easier victory over the Saints today.
We're having family over to watch the game, so of course, a few munchies are in order. These mushrooms are one of my "fallback" appetizers. Quick, easy, and oh so satisfying. I talked about sriracha sauce and had a link to a wonderful article about it on my January 9, 2010 post, go there if you don't know what it is.  I'll get around to posting the other munchies I made, later in the week… but for now – I'm off to put on my Fitzgerald #11 jersey, take a few deep breaths, and watch the Cardinals continue on – to the road to the Super Bowl!!!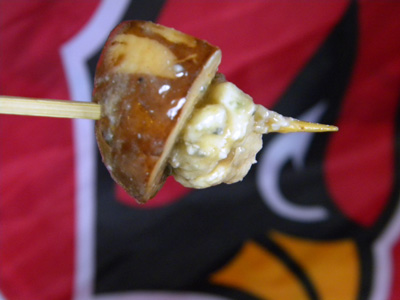 Blue Cheese Marinated Mushrooms
1/2 cup canola oil
1/4 cup seasoned rice wine vinegar
2 tablespoons lemon juice
2 garlic cloves, peeled and minced
2 teaspoons seasoned salt (such as Lawry's)
1 teaspoon sugar
3/4 teaspoon dry mustard
1/4 to 1/2 teaspoon sriracha sauce, to taste
1 cup crumbled blue cheese
2 pounds fresh medium mushrooms, quartered (white, cremini, or baby bellas)
In a large bowl, whisk oil, vinegar, lemon juice, garlic, salt, sugar, mustard, and sriracha sauce until well blended.  Stir in blue cheese.
Rub mushrooms clean with a slightly damp cloth and cut stems even with a cap. Stir caps into vinaigrette.  Refrigerate, covered for 4-6 hours before serving. (The dressing may be prepared up to one day ahead of time, covered, and refrigerated. The mushrooms may be refrigerated overnight.)
Serve 10 -12 as an hor d'oeuvre