edamame hummus with monotone crudités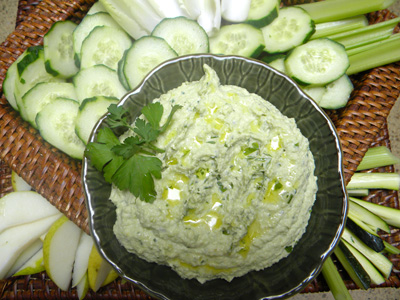 Hummus is a dip or spread that is popular throughout the Middle East and more recently very popular in the United States with new flavors such as red pepper, cilantro, and sun-dried tomato, popping up every day. So popular in fact, that you can find a wide variety of flavors in even the most common of grocery stores.  The original hummus is made from cooked, mashed chickpeas (also known as garbanzo beans) that are blended with tahini, lemon juice, garlic, salt, and olive oil.  Another food that has gained much popularity in recent years in the States is edamame.  These two foods are some of my favorites, so why not combine them for Edamame Hummus? Another common item on any buffet or appetizer table is a crudités spread, and while it is beautiful with all the different colors of vegetables, sometimes it's nice to see something a little different, as with this version that has a monotone color scheme of green.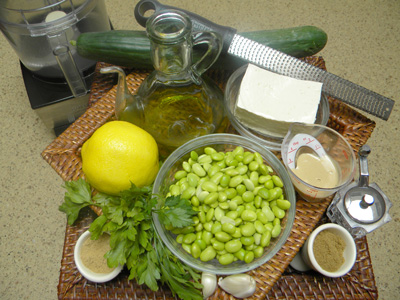 Edamame Hummus
1 1/2 cups frozen shelled edamame (green soybeans)
1/2 pound firm tofu
2 tablespoons tahini (ground sesame seed paste)
1 large lemon, zested and juiced
3 large garlic cloves, peeled
1 teaspoon kosher salt
1 teaspoon ground cumin
1/4 teaspoon ground coriander
3 tablespoons chopped fresh Italian parsley, divided
4 tablespoons extra-virgin olive oil, divided
Crudités
English cucumber slices
Belgium endive spears
Celery sticks
Zucchini sticks
Green pear and/or apple slices (rub the fruit with the used lemon halves, from juicing the lemon above, to prevent browning)
Bring a medium saucepan of water to a boil, blanch the edamame beans for 4 minutes, drain and place in a food processor.  Add the tahini, lemon zest, lemon juice, garlic, salt, cumin, coriander, and 2 tablespoons of the parsley to the processor bowl.  Remove the feed tube from the processor lid and puree until smooth.  Whenever using a food processor with hot foods, it is extremely important to remove the feed tube to allow steam to escape, or the steam can build up and blow the lid off the machine causing damage to the machine, your kitchen, and most importantly yourself! After the initial puree, remove the lid and scrape down the bowl sides with a rubber spatula. Replace the lid, turn on the machine, add 3 tablespoons of the olive oil through the feed tube, and process until oil is incorporated. Taste for seasoning, adding more salt, lemon juice, or even Tabasco to liven up the flavor, if needed.
Transfer to a serving bowl, stir in the remaining parsley and drizzle with the remaining tablespoon of olive oil. Serve with the vegetables and pear slices. May be refrigerated, and covered, up to 2 days ahead.
Makes about 2 1/2 cups