Christmas Potluck Recipe 6
Amy made these Italian Antipasto Squares and they were the biggest hit of all the appetizers. Everyone thought that the bread layer was focaccia, but no, just simple crescent roll dough. I will be making them again and again!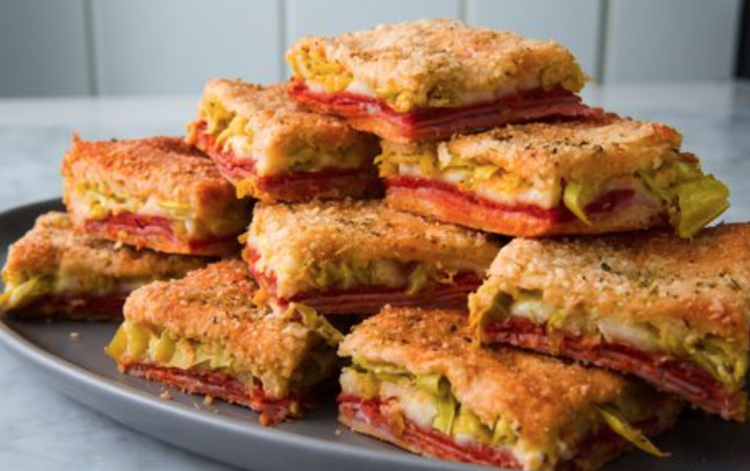 Antipasto Squares
Two 8-ounce tubes crescent dough
1/2 pound deli ham
1/4 pound pepperoni
1/2 pound sliced provolone
1/4 pound sliced mozzarella
16-ounce jar sliced pepperoncini
2 tablespoons olive oil
1/4 cup freshly grated Parmesan
1 teaspoon dried oregano

Preheat oven to 350 degrees and grease a 9-inch x 13-inch baking sheet with cooking spray. Place one unrolled can of crescents on a prepared baking sheet and pinch together the seams. Layer ham, pepperoni, provolone, mozzarella, and pepperoncini.
Unroll the remaining tube of crescent dough and place it on top of the pepperoncini. Pinch together seams to seal.
Brush oil all over the top of the crescent dough, then sprinkle with Parmesan and oregano.
Bake until dough is golden and cooked through, about 35 minutes. If the dough is browning too quickly, cover with foil.
Let cool for at least 15 minutes before cutting into 16 squares.
Serves 12
Recipe and photo from Delish
Little Known Amazing Random Fact: If you've ever stopped on a high ledge and for a split-second felt like you were about to fall or jump; that phenomenon is quite common. It's called L'appel Du Vide, French for "the call of the void".