Christmas Potluck Recipe 3
A little whiskey, a little bacon, who wouldn't love it!?! Laura made this delicious pot of gold.
This recipe comes together easily, once you have the 8 shallots peeled and chopped and it makes a lot. Plenty to bring to a party and plenty to keep for yourself. The original recipe calls for paprika, but I prefer smoked paprika. Be sure to follow the recipe when it tells you to remove from the heat before adding the whiskey. No one needs a surprise flambe.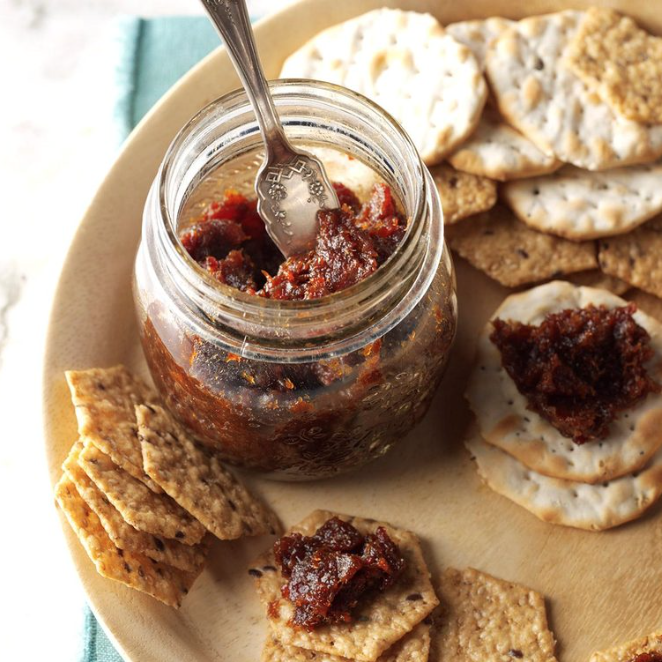 Gentleman's Whiskey Bacon Jam
1-1/2 pounds thick-sliced bacon strips, finely chopped
8 shallots, peeled and minced
1 large sweet onion, peeled and finely chopped
2 garlic cloves, peeled and finely chopped
1 teaspoon chili powder
1/2 teaspoon paprika or smoked paprika
1/4 teaspoon salt
1/4 teaspoon freshly ground black pepper
1/2 cup whiskey
1/2 cup maple syrup
1/4 cup balsamic vinegar
1/2 cup packed brown sugar
Assorted crackers
In a large skillet, cook bacon over medium heat until crisp. Drain on paper towels. Discard all but 2 tablespoons of drippings. Add shallots and onion to the drippings; cook over medium heat until caramelized, stirring occasionally.
Stir in garlic; cook for 30 seconds. Add seasonings. Remove from heat; stir in whiskey and maple syrup. Increase heat to high; bring to a boil and cook for 3 minutes, stirring constantly. Add vinegar and brown sugar; cook another 3 minutes, continuing to stir constantly.
Crumble bacon; add to skillet. Reduce heat to low and cook for 12 minutes, stirring every few minutes. Allow the jam to cool slightly. Pulse half the jam in a food processor until smooth; stir puree into the remaining jam. Serve with assorted crackers.
Makes 3 cups
Recipe and photo from Taste of Home.
Little Known Amazing Random Fact: When Harriet Tubman was born, Thomas Jefferson was alive. When Harriet Tubman died, Ronald Regan was alive.