taco bar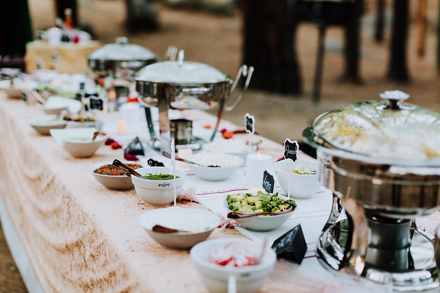 Photo courtesy of griffithimaging.com
      Wedding Taco Bar

Fillings:
Toppings:
Barrio Café Guacamole
Creamy Cilantro sauce
Pickled Red Onions
Cilantro Chimichurri
Peggy's Blender Salsa
diced tomatoes
black beans
sliced radishes
sliced jalapeño
sweet pickled jalapeño
sliced black olives
salsa roja
salsa verde
diced avocado
sour cream
queso fresco
Mexican cheese blend
Mexican crema
cotija cheese
chopped cilantro
diced white onion
green onion
lettuce
cabbage
Sides:
Tomatillo Rice
Refried Black Beans
Mexican Street Corn
Corn Tortillas
Flour Tortillas
White & Blue Chips
That is the list of 34 items that made up the Wedding Taco Bar.
Photo courtesy of griffithimaging.com
There are very few recipes left to share with you from the wedding, since all the fillings have been posted and several of the sides and topping recipes are here in previous  posts. Click on these links to find them:
So that only leaves the Creamy Cilantro Sauce, Refried Black Beans, Tomatillo Rice and Cilantro Chimichurri. Since the chimichurri is an easy "dump in the blender and turn on" recipe, we'll start with it.

Cilantro Chimichurri Sauce
1 cup cilantro leaves, tightly packed
1 cup parsley leaves, lightly packed
3/4 cup olive oil
1/4 cup lemon juice
1/4 cup diced red onion
5 garlic cloves, peeled
3 tablespoons red wine vinegar
2 teaspoons dried oregano
2 teaspoons salt
1/2 teaspoon red pepper flakes
1/2 teaspoon freshly ground black pepper
Combine all ingredients in a blender and blend, starting with by pulsing, then turning on full speed until finely chopped.
Makes about 1 1/2 cups