best ever ground beef taco meat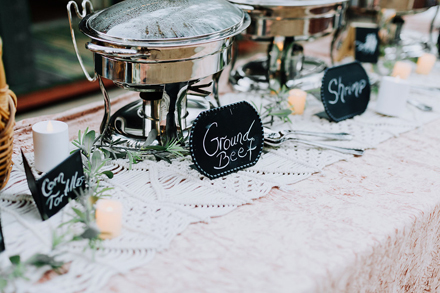 Photo courtesy of griffithimaging.com
An Instant-Pot was part of my long "To Bring" list for the wedding. I also brought along a Crockpot and four individual butane burners. I knew that with all the cooking I had to get done in two days that I'd need more than the four-burner gas range and single oven that was provided in the kitchen. I used the Instant-Pot to make the taco meat.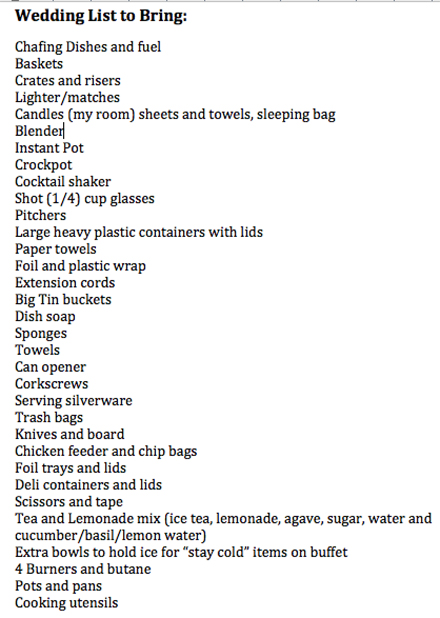 It wasn't until I got up there that I discovered the oven only had one rack. As you can imagine, that created a few challenges as well.
I used 73% lean beef instead of the 92% lean that I generally use. This made for the juiciest and most flavorful tacos. It was seriously the best ground beef for tacos that I've ever made. The recipe I'm giving you is a guess as to the proportions of seasonings and spices I used. I was tasting and tweaking this for about an hour while the juices cooked down. I then combined the two batches and continued to season it until I got it just right.
Another reason it's impossible for me to guess exactly how much seasoning I added is that I was using 20 pounds of ground beef, 10 pounds at a time. That is 14x the quantity of the recipe below. This translates to fourteen onions, 28 bell peppers, 28 tomatoes, 1 ¾ cups of taco seasoning, etc.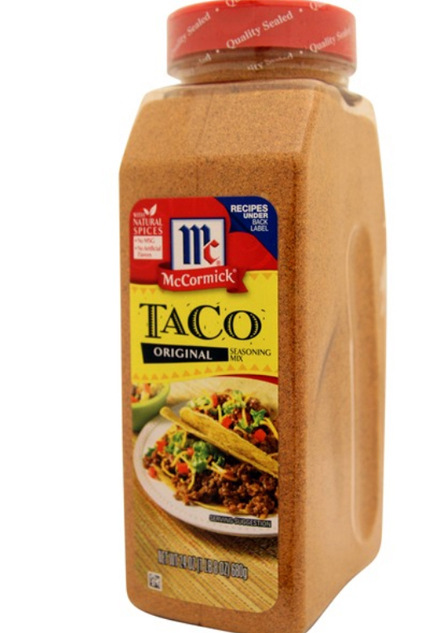 P.S.  I buy the taco seasoning at Costco and if you don't own an Instant-Pot, the recipe can be made in a large skillet. See "Note" at the bottom of this post for details.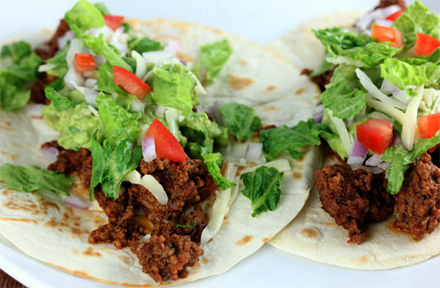 Instant-Pot Ground Beef for Tacos
1 tablespoon olive oil
1 large onion, peeled and diced
1 red and 1 yellow bell pepper; cored, seeded, and diced
3 garlic cloves, peeled and minced
1 ½ pounds 73% lean ground beef
2 large tomatoes, diced
2 tablespoons taco seasoning
1 teaspoon ground cumin
1 teaspoon ground chipotle chili powder
1/2 teaspoon salt
1/4 teaspoon red pepper flakes
Freshly ground black pepper, to taste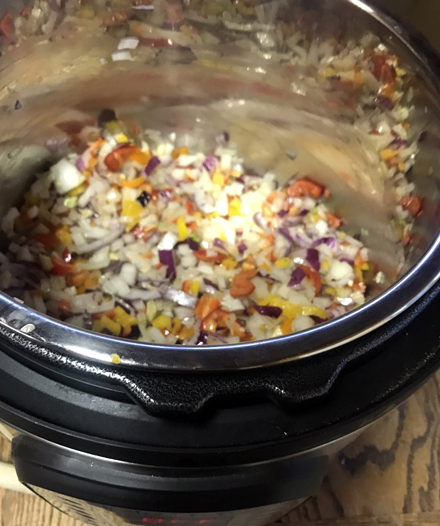 Place the olive oil into the Instant-Pot then add the onion, peppers, and garlic. Stir to combine.
Push the sauté feature and sauté for 3 minutes, stirring occasionally.
Add the ground beef and continue to cook in the sauté mode for another 3 to 5 minutes.
Add the chopped tomato, taco seasoning, cumin, chipotle powder, salt, red pepper flakes, and black pepper, and stir well to combine.
Push the keep warm/cancel button.
Place the lid on the Instant Pot, close the valve to "Seal" and push the manual button, then set the timer for 15 minutes.
When the pot is done, do a quick pressure release and then use the sauté feature to cook off the excess liquid, as needed. While the liquid is reducing, taste and season as needed.
If there is still too much liquid remaining, drain it off and set it aside in case you choose to add more back later.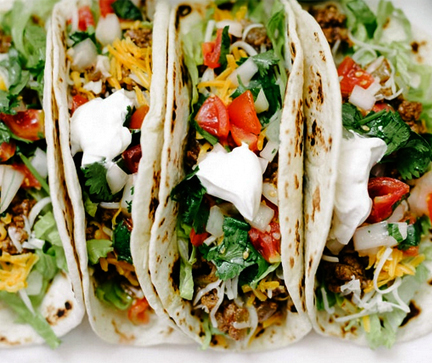 Makes 12 tacos
Note: The ground beef can be made in a large skillet in place of the Instant-Pot. It will just take a little longer. Sauté the onions, pepper, and garlic until the onions are soft and translucent. Then stir in the seasonings and cook for 1 minute. Then add the beef and tomatoes and cook until the beef is browned and fully cooked through.