sharing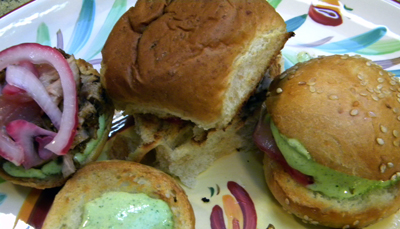 Yesterday I mentioned the outstanding sliders that Barb, Kim, and I had at Chaparral Pines in Payson, Arizona. We split an order and I've been dreaming about and wanting MORE every moment since then! I dissected the menu description and, by Joe, I think I've got it! They are so fabulous, they must be shared – here you go! These would be a great addition for next year's 4th of July BBQ.  BTW, you will have extra mayo and onions leftover after you make the 12 sliders – this is a good thing… a very good thing!
Ahi Sliders
Roasted Jalapeno Cilantro Aioli
2 large jalapenos
2 cloves garlic
Dash cayenne pepper
1/3 cup packed cilantro leaves
1 lime, zested, and then juiced for 2 tablespoons of juice
1/4 teaspoon salt
1/4 teaspoon freshly ground black pepper
1 cup mayonnaise
Pickled Red Onions
1/2 cup white vinegar
1/4 cup sugar
1 bay leaf
Dash red pepper flakes
1/2 teaspoon salt
1 medium red onion, peeled and thinly sliced
Chile Rub
2 teaspoons ancho chili powder
1/4 teaspoon salt
1/4 teaspoon ground cumin
1/8 teaspoon ground black pepper
Tuna and Assembly
1 teaspoon olive oil
1  pound Ahi tuna
12 slider buns, buttered and toasted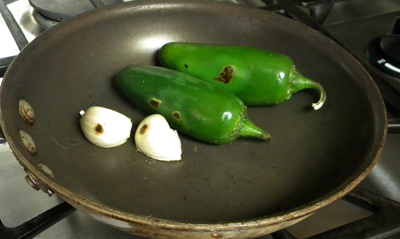 Aioli: Heat a skillet over high heat. Add the jalapeno and garlic to the dry skillet. Cook until blackened and charred on all sides, about 10 minutes. Place in a plastic bag, seal, and allow to rest for 5 minutes. Then remove the stems, most of the blackened skin, all of the seeds and ribs from the jalapeno, and the peels from the garlic cloves. Add jalapenos and garlic to a food processor with the remaining ingredients. Blend, taste and adjust seasoning if needed.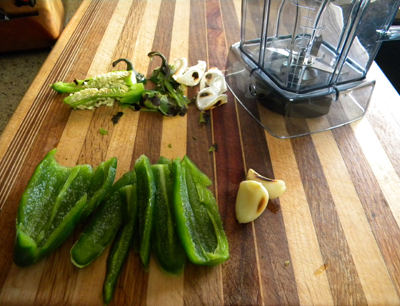 Onions: Heat vinegar, sugar, bay leaf, pepper flakes, and salt in a small nonreactive heavy saucepan over moderate heat, stirring until sugar is dissolved. Place onion slices in a bowl or jar and pour the pickling liquid over onions, stirring occasionally to coat with liquid, and let stand at least 10 minutes (onions will brighten in color). Onions may now be kept for several weeks in the refrigerator. To use, just pull out what you need, drain and pat dry.
Chile Rub: Combine all seasonings in a small bowl.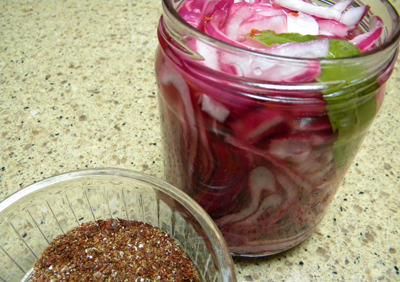 Tuna: Heat a heavy medium skillet over high heat for 2 minutes. Brush both sides of tuna with olive oil; sprinkle chile rub and pat into tuna to adhere. Place in hot skillet and sear until brown outside and almost opaque in center, about 3 minutes per side.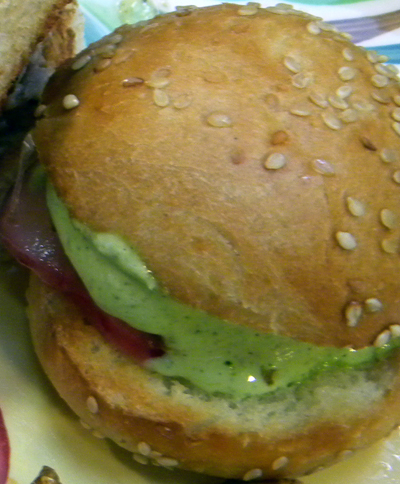 Spoon the jalapeno-cilantro mayo on each side of the toasted buns. Place a generous piece of tuna on each bottom half, finish layering with onions and the top half of the bun and enjoy.
Makes 12 sliders