cooking day 1- Friday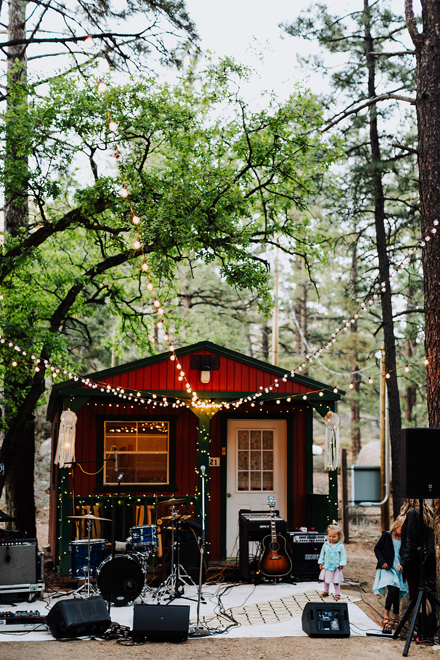 Photo courtesy of griffithimaging.com
My real work for Chante and Cody's wedding weekend began on Friday morning. Extremely. Early. On Friday morning!
Sleeping in a "camping cabin" was both a blessing and a curse. A blessing because it gave me more hours in the day to cook and get all I needed to get done finished. A curse because I was bright-eyed but not quite bushy-tailed at 4:45 AM on Friday morning and 3:45 AM on Saturday morning, which is why I think it would have been better to travel and stay in an Overlanding vehicle. I mean, it could have gotten the same kind of amenities in my van as I got in the cabin. Moreover, I think that I would have felt more active and more comfortable had I been in my own space. Yes, it is true that I might have to consider buying a few things like an Overlanding solar setup or a roof rack had I chosen my vehicle. But, I guess that would have been alright for me. Perhaps, I will implement this idea during the next adventure trip.
Anyway, coming back to the cabin, I felt a bit uncomfortable during my stay. On those mornings, at those times, I awoke needing to use the bathroom. At home, when that happens, I stumble a few steps in the dark to the toilet, with my eyes closed, do my business, stumble back to bed and immediately fall back to sleep.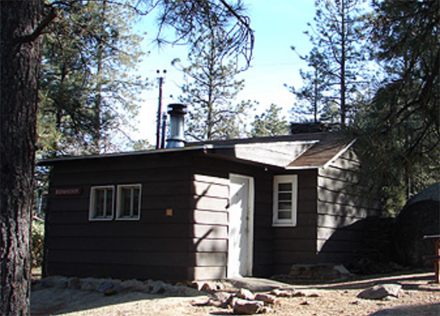 When the bathroom is in the forest, across a little road, up a slight incline and it is a public bathroom … well, the eyes closed, barefoot, nearly naked, the stumbling routine does not fly. Shoes must be put on, more clothing is needed and the flashlight on the phone gets activated.
And on that first morning, when I turned on the bathroom light, what I thought was a bat flew in through the slightly cracked window and into the stall I was in. It turned out to not be a bat, but an extremely large bat-size moth. So basically, by the time you get back to your little cabin after that experience, you are fully awake. Time to start the day! In the dark.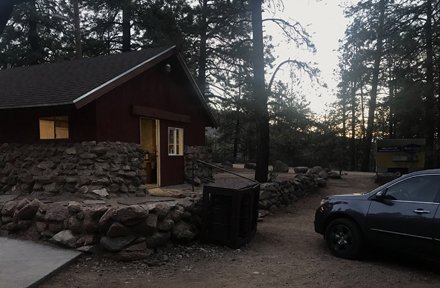 Friday morning, I got dressed, drove up the windy road to Rec. 2, and started cooking. Since it was still dark and there were not only the cabins that our people had rented out but also campgrounds nearby, I locked myself in the kitchen. Once the sun came up, I opened the windows and the door and kept working.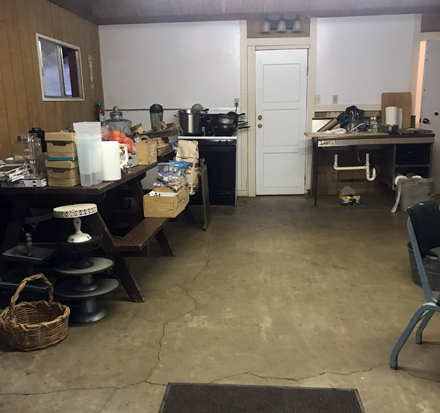 The photo above was taken from the doorway into the kitchen. Soon after I opened that door, I was standing at the sink, with my back to said door, when I heard a little rustling behind me. I quickly turned around to see a deer standing in the kitchen. He was fully inside, with his hind feet on that door mat. He had walked up the stairs of the stone patio and came inside without an ounce of fear.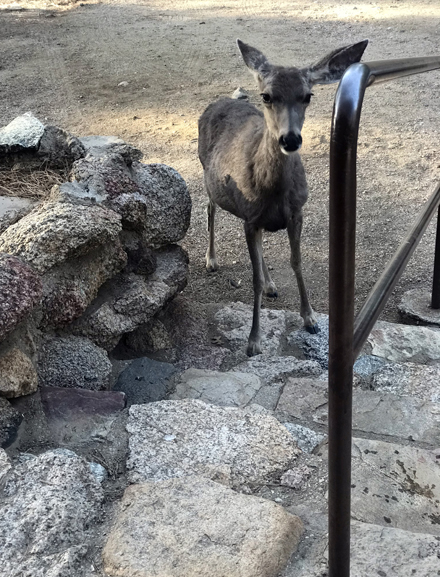 When I turned, he slowly stepped back, out the door, and onto the patio. Obviously, it was breakfast time. I grabbed my phone and pulled out a bag of carrots.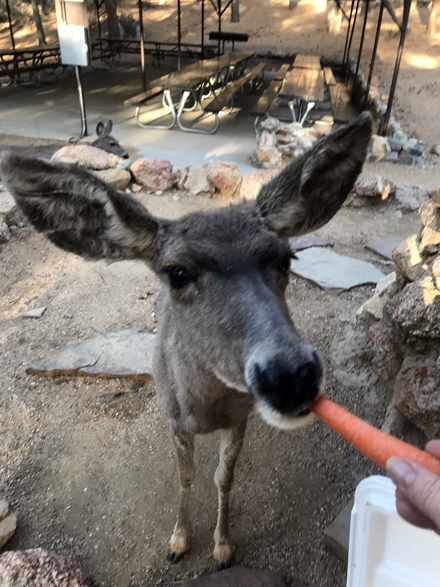 It wasn't until then that I noticed that he'd brought his herd of 6 more sweet deer along for the morning meal.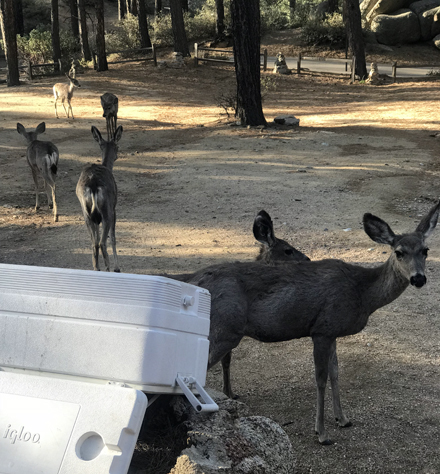 I fed them all, then they were on their merry way. The next morning, they got corn. I'm aware that they are used to this treatment, but it just made my day.
Back to cooking for the wedding!
The bride requested a taco bar for the reception dinner. A big fancy taco bar is what she got! Ground Beef and Chicken were what the couple most wanted. I thought that Shrimp would also be nice and since there were vegetarian and vegan guests, Vegetable Tacos were also in order.
When you're cooking on-site for nearly 100 people for such an important and auspicious occasion, you tend to forget to take photos of the process. At least, I forget. The veggie tacos were about the only cooking photos I snapped. I'm still going to share many more recipes from the weekend, but there just won't be the food prep photos you're used to. I regret that but it can't be helped.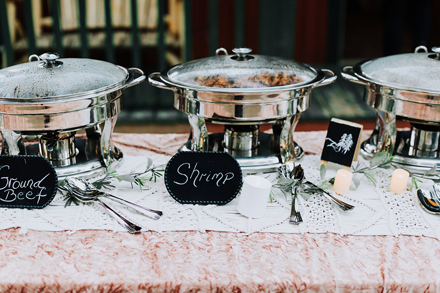 Photo courtesy of griffithimaging.com
Roasted Vegetable Tacos
2 zucchini, cut lengthwise into quarters, and sliced
1 medium red onion, peeled and cut into 1/2-inch dice
3 garlic cloves, peeled and minced
1 tablespoon olive oil
2 teaspoons chipotle chili powder, divided
Salt and freshly ground black pepper
1 red bell pepper and 1 yellow bell pepper, cored and seeded, cut into 1/2-inch dice
20 cherry tomatoes, halved
15-ounce can black beans, drained and rinsed
7-ounce can diced green chiles, drained
30 small corn or flour tortillas
Heat the oven to 425 degrees. Line a baking sheet with foil.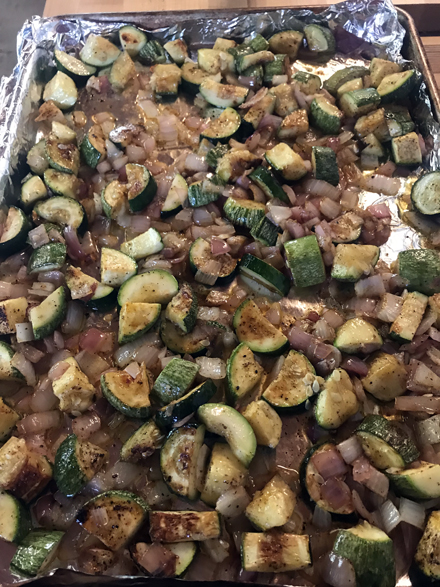 Place zucchini, onion, and garlic onto the prepared baking sheet. Drizzle with olive oil. Sprinkle 1 teaspoon of chili powder, a few pinches of salt, and several grinds of pepper over the vegetables. Toss to coat. Roast in the preheated oven, stirring after 10 minutes, until tender, about 20 minutes.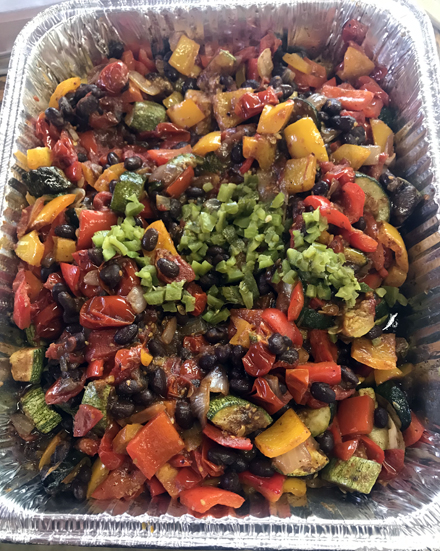 Remove from the oven and add the bell peppers, tomatoes, black beans, and green chilies. Sprinkle with the remaining teaspoon of chili powder and another pinch of salt and more freshly ground pepper. Toss to coat and return to oven for 15 minutes or until bell peppers are tender.
Serve hot on flour and/or corn tortillas.
Makes about 30