brown sugar bacon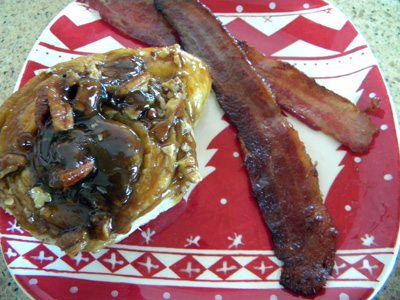 As stated in yesterday's post, this bacon is a Christmas and Easter breakfast tradition in our house. It's basically "Bacon Candy".  So sweet, crispy, and decadent! And it couldn't be easier to make. It is pictured above with our other Christmas breakfast tradition – Cinnamon-Pecan Rolls. That recipe is on yesterday's post. Also pictured here today, is Connor and the five mini-oil paintings he made as gifts for the family. Nothing better than beautiful and heart-felt homemade gifts from a talented person. Thanks, Con!
Brown Sugar Bacon
1 pound bacon
1/4 cup brown sugar
1/4 cup maple syrup
Line a half-sheet baking pan with aluminum foil and fit a lightly greased baking rack on top. Arrange the bacon slices on top of the rack, overlapping slightly.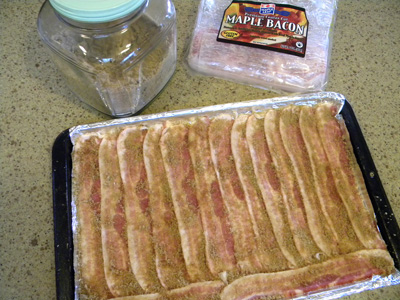 In a medium bowl, combine the brown sugar and maple syrup and heat in the microwave until warm. Brush the mixture over the bacon strips.
Preheat the oven to 350 degrees. Bake the bacon until nicely browned and slightly crisp, about 25 to 30 minutes.
Transfer the bacon to a platter and serve immediately.
Serves 6 to 8