Christmas Potluck Recipe 10
Kim took on this recipe and the word on the street was that she didn't really like it. I have yet to ask her what is what she didn't like about it, but my read on it is that the resulting "bite" was too small. When an appetizer is too small, it can be tedious to make and deal with and not give the flavor punch you're hoping for when you eat it. The original recipe calls for one sheet of puff pastry to be cut into 25 pieces. That made each pastry puff about the size of your thumb. I've changed the recipe to use both sheets of puff pastry that come in a package and cut into 12 rectangles each, resulting in less tedious work of topping them and a bigger flavor punch when you eat it.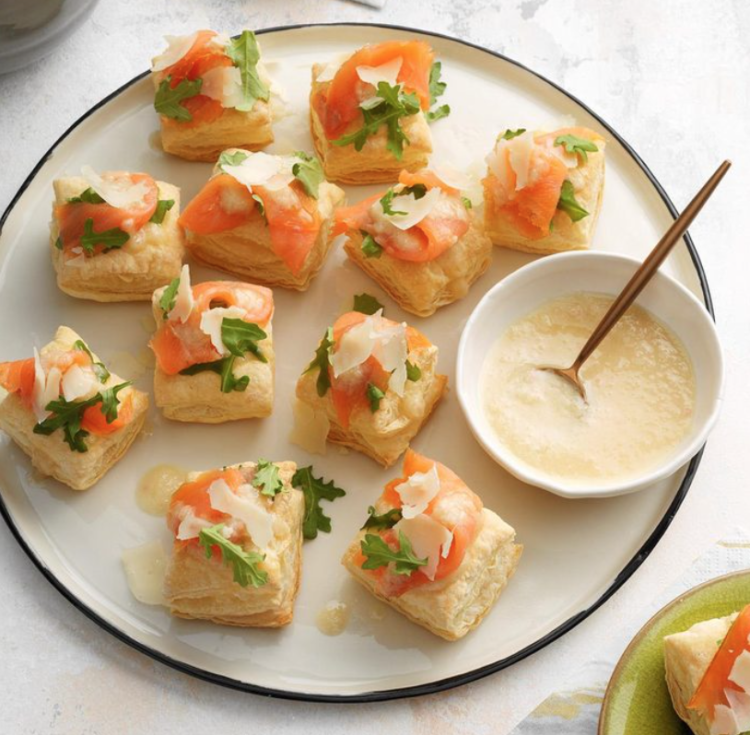 Smoked Salmon Bites with Shallot Sauce
2 sheets frozen puff pastry, thawed
Melted butter
2 shallots, peeled
2 tablespoons Dijon mustard
1 tablespoon mayonnaise
1 tablespoon red wine vinegar
1/4 cup olive oil
1 cup fresh baby arugula, coarsely chopped
5 ounces smoked salmon, thinly sliced
1/2 cup shaved Asiago cheese
Preheat oven to 400 degrees. Unfold puff pastry sheets, brush with butter and cut each sheet into 12 equal rectangles. Poke each rectangle with a fork 3 or 4 times Transfer to buttered baking sheets. Bake for 12-14 minutes or until golden brown.
Meanwhile, grate 1 shallot and finely chop the other. In a small bowl, combine shallots, mustard, mayonnaise, and vinegar. While whisking, gradually add oil in a steady stream. Spoon a small amount of sauce onto each pastry; layer with arugula and salmon. Drizzle with the remaining sauce and sprinkle with cheese.
Makes 24
Recipe and Photo from Taste of Home
Little Known Amazing Random Fact: Most experts agree that one author, named Shakespeare, wrote at least 37 plays and 150 poems attributed to him. Shakespeare never "wrote down" those works. Most were written down after he died by actors/friends/partners from the King's Men acting company.