Marissa's Bridal Shower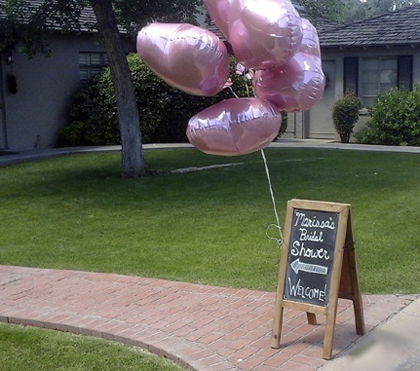 After a long hiatus, as promised, the next week will be filled with photos, crafts, recipes, and details from my daughter's beautiful bridal shower. But before I begin, I want to let you know that I've missed creating and sharing recipes. I've really missed blogging. I've missed posting. I've missed you! It feels good to be back, even if only for a week.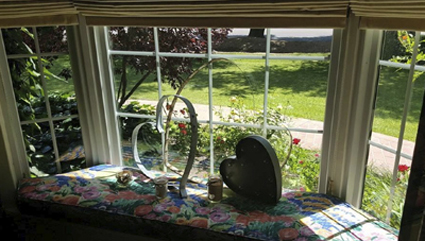 Today will be mostly a pictorial, giving an overview of the party. Tomorrow, the details will begin.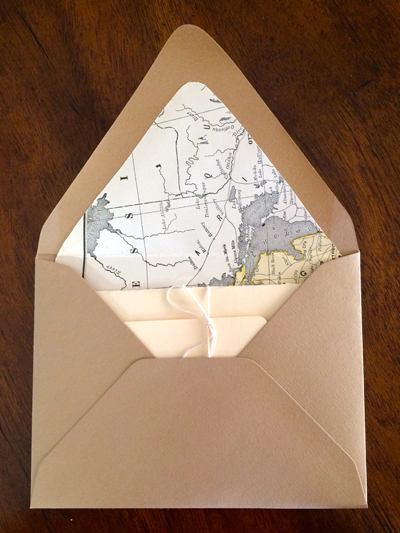 As any good invitation should do, this one set the theme.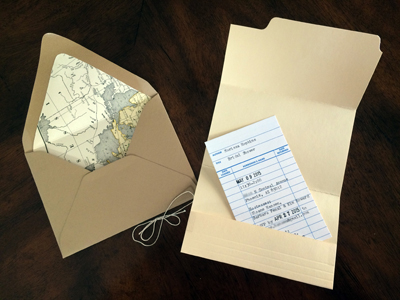 Marissa is a voracious reader. She loves books. Her degree in Journalism with a Creative Writing minor, so a literary theme fit her to a tee.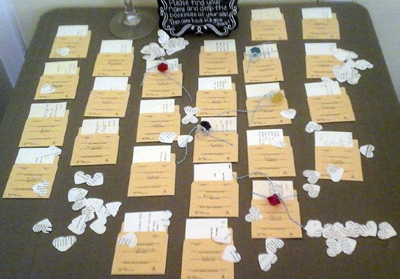 Immediately upon entering, guests were greeted by a table filled with library bookplates with their names on them. The bridal party's bookplates had a little bling tied to theirs.
A chalkboard sign instructed them what to do with their bookplate. Marissa's maid-of-honor, Kaley, used her perfect penmanship and artistic flair to create all the chalkboard signs for the shower. Thank you, Kaley!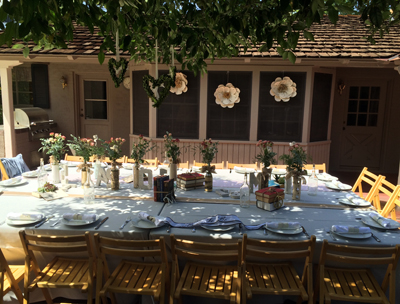 When guests walked into Barbara Fenzl's beautiful backyard, this is the table where they had their choice of seats.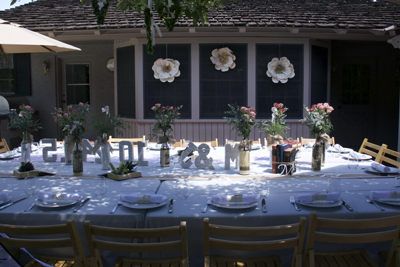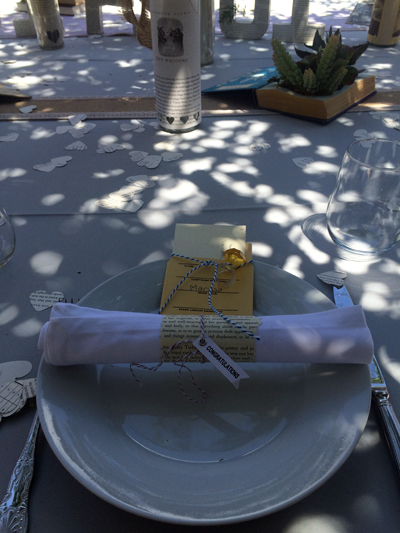 Books and book page decor were everywhere.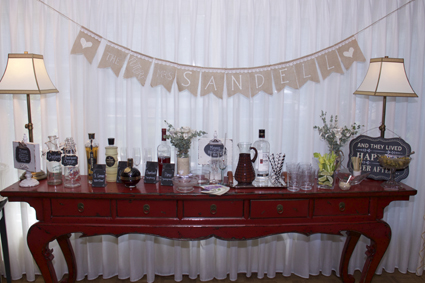 Then they came back inside and poured themselves either a Bloody Mary or a Mimosa.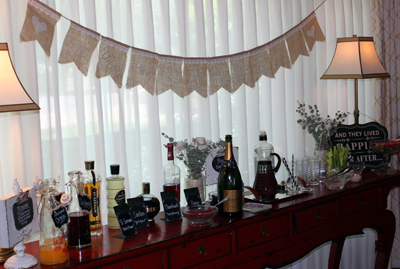 The banner above the bar says, "The Future Mrs. Sandell." The letters are cut from book pages.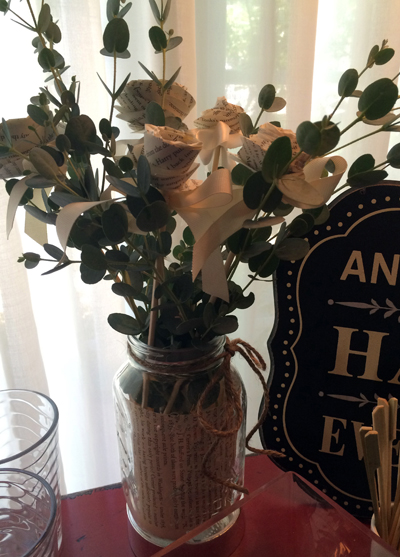 On the bar, and inserted into the dozens of flower arrangements throughout the party, are book page roses, made by Julie. Julie is my nephew Race's girlfriend. She painstakingly worked on these beauties for weeks!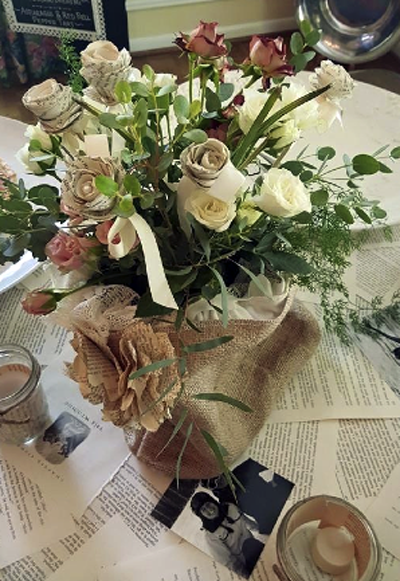 On the buffet table, a table runner made of book pages that are dotted with black & white photos of Marissa and Jeff. My sister and shower hostess, Sloane, and I made this and many other book-page crafts over a month of Sundays. More details on those to come.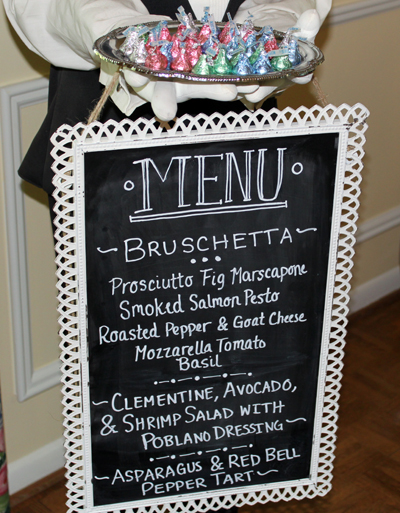 The delicious menu! All dishes were made by hostesses extraordinaire, Barbara Fenzl and Kim Howard. I'll see if I can't get some of their scrumptious recipes for you!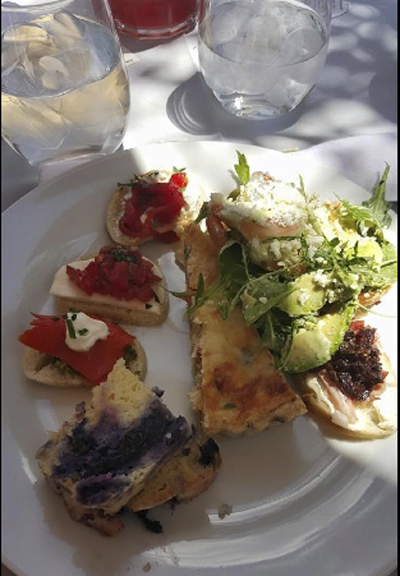 Once the guests filled their plates, they went back outside into what turned out to be a perfect 72-degree Arizona spring day!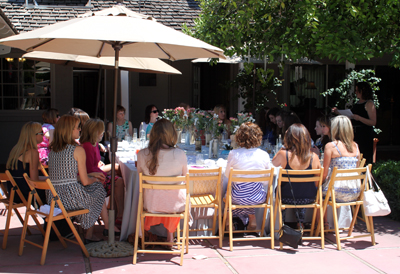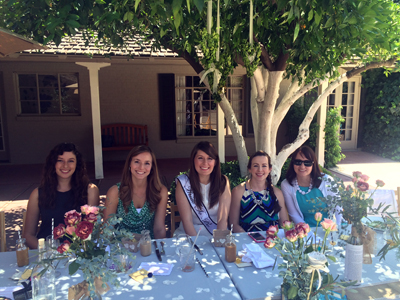 The bridal party – Bridesmaid Petra, Maid-of-Honor Kaley, Bride Marissa, Bridesmaid Lindsey, and Bridesmaid Carly. Missing: out-of-state Bridesmaids, Paige and Jessica.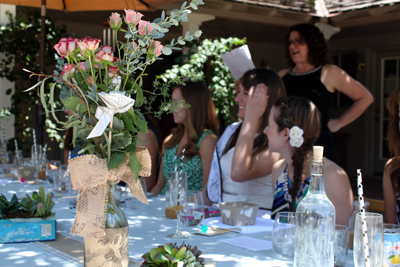 After lunch, we played a unique game suggested by Kim … details later.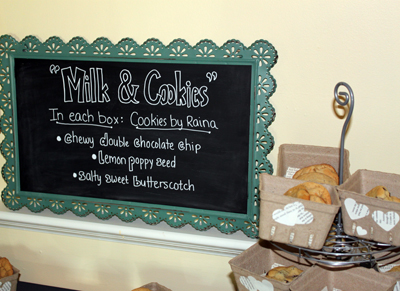 Dessert was "Milk & Cookies." My niece, Raina (Sloane's daughter and Race's big sister) is an amazing baker, so Sloane asked her to make the cookies. Everyone raved!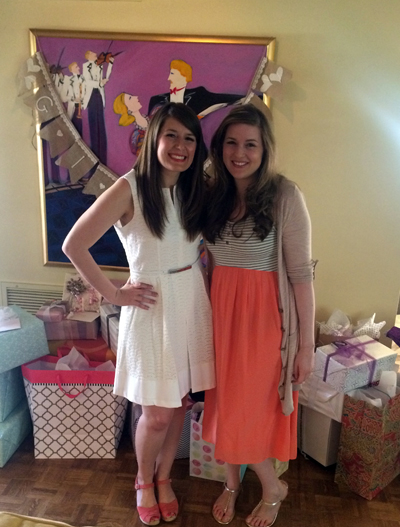 Cousins – Marissa and Raina!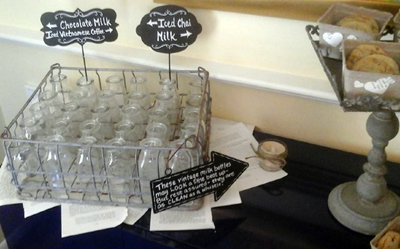 As with many parties before, my vintage crate of milk bottles was called into service. Unfortunately, I didn't get a photo of them filled, but not surprisingly, the iced chai and the iced Vietnamese coffee were the most popular choices.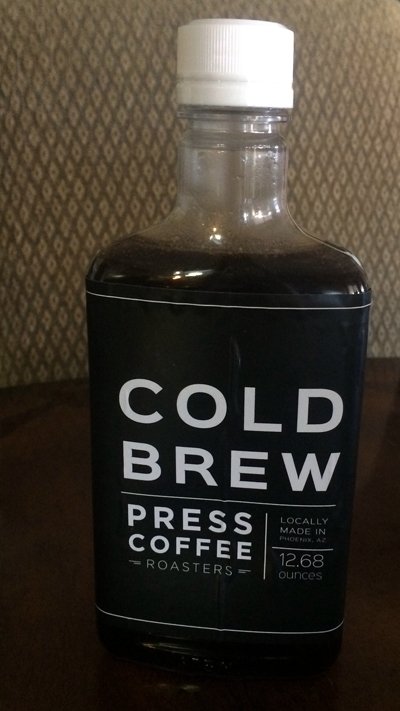 Many thanks to Steve Kraus and Tram Mai for the gallon of Press Cold Brew coffee they gave me to make the Vietnamese coffee!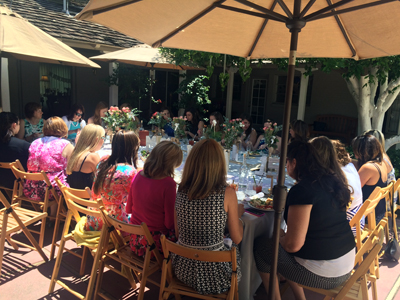 After dessert, we moved back inside for the opening of gifts.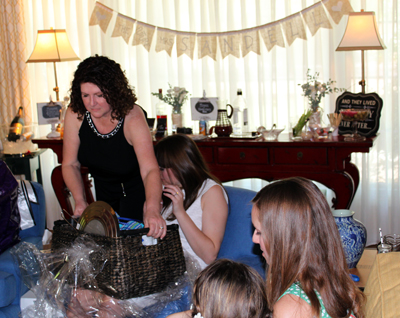 I served as the "gift-hander" and the wrapping paper cleanup/re-boxing person.
While Kaley was the rehearsal-ribbon-bouquet-maker and Lindsey was the gift-list writer.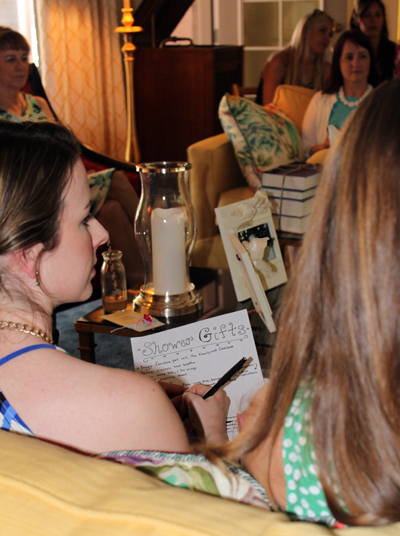 Thank you both, and thank you for the loading and unloading during the after-party cleanup too!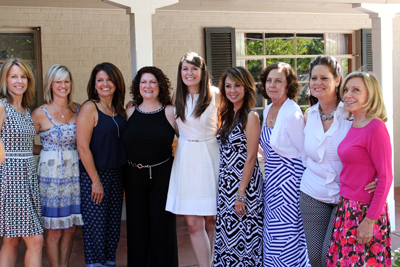 It was the perfect day, the perfect bridal shower, put on by the perfect trio of hostesses – Kim Howard on the far left along with Sloane Hansen and Barbara Fenzl on the far right. You three are the hostess's dream team! Marissa and I thank you from the bottom of our hearts! In this photo are my dear friends: Left of me – Kim, Anne, and Peggy. Right of Marissa – Tram, Laura, Sloane, and Barb.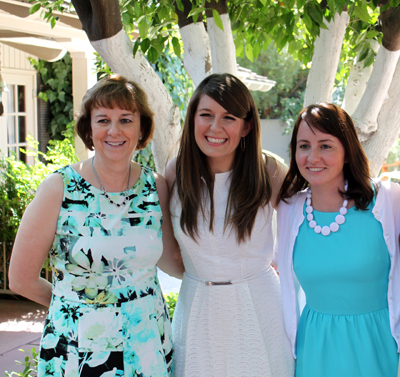 Jeff's mother and sister, Amy and Carly. So excited to officially call them family in a few months!
Save
Save
Save