lamb shank recipe on 11/12/13
miglior sito per acquistare viagra generico spedizione veloce a Parma by Linda Hopkins
http://maientertainmentlaw.com/?search=cialis-professional-20-mg Hey, today is 11/12/13 – that's all.
I just think it's Cool!
http://www.slccolorado.org/storage/proscar/ Have you ever read a recipe that you wanted to make and noticed some ingredient or instruction that didn't seem quite right?
http://maientertainmentlaw.com/?search=effects-of-levitra-in-women You have a few options here:
http://cinziamazzamakeup.com/?x=levitra-generico-20-mg-online-prezzo-pi%C3%B9-basso You either decide to make the change or adjustment that you think will make it better.
clomid injectable fertility drugs Or you skip the recipe all together.
source link Or… option 3 … you go against your better judgement and move forward with the original instructions.
That is the mistake I made when I found the main course recipe I wanted to make for the European Dinner Party. It was a Tyler Florence recipe I'd found of FoodNetwork.com.
I love Tyler's food and have never found a recipe of his that didn't turn out exactly as expected – so I went against my first instinct and made the recipe as directed.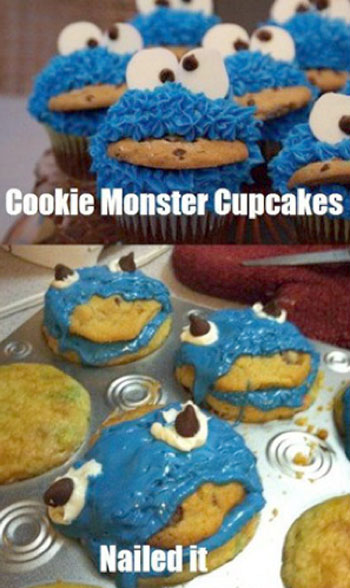 That was a mistake.
No, I wasn't making Cookie Monster cupcakes as my main course, and it wasn't as epic a fail as that was!  It was a delicious sounding recipe for lamb shanks with a potato topping.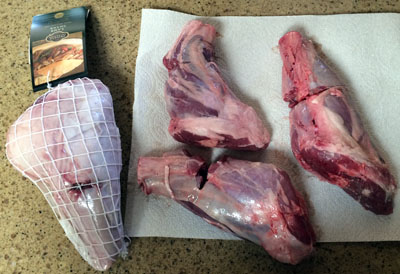 The problem was in the potato topping. The recipe read,
"Peel the potatoes and cut in half lengthwise.

After the shanks have been cooking for two hours, remove from the oven and arrange the potatoes on top to completely cover the shanks – you may have to cut some of the potato pieces smaller to fit…"
This didn't make sense to me when I read it. Large potato halves on top of the shanks – just didn't seem right. But I did it that way.
I was not at all happy with how it turned out. Slicing the potatoes thinly and then placing them on top of the shanks was my first instinct and would have made the difference in the dish. The potatoes would have cooked more evenly and the presentation would have been extremely more pleasing!
The photos, of course, reflect how I made the recipe, but the way I've rewritten the recipe is how I think it should be made and how I'll be making it the next time I serve it.
And there will be a next time.
It still is a delicious main course!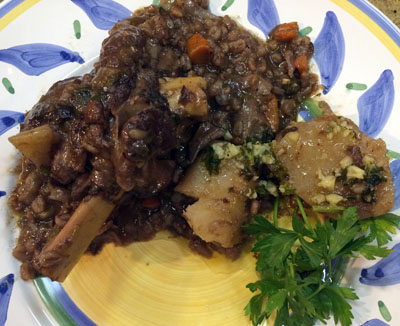 Lamb Shanks with Rustic Potato Topping
3/4 cup flour
Salt
Freshly ground black pepper
4 lamb shanks
2 tablespoons olive oil
4 carrots, peeled and roughly chopped
1 large onion, peeled and roughly chopped
4 garlic cloves, chopped
1 bay leaf
Small handful fresh thyme sprigs
2 whole cloves
1 bottle red wine
4 cups beef broth
1 cup barley
viagra generico 200 mg prezzo piu basso a Venezia
go site Garlic Parsley Butter & Potato Topping
10 cloves garlic, peeled and smashed
1 tablespoon olive oil
1 teaspoon salt
1/2 bunch Italian parsley, leaves chopped
1/4 cup (1/2 stick) unsalted butter
4 large russet potatoes
Parsley sprigs, for garnish
Preheat oven to 350 degrees.
On a large plate, season the flour with plenty of salt and pepper then lightly coat the shanks in the flour, shaking of any excess.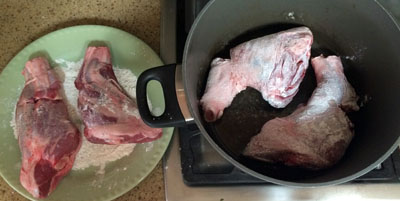 Set a large, heavy pot over medium-high heat. Add olive oil then carefully add the shanks to the pot and brown all over. Remove the shanks to a plate and set aside.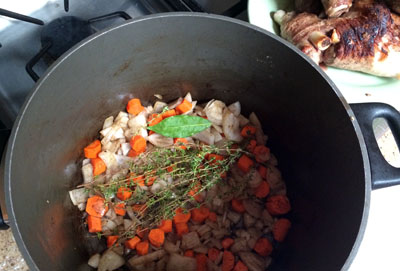 Add the carrots, onion, garlic, bay leaf, thyme and cloves to the pot. Cook for two to three minutes, browning the vegetables.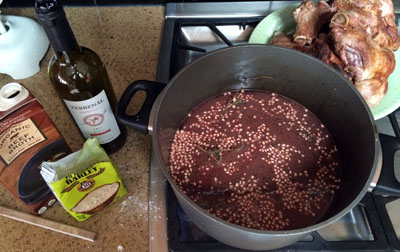 Next, add the wine and beef broth; bring to a boil, then add the barley. Return the shanks to the pot. Cover, remove from heat and place in the preheated oven to roast for two hours.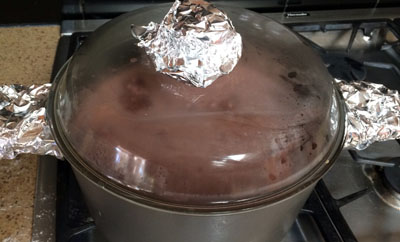 brand propecia length of prescription TIP: The pot and lid I was using had handles that I was not certain are oven-proof. As a precaution, I tightly wrapped the handles in double thick heavy-duty foil. Doing so, protects them from melting and makes them oven-proof.
During the final 30 minutes of roasting, prepare the garlic-parsley butter and potatoes: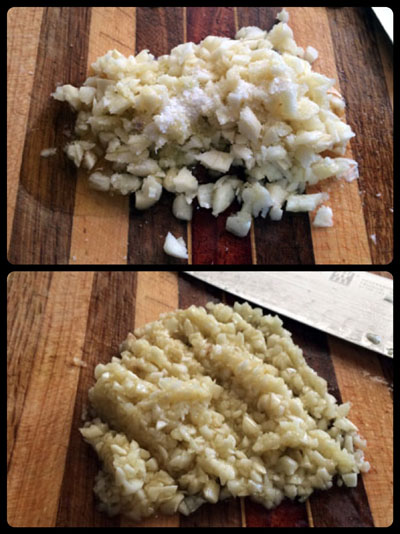 Mince the garlic, drizzle with olive oil and sprinkle with salt. Press and mash the garlic with the flat blade of your knife to form a paste. Fold in the chopped parsley.
Melt the butter in a small saucepan and add the garlic-parsley mixture. Cook over low heat for 3 to 4 minutes and set aside.
Peel and thinly slice the potato lengthwise. (not as shown below – read the opening paragraph is you don't know why the potatoes that you see below are not sliced.)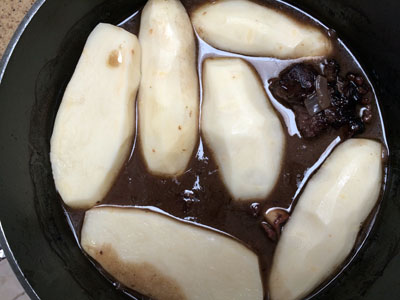 After the stew has been cooking for two hours, remove from the oven and arrange the potatoes slices on top to completely cover the shanks. Brush lightly with the garlic-parsley butter between layers and on top.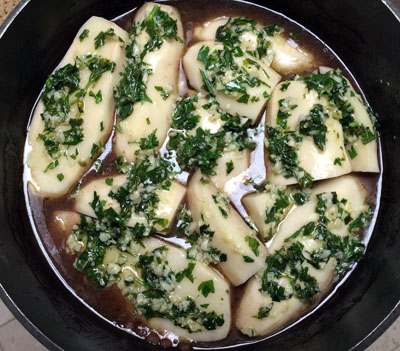 Place back in the oven, uncovered, and bake for 25 to 30 minutes or until the potatoes are cooked through and slightly crispy on top, then baste with any remaining garlic-parsley butter.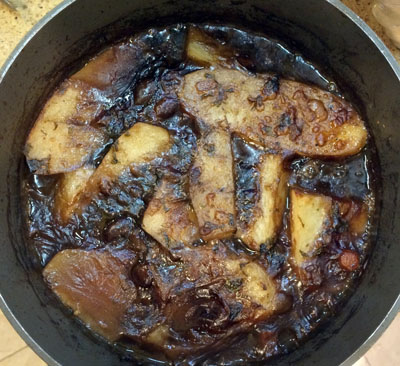 To serve; place one shank on each dinner plate and place the potato slices alongside the lamb. Drizzle lightly with the cooking liquid and garnish with fresh parsley sprigs.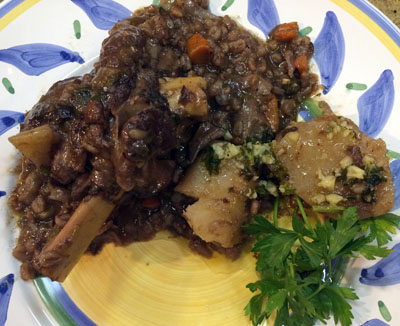 Serves 4
Recipe adapted from a recipe by Tyler Florence and FoodNetwork.com