European dinner party
A couple of weekends ago, we had dear friends over for an intimate dinner party. There were just four of us and it could not have been a more lovely and relaxing evening.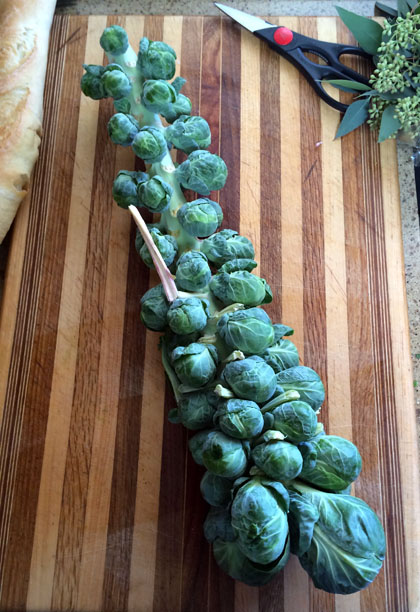 Both the husband and the wife of this chic and well-traveled couple are fabulous cooks – so obviously I wasn't planning on serving them hot dogs and baked beans.
At first, I was thinking of French cuisine. Maybe Italian … or what about Spanish?
Oh, forget it, I'll just do a bit of everything. From that, my Eclectic European Dinner Party was born.
I'll be posting a different recipe from the menu- including appetizers, cocktails, soup, salad, and main course – each day this week.
First up: Antipasto Numero Uno….

Brussels Sprouts & Roasted Garlic Crostini
4 heads of garlic
Olive oil
Fresh thyme sprigs
1 baguette
1 pound Brussels sprouts, ends trimmed and then thinly sliced
1/4 teaspoon salt
1/4 teaspoon pepper
1/4 cup freshly grated Parmesan cheese
Shaved Parmesan cheese
Preheat oven to 375 degrees. Cut off the top portion of each garlic head to reveal the cloves.  Place heads in the center of a double-layer square of heavy-duty foil. Drizzle a tablespoon or two of olive oil on top of the garlic heads. Add a couple of thyme sprigs to the top and close the packet of foil to make a little pouch, seal edges tightly and place on a small baking sheet.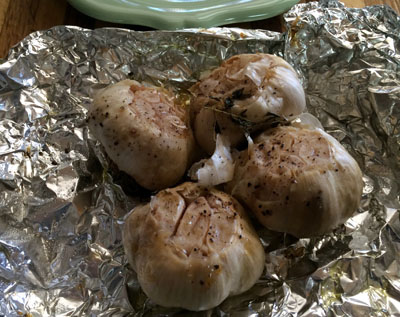 Roast in preheated oven for 45 minutes, or until golden brown. Open packet to check for doneness, then let cool.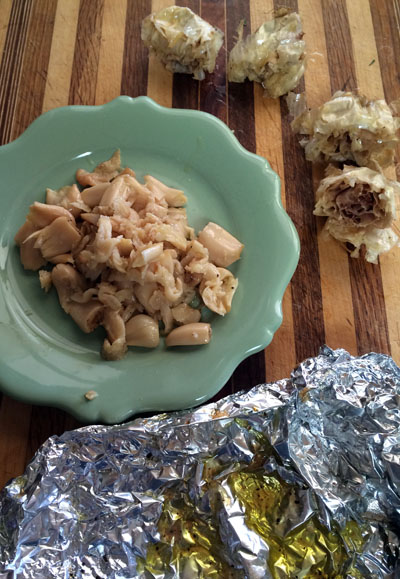 When cool enough to handle squeeze from the bottom of the garlic head to remove caramelized cloves to a plate.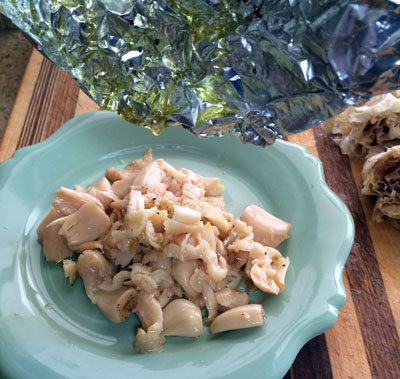 Pour the olive oil that is remaining in the foil over the garlic. Use a fork and mash the garlic well until it is smooth and spreadable.
Reduce oven to 350 degrees. Slice the baguette on a slight diagonal into 1/2-inch thick rounds and place on two baking sheets. Brush with 2 tablespoons of olive oil. Bake for 8-12 minutes, rotating the pans halfway through.
While the bread is toasting, heat a large skillet over medium heat. Add 2 tablespoons olive oil, then stir in the Brussels sprouts, salt, and pepper, tossing well to coat. Cook for 12 minutes, stirring occasionally, until warm, wilted, lightly crispy, and slightly golden. Stir in grated Parmesan cheese, mixing well to coat, and remove from heat.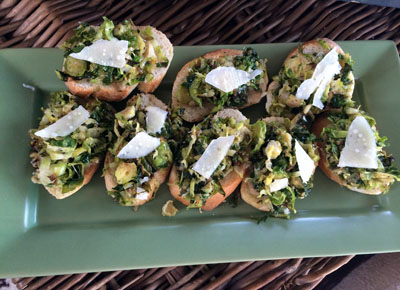 Spread each piece of crostini with some of the roasted garlic. Top crostini with a spoonful of sprouts and then add a shaving of fresh Parmesan cheese. Serve warm or at room temperature.
Makes about 30