favorite recipe ever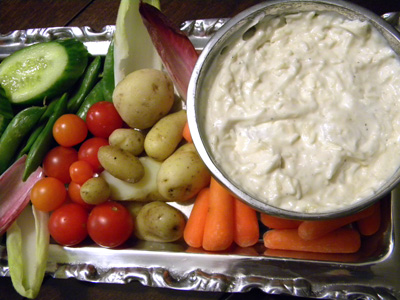 Tonight I was shocked to discover that I have not posted my biggest "go-to" and one of my all-time favorite recipes ever! The discovery occurred when I had about twenty good friends over to support another good friend in her new business venture.  You see, my friend Ronnie is a fashion consultant and I hosted a home party for her tonight.  
I served my Caesar Dip, which I have been making and serving at parties for the past two decades. Just ask any one of the employees at my husband's office and they will tell you that they have had Caesar Dip.  We hosted the office Christmas Party for about 10 years running and it was there on the buffet year after year.
So when a bunch of the ladies tonight were asking for the recipe, I was telling them to look here on the blog. One of them said they didn't think it was posted – lo and behold, she was right! Honestly, I would have thought that it would have been one of, if not, the very first recipes I would have put up.
My favorite crudités to serve with the dip and the ones I think to compliment it the best are Belgian endive spears, cherry tomatoes, and new or fingerling potatoes. For the potatoes, just boil in salted water until they are easily pierced with a paring knife, drain, and while still wet, toss in Kosher or sea salt.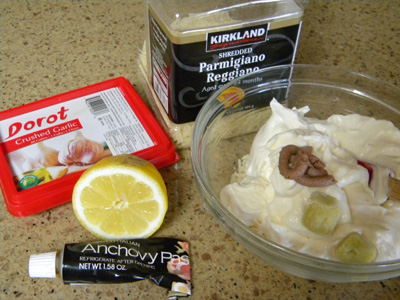 Usually, when a recipe is written and the list of ingredients is given, they are listed not only in the order they are added, but also in "most" to "least" order. For example, 1 cup milk, 1/2 sour cream, 1/4 cup salsa, 3 tablespoons horseradish, etc… but here I list the first 3 ingredients out of that order and instead in order of cleanest to messiest. Use a 1/2 cup dry measuring cup for all three and you won't have to wash it in between. And, of course, I also use the little cubes of garlic from Trader Joe's to make this even quicker and easier. So here it is, my favorite recipe ever…
Caesar Dip with Crudités
1/2 cup shredded Parmesan cheese
1/2 cup low-fat sour cream
1 cup low-fat mayonnaise
1 tablespoon fresh lemon juice
2 garlic cloves, peeled and finely minced
2 teaspoons anchovy paste or 1 anchovy fillet, finely minced
Freshly ground black pepper, to taste
Assorted crudités; such as cherry or pear tomatoes, endive spears, boiled and salted new potatoes, sugar snap peas, cucumber slices, carrot, and jicama sticks.
Mix all ingredients in a medium bowl. Season with freshly ground black pepper, to taste.
Caesar dip is best when made at least 3 hours and up to 1 day ahead, cover, and refrigerate until ready to serve.
Serve with assorted crudités.
Makes 2 cups