this little piggy…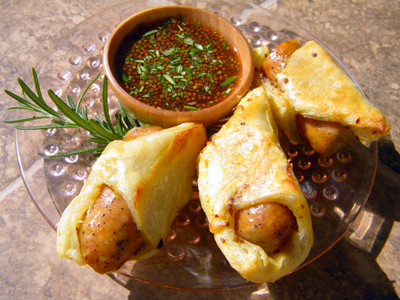 On Saturday, I'll be serving a pre-Easter brunch to the hardworking people in my husband, Dave's, office.  It's a CPA firm and Easter usually falls during the crunch time of tax season, so these people need a break! This recipe is on the menu.
I confess, I totally ripped it out of the Williams-Sonoma catalog. They sell these cute little "breakfast pigs in a blanket".  The Williams-Sonoma version uses Aidell's chicken-apple sausages. While I did find Aidell's sausages at Costco and was planning to use them, I spotted some mango-chicken sausages and decided to go that route… happy I did because – Yum!
So here are your choices… purchase from the catalog and pay $48.50 (that's with shipping) for 24 "pigs"…  or… make mine, and pay less than $25 for the pastry and sausages and you will wind up with 60 – as in "six- zero"  little pigs!!!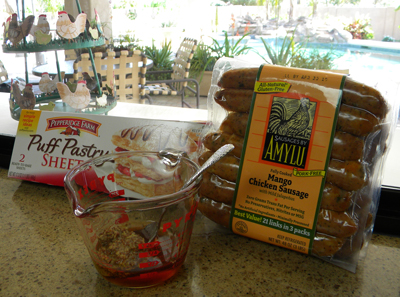 I know what you're saying to yourself right now…. "I do not need Sixty Pigs, even if they do cost $1.58 less per piece than the Williams-Sonoma pigs."  
Oh yes – You do!!!  
These are delicious, easy, and so great to have on hand in your freezer.  That's right, you can bake and serve some now and freeze the rest for later. Of course, you can always cut the recipe in half, use just one package of puff pastry, and find another and smaller (meaning a smaller quantity than sold at Costco) package of sausages. But once you get on the roll of putting these together, it takes no time at all and you'll feel rich and wise with the knowledge that you have these little gems stocked away.
They can go directly from the freezer to the oven -at the ready for a quick cocktail appetizer or as a fun breakfast, any day of the week. Finally, I call for whole-grain mustard, because I like it, but if you only have regular Dijon, that works too.
Piglets in a Warm Puffy Blanket
2 packages (17.2-ounces each) Pepperidge Farm Puff Pastry Sheets (for a total of 4 sheets)
1 package (3 pounds) Amylu mango-chicken sausages or another fully cooked sausage of your choice
1 tablespoon whole-grain Dijon mustard
1 tablespoon regular Dijon mustard
3/4 cup pure maple syrup, divided
2 eggs beaten with 2 tablespoons water, for egg wash
2 teaspoons finely minced fresh rosemary
Rosemary sprigs for garnish
Remove the pastry sheets from the box and paper wrapping and place unfolded frozen sheets on a counter to thaw at room temperature for 30 to 40 minutes.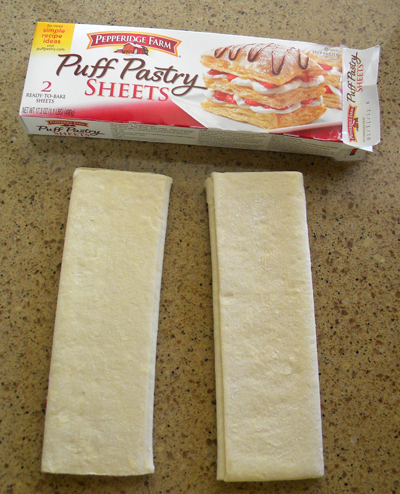 While the pastry is thawing, remove sausages from the packaging. There will be 21 sausages in the 2-pound package (7 in each of the 3 individual packages) You will be using 20 of the 21 sausages for this recipe, reserve the remaining 1 sausage for another use, such as … your lunch! Cut each sausage into equal thirds, for a total of 60 mini-sausages.  Set aside.
In a small bowl, whisk together both of the mustards and 1/2 cup of maple syrup.
Unfold each pastry sheet, one at a time. Do not roll out with a rolling pin, leave it as is. Brush evenly with the mustard-maple glaze. Using a sharp knife, cut the glazed sheet of pastry lengthwise into thirds along the fold lines. Make 5 cuts crosswise to create a total of 15 rectangles out of one sheet.
Place a mini-sausage diagonally in the center of one pastry rectangle. Roll the pastry around the sausage and press overlapping corners in the center together. Brush with egg wash and place on a parchment or Silpat lined baking sheet, about 1/2 inch apart.  Repeat with the remaining 14 pastry rectangles.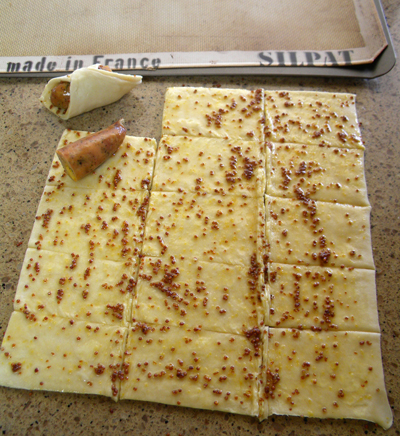 One sheet at a time, repeat with the remaining 3 sheets of pastry, the mustard-maple glaze, the remaining 45 mini-sausages, and egg wash for a total of 60 pigs in a blanket.  There will be a bit of the glaze left in the bowl, add the remaining 1/4 cup maple syrup and the minced rosemary and place in a serving bowl – this will be the dipping sauce.
At this point, the pigs may be baked or individually quick-frozen.
To freeze: Place the baking sheets in the freezer, uncovered, for 30 minutes. Remove from the freezer and quickly transfer the pigs in a labeled and dated 1-gallon freezer-quality zip lock bag or another freezer-safe container.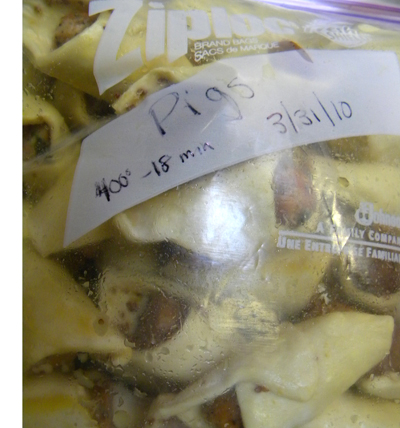 To bake: Preheat the oven to 400 degrees. Bake for 18 minutes, turn over and bake another 15 minutes or until golden all over. Serve hot from the oven or at room temperature on a platter with dipping sauce and garnished with rosemary sprigs.
Makes 60 pieces