Dana's 4th of July recipe
source url by Linda Hopkins
follow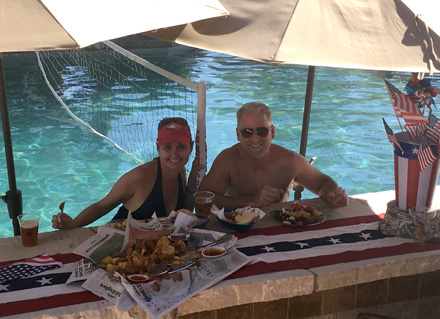 http://cinziamazzamakeup.com/?x=quanto-costa-viagra-generico-25-mg-in-farmacia-a-Verona This is a photo of my lovely neighbors, Dana and Dale, enjoying dinner at the swim-up bar.
buy female viagra overnight delivery While I would love to post dozens of photos from our 4th of July Pot-Luck Pool Party, I am beyond exhausted, so much so that I'm barely able to type. Seriously! It's taken me forever to get my fingers to type these letters correctly. It's like I have no control over my motor skills… it's only 7:25 PM on a Tuesday night and I'm ready to hit the hay, but before I do, I want to post at least one recipe. With all that in mind – please excuse any and all typos, grammar mistakes and basic rattling on…
http://cinziamazzamakeup.com/?x=miglior-sito-per-comprare-viagra-generico-100-mg-spedizione-veloce-a-Torino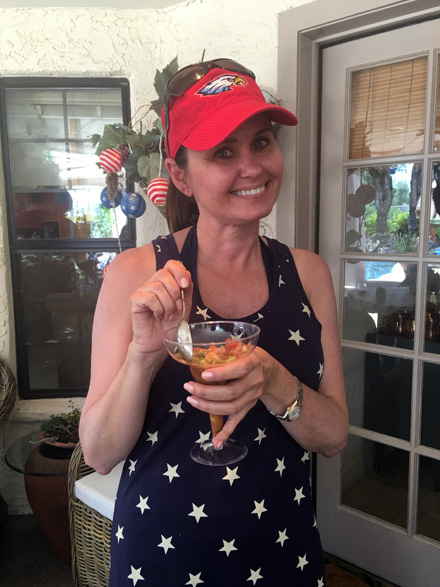 http://acrossaday.com/?search=lasix-60-mg My beautiful neighbor, Dana, adapted a recipe from Simply Recipes and it was the hit of the party and my personal favorite! Not only did I love it but I love that Dana is all about the presentation. She not only brought it ready to serve in a cute Red, White & Blue Flag Bowl, she had that bowl sitting in a clear bowl filled with ice to keep her dish cold. She also brought her own serving spoon and blue tortilla chips in a red bowl … AND she brought the perfect plastic martini/margarita glasses to serve it in! Like I said – I loved it and I love her! Pure Perfection.
go to link OK, here's the recipe – I need to go to sleep before I pass out.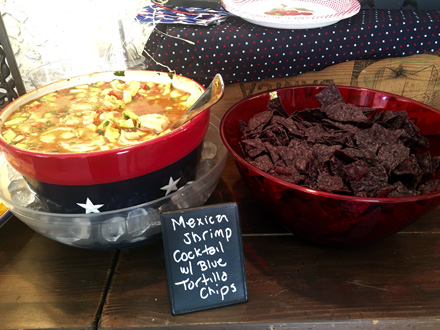 Mexican Shrimp Cocktail
1 pound raw medium shrimp, peeled and deveined
Salt
1 cup peeled and chopped red onion
1 cup peeled and diced cucumber
1/2 cup chopped celery
1 jalapeño, seeded and minced
15-ounce can whole peeled tomatoes, chopped acquistare vardenafil Roma OR 1 1/2 cups freshly chopped tomatoes with their juices
1/2 cup ketchup
1/4 cup chopped fresh cilantro
2 tablespoons fresh lime juice
1 ripe avocado, cut into chunks
1/4 cup Valentina Mexican hot sauce
Blue tortilla chips, for serving
Bring a medium saucepan of salted water to a boil, add the shrimp, and cook for 2-3 minutes, until just cooked through. Reserve and chill 1 cup of the cooking water.
Cut half of the shrimp into large chunks, leaving the other half whole.
Place the chopped shrimp in a bowl with the onions, cucumber, celery, jalapeño, tomatoes, ketchup, cilantro, lime juice and hot sauce. Gently stir to combine, and chill.
Once the cooking water has cooled at least to room temperature, add a little at a time to the shrimp cocktail, until the shrimp cocktail is the consistency you want.
To serve; taste and add salt and more hot sauce as desired and gently mix in the chopped avocados. Arrange the whole shrimp on top.
Serve in parfait glasses or in small bowls with tortilla chips on the side.
Serves 6
Save
Save
Save
Save
Save
Save