fresh entrée #1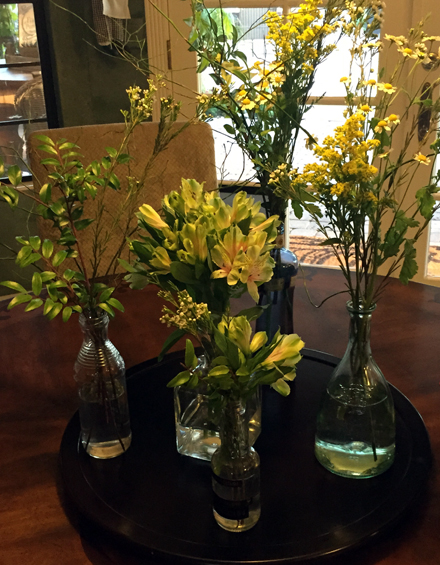 For last weekend's Spring Reunion Dinner, I served two fresh and colorful entrées. Today I post the first, along with a few photos of the flowers and table setting.
I picked up the flowers above at Trader Joe's when I was grocery shopping for the dinner and arranged them quite simply in a few of the bottles from my "miscellaneous cool bottles" collection.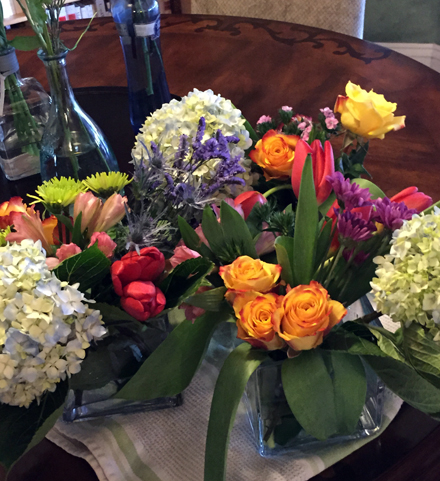 These beauties were given to me by Lori and I can assure you she didn't just pick them up at Trader Joe's – more likely at some fancy florist shop. I arranged them in some of my clear square vases and they were held indoors until it was cool enough to move them to the table on the back patio where we ate our meal.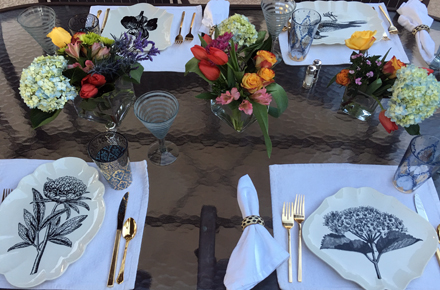 I decided to keep the table simple, fresh, and clean – like the food.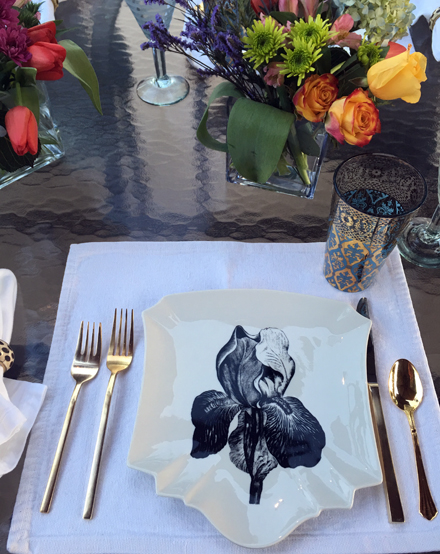 I started with white placemats and napkins, blue and gold Indian-inspired tea glasses for the water, and frosted white striped wine goblets.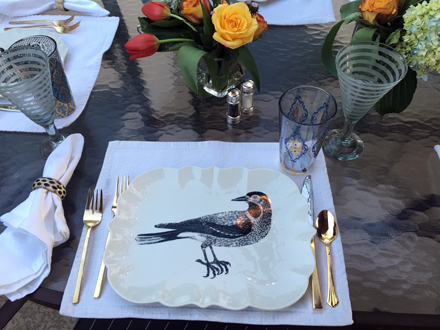 Gold flatware to match the tea glasses and a lovely set of mix/match of bird and floral dishes in simple black and white.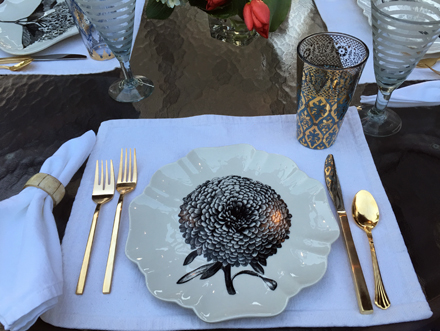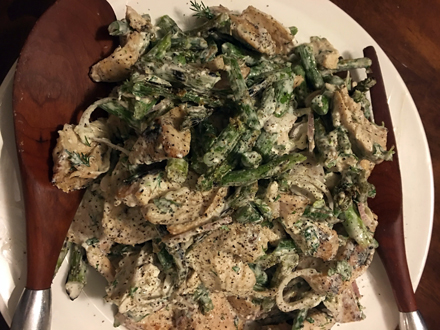 Grilled Chicken and Asparagus with Creamy Goat Cheese
1 ½ pounds skinned and boned chicken breasts
4 tablespoons olive oil, divided
2 teaspoons salt, divided
1/2 teaspoon freshly ground black pepper, divided
2 pounds asparagus, tough ends snapped off
4-ounces crumbled goat cheese
1/2 cup peeled and thinly sliced shallots
1/3 cup mayonnaise
3 tablespoons buttermilk
1 tablespoon freshly squeezed lemon juice
2 garlic cloves, peeled and minced
2 tablespoons chopped fresh mint
2 teaspoons chopped fresh dill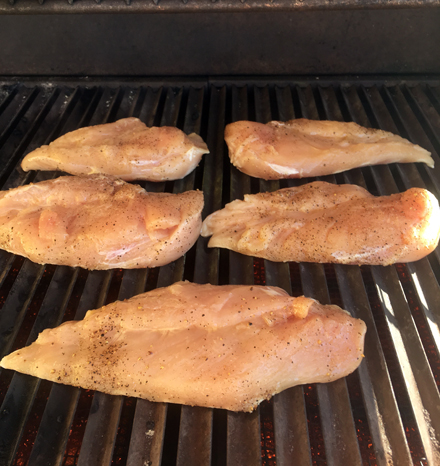 Preheat grill to medium-high heat. Brush the chicken with 2 tablespoons of the oil and sprinkle with 1 teaspoon of the salt and ¼ teaspoon of the pepper.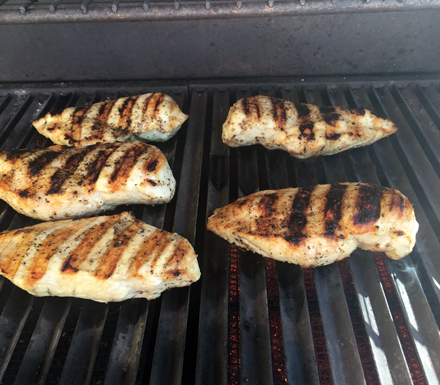 Grill the chicken, covering the grill, for about 5 minutes per side, or until cooked through. Let stand for 10 minutes and then thinly slice on the diagonal.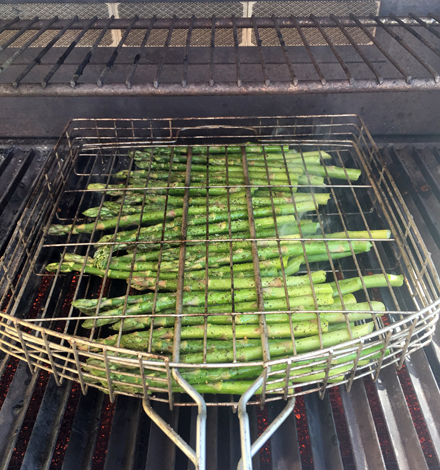 Toss the asparagus with the remaining 2 tablespoons of oil and lay in a grill basket, grill for about 2 minutes per side.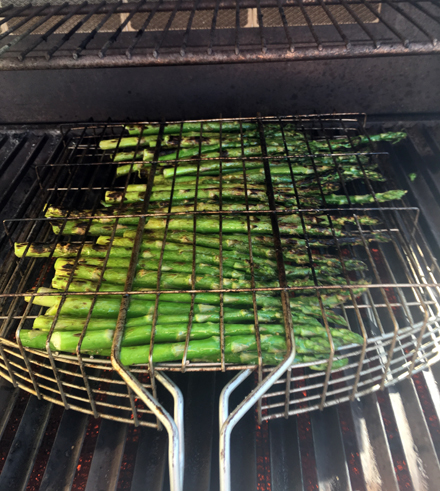 Remove from basket and cut on the diagonal into 2-inch pieces. In a large bowl, toss together the chicken, asparagus, goat cheese, and shallot.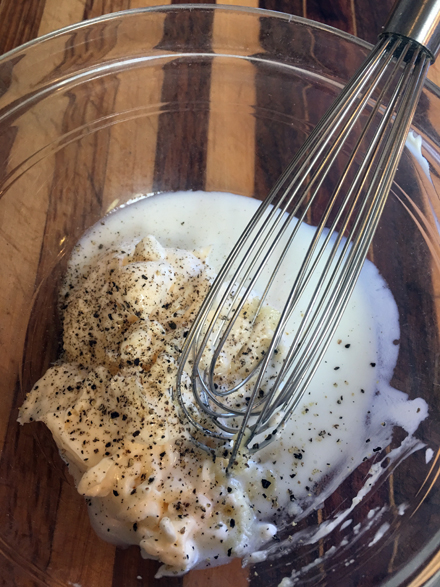 In a small bowl, whisk together the mayonnaise, buttermilk, lemon juice, and garlic plus the remaining 1 teaspoon salt and 1/4 teaspoon pepper. Toss with the chicken-asparagus mixture.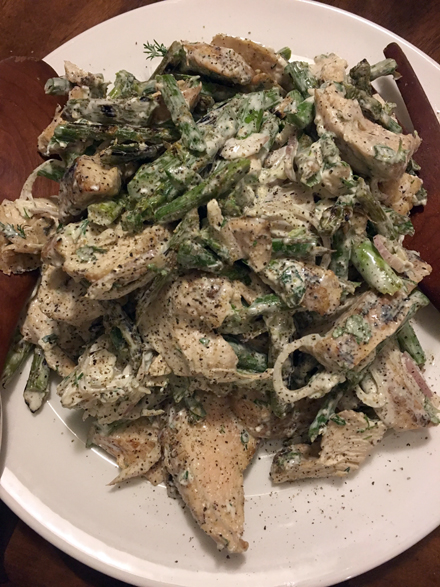 Transfer to a serving platter and sprinkle with the chopped mint and dill.
Serves 6
*Photo Credit:  The top 2 photos were taken by Lori Vento.