Christmas Potluck Recipe 2
April make this yummy dip. It was a big hit and it is full of protein to keep the party going. The recipe and the photo come from Taste of Home.
*** As an added bonus to these potluck recipes, I'm adding a Little Known Amazing Random Fact at the end of the post. I found these on a page I follow on Instagram and I can honestly say, I knew none of them! Be sure to check them out and let me know if you knew any.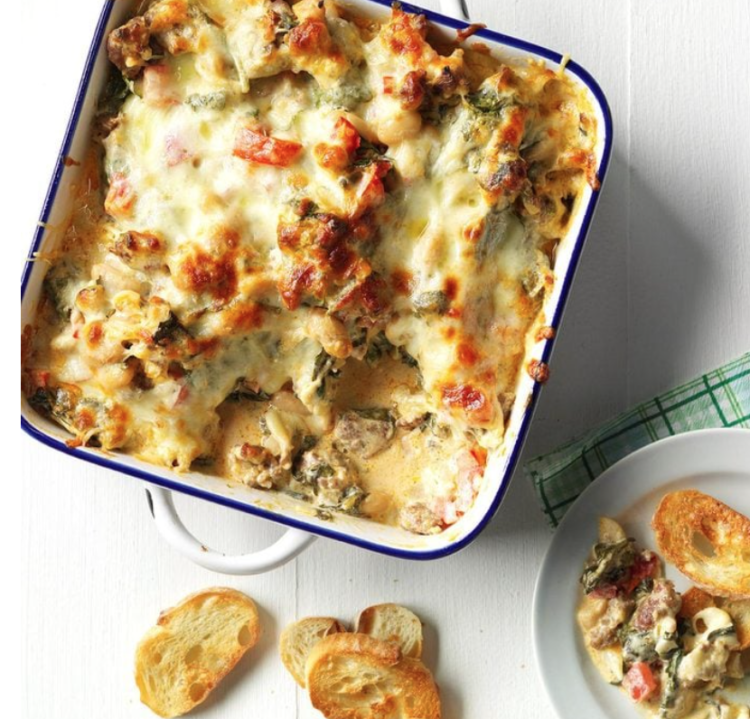 Tuscan Sausage & Bean Dip
1 pound bulk hot Italian sausage
1 medium onion, finely chopped
4 garlic cloves, minced
1/2 cup dry white wine or chicken broth
1/2 teaspoon dried oregano
1/4 teaspoon salt
1/4 teaspoon dried thyme
8-ounces cream cheese, softened
1 package (6 ounces) fresh baby spinach, coarsely chopped
15-ounce can cannellini beans, rinsed and drained
1 cup chopped seeded tomatoes
1 cup shredded part-skim mozzarella cheese
1/2 cup shredded Parmesan cheese
Assorted crackers or toasted French bread baguette slices
Preheat oven to 375 degrees. In a large skillet, cook sausage, onion, and garlic over medium heat until sausage is no longer pink, breaking up sausage into crumbles; drain. Stir in wine, oregano, salt, and thyme. Bring to a boil; cook until the liquid is almost evaporated.
Add cream cheese; stir until melted. Stir in spinach, beans, and tomatoes; cook and stir until spinach is wilted. Transfer to a greased 8-inch. square baking dish. Sprinkle with both kinds of cheese.
Bake until bubbly, 20-25 minutes. Serve with crackers.
Serves 16
Recipe and photo from Taste of Home.
Little Known Amazing Random Fact: "Facetiously" is the only word in the English language that has all the vowels in alphabetical order, including "y"