yet another pulled pork recipe
The first of my two main-course dishes for the 4th of July Pot-Luck Pool Party is a pulled pork recipe that came from Williams-Sonoma. I altered the recipe to fit my needs.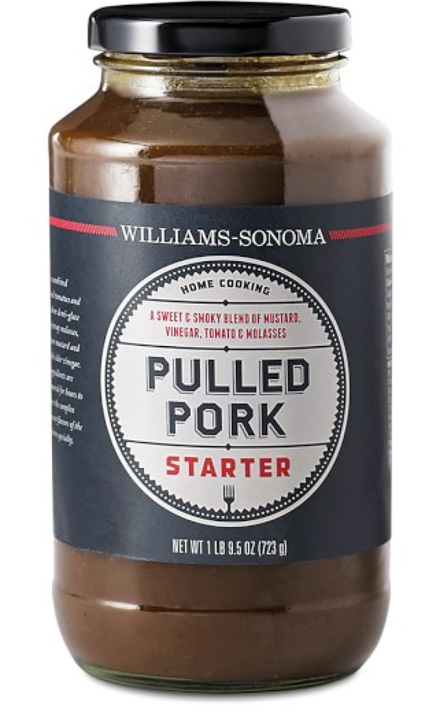 Need #1 – I did not want to buy a jar of the Williams-Sonoma pulled pork starter. It cost too much and after going online and looking at the list of ingredients, I had all of it on hand anyhow, so I made my own.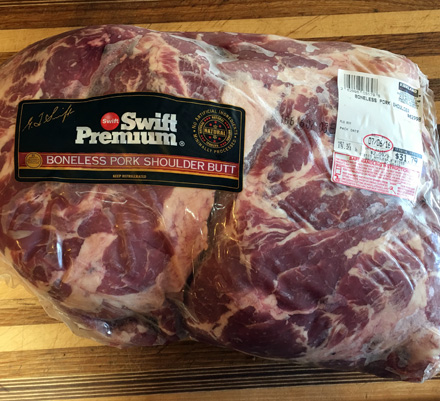 Need #2 – I buy my pork shoulder at Costco and a 2.5 pound piece (which is what the Williams-Sonoma recipe called for) would be a joke at Costco. Mine weighed in at a whopping 15 pounds. This meant I needed to quadruple the original recipe, which was more than fine because the original served only 4 to 6 and I had more than 24 mouths to feed. I realize that 15 pounds is 6x as much, but the remaining ingredients only needed to be 4x more.
The big trick to the thing was cooking it in a slow cooker in two batches. It wasn't difficult and took less time and effort than I expected it would. I thought about calling a neighbor to borrow a second slow cooker, but I was too lazy. That is a good option though.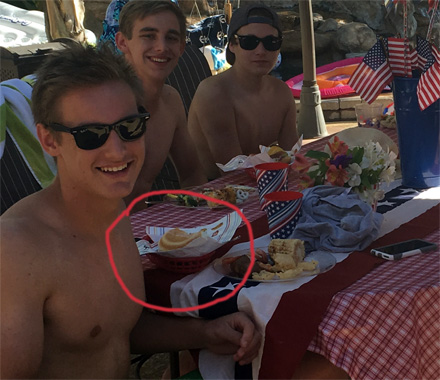 Another issue was that it never even crossed my mind to take a photo of even one sandwich. I have photos of the pork in the chafing dish and of the slaw on the platter. But no individual sandwiches pics or of the cute setup I had for the little sandwich baskets and paper liners that I worked super hard to get all fixed up. Darn it! As you can see, I had to improvise with those "close-up" images. Sad, but it's all I got.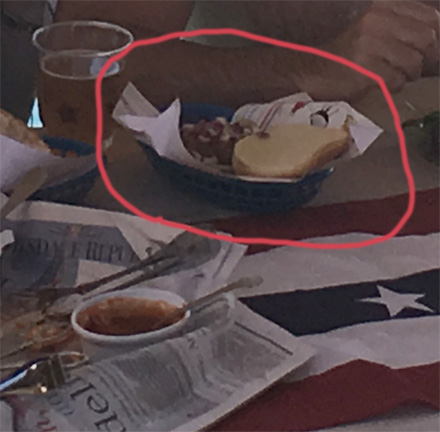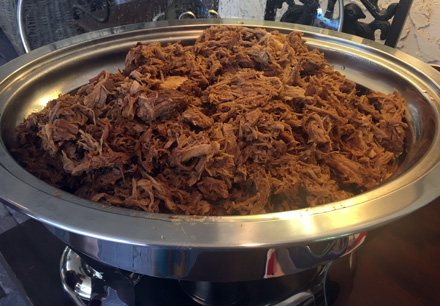 Slow Cooker Pulled Pork Sandwiches
Pork
12 to 15 pounds boneless pork shoulder
Salt and freshly ground pepper
Olive oil
1 ¾ cups apple cider vinegar
1/2 cup water
1/3 cup brown sugar
1/3 cup spicy brown mustard (Gulden's)
1/3 cup ketchup
1/3 cup molasses
1/3 cup maple syrup
1/3 cup beef demi-glace (optional)
4 garlic cloves, peeled and minced
1/2 teaspoon salt
1/2 teaspoon freshly ground black pepper
1/4 teaspoon crushed red pepper flakes
1/4 teaspoon cayenne
Coleslaw
1/2 head green cabbage, cored, quartered, and thinly sliced
1/2 head red cabbage, cored, quartered, and thinly sliced
Salt and freshly ground pepper
1/2 cup mayonnaise
2 tablespoons cider vinegar
1 ½ tablespoons sugar
1 tablespoon fresh lemon juice
1 teaspoon celery seed
24 to 30 Kaiser rolls or hamburger buns, split and toasted
Pickled jalapeño slices and purchased BBQ sauce, for serving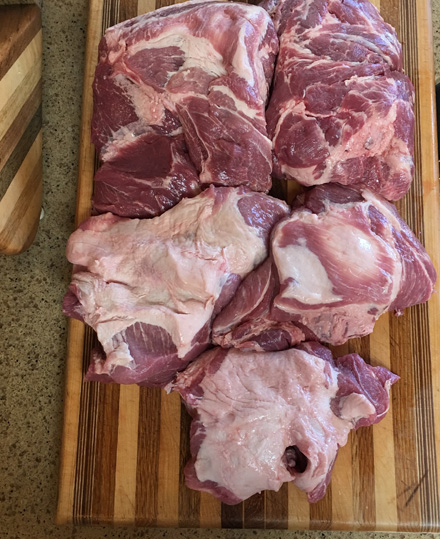 Pork: Cut the pork shoulder into 5 or 6 large chunks. Remove as much of the fat as you are able. Season all over with salt and pepper.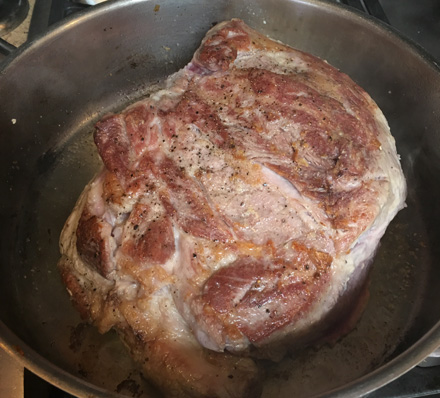 Heat a large skillet and add 2 tablespoons olive oil, brown the pork on all sides, in batches, adding more oil as needed, about 12 to 15 minutes per batch. Do not wash the skillet after all the pork is browned, set aside to use to reduce the sauce later.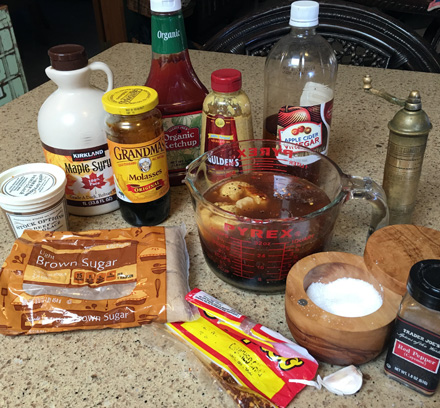 While the pork is browning, make the cooking liquid. In a large bowl, whisk together the cider vinegar, water, brown sugar, mustard, ketchup, molasses, maple syrup, demi-glace, garlic, salt, pepper, red pepper, and cayenne.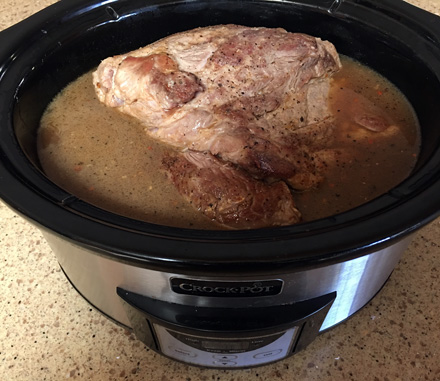 Transfer 2 or 3 of the browned pork chunks to a slow cooker set on high heat. Add half of the cooking liquid. Cover and cook on HIGH until the meat is fork-tender, about 4 hours.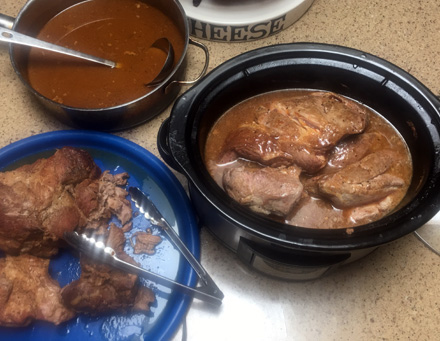 Transfer the pork to a large platter until cool enough to handle.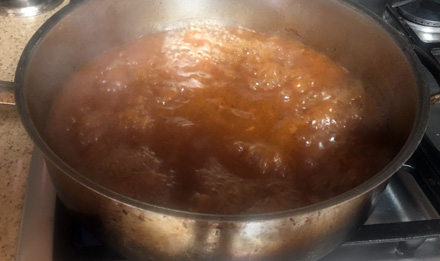 Transfer the sauce to the same large skillet the meat was browned in and bring to a boil. Reduce the sauce by at least half. Use the slow cooker and repeat the cooking process with the remaining chunks of browned pork and the remaining cooking liquid to cook up another batch of pulled pork and then reduce the sauce in the same manner. Combine the two sauces, taste, and reduce more if needed.
Coleslaw: While the second batch of meat is cooking make the coleslaw. In a large bowl, whisk together the mayonnaise, sugar, lemon juice, celery seed, and vinegar, and season with salt and pepper. Add the cabbages to the bowl and toss to coat evenly with the dressing. Cover and refrigerate for 2 to 3 hours before serving.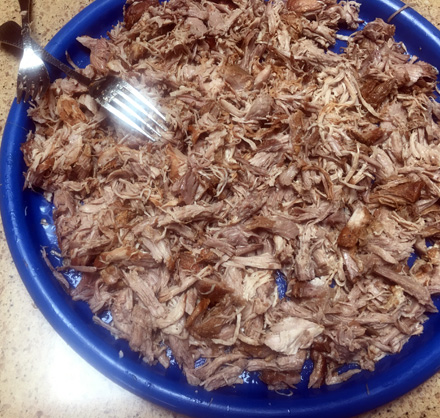 Using two forks, shred the meat, discarding any excess fat. Stir in the reduced sauce.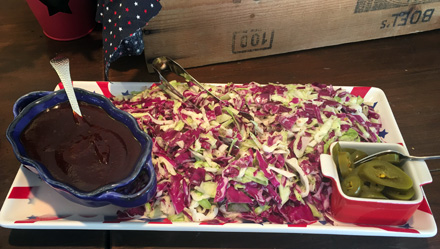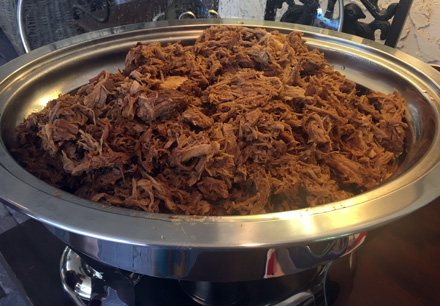 To serve, heap the pulled pork and a spoonful of the slaw onto the bottom half of each bun, top with the pickled jalapeño slices and BBQ sauce, and cover with the bun top. Serve immediately, passing the remaining coleslaw alongside.
Serves 24 to 30
Save
Save
Save