artichoke and olive tart atop mixed greens in tucson!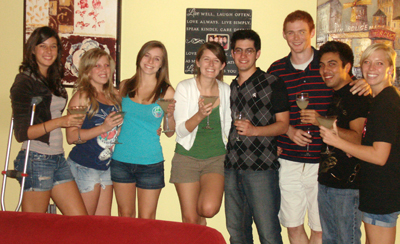 I'm in Tucson today visiting Marissa and her fabulous roommates, Kaley, Petra, Kelsey, and Paige. They live in a cute 5 bedroom house with a pool! I came down to check out the decorating and make them dinner.  I'd seen it in July before they moved in, but it was empty and stark, now it's so cute with all their things in place.  There were 11 of us for dinner, I made a mixed green salad topped with a savory tart for the first course.  Unfortunately, in the rush of trying to get 11 plates out to the table at the same time, I forgot to take a picture, dang it!  Maybe, I'll remake this at a later date and get a picture up, because it was pretty and tasty too. Eight of the co-eds are pictured above with their Cucumber Martinis, which I promised Marissa I'd make for her back on the August 24 post. Missing from the picture are Blake and Graven, who arrived just minutes after this was taken.  Sorry guys!

Artichoke and Olive Tart atop Mixed Greens
1 large jar (approximately 26 ounces) of marinated artichoke hearts
1 large lemon
2 tablespoons minced Italian parsley
2 teaspoons fresh thyme leaves
1 large shallot, peeled and minced
1/4 teaspoon freshly ground black pepper
1 sheet frozen puff pastry, thawed according to package directions
2 small or medium ripe tomatoes
1 large egg, lightly beaten
3 ounces goat cheese, room temperature
2 ounces cream cheese, room temperature
3 tablespoons fat-free half-and-half
25 to 30 black oil-cured Kalamata olives, drained and pitted
1/2 cup freshly shredded Parmesan cheese
Parmesan Vinaigrette
3 tablespoons fresh lemon juice
1 tablespoon balsamic vinegar
2 teaspoons whole grain mustard
1 teaspoon Worcestershire sauce
1 garlic clove, peeled and minced
1/3 cup extra-virgin olive oil
1/4 cup shredded Parmesan cheese
12 cups mixed greens
Drain the artichokes and place them in a medium bowl.  Add the zest of  1/2 of the lemon, parsley, thyme, shallot, and pepper then set aside.
On a floured surface, roll out the puff pastry into a 13-inch square. Place the pastry in an 11-inch tart pan with a removable bottom. Gently press it into the pan and trim the edge of the pastry so it's even with the top edge of the pan. Chill in the freezer for 12 minutes.  Preheat the oven to 400 degrees.
Thinly sliced the tomatoes and placed them on paper towels to drain and release some of their juices.
In a bowl, combine the egg, goat, and cream cheeses, half-and-half, and the zest from the other half of the lemon and mix well.
Spread the cheese mixture onto the bottom of the pastry.  Place the drained tomatoes on top in a single layer. In a single layer place the artichoke mixture and olives tightly together on top of the tomato layer. Sprinkle with the Parmesan cheese. Freeze for 12 minutes.
Bake the tart in the preheated oven, for about 25 to 30 minutes, or until the edges are lightly golden and the filling is puffed and lightly browned.
While tart bakes make the vinaigrette:  Whisk lemon juice, vinegar, mustard, Worcestershire, and garlic in a small bowl.  Drizzle in oil while whisking to emulsify. Stir in Parmesan cheese. Season with salt and pepper.   Toss the greens with the vinaigrette and divide between salad plates.
Remove the tart bottom from the rim, cut into wedges and serve warm on top of dressed mixed greens.
Serves 8 to 10