salade verte amère
That is French and translates word for word into Salad. Green. Bitter.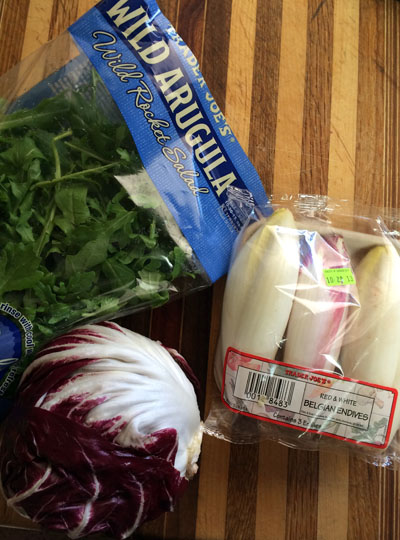 It sounds poetic in French but it certainly does not sound as lovely or appetizing in English. So we shall give it a nicer English name … Bitter Greens Salad with Pomegranates & Parmesan.
So much better. This, of course, was the salad from the European Dinner Party.
I put out store-bought cookies and candies at the end of the meal, so there will not be a dessert recipe. The main course is all I have left to post. Expect that recipe tomorrow.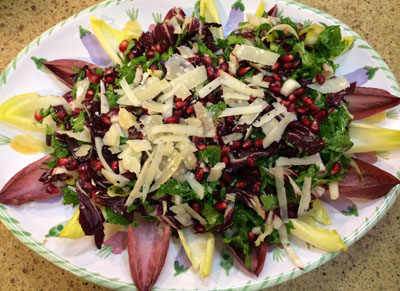 Bitter Greens Salad with Pomegranates & Parmesan
1 bag wild arugula (rocket)
3 large heads Belgian endive
1 large head radicchio
1/2 cup pomegranate arils
1/4 cup shaved Parmesan cheese
Dressing
1/2 cup olive oil
Juice of 2 lemons
1/2 teaspoon salt
1/2 teaspoon freshly ground black pepper
Wash and dry the arugula, tearing off any tough stems. Stack and then slice the leaves into 1/2-inch shreds. Put the shredded arugula in a large bowl.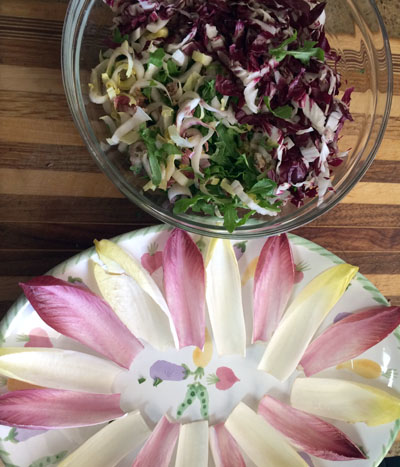 Pull off 16 to 20 of the largest and nicest outer leaves from the endive heads (trimming the root end as you go) and arrange them around the outside edge of a large platter, leaving a space in the center.
Slice what remains of the endive heads crosswise into 1/4-inch shreds, starting at the pointy top and stopping when you get to the hard end core. Put the shredded endive in the bowl with the arugula.
Cut out the core of the radicchio and then slice the radicchio into 1/4-inch shreds. Add to the bowl.
To make the dressing; place all ingredients in a jar and shake until well blended.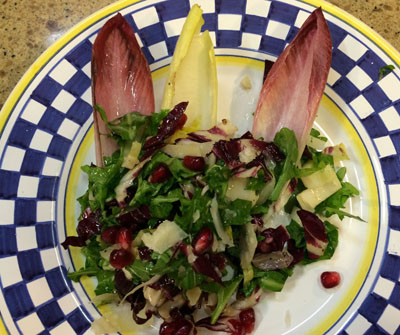 Just before serving, toss the salad with 3/4 of the dressing. Fill the endive cups and the center of the platter with the salad.  Sprinkle with the pomegranate seeds and the shaved Parmesan.  Drizzle with the remaining dressing and serve immediately.
Serves 6