special occasion beef
For Christmas dinner I made everyone's favorite cut of beef – tenderloin. Although filet mignons are always a treat, preparing a whole tenderloin feels wonderfully decadent. And when you throw in a creamy brandy sauce, well that puts it above and beyond. Unfortunately, while in the rush to make all the plates perfect and get them to the table hot on Christmas night, I didn't get a picture snapped before all the sauce was gone… so the picture above is with the remaining beef, sans sauce. Be sure you run out today to buy your tenderloin if you want to serve this on New Year's Eve. I picked up mine at Costco, of course!
Beef Tenderloin with Horseradish-Brandy Sauce
1/4 cup olive oil
1/2 cup prepared white horseradish
3 tablespoons whole-grain mustard
2 garlic cloves, peeled and minced
One 4-pound beef tenderloin
1  1/2 tablespoons sea salt
2 tablespoons fresh rosemary leaves, minced
2 tablespoons fresh thyme leaves, minced
1 teaspoon freshly ground black pepper
Sauce
3 tablespoons unsalted butter
2 tablespoons olive oil
1 cup peeled and minced shallots
2 garlic cloves, peeled and minced
3/4 cup brandy
4 cups beef broth
1 cup heavy cream
1/4 cup prepared white horseradish
1/4 cup fresh thyme leaves, minced
Sea salt and freshly ground black pepper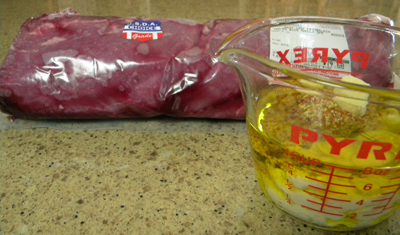 In a 1-cup glass measuring cup, blend together olive oil, horseradish, mustard, and garlic.  Coat the entire tenderloin with the mixture. Place beef in a 1-gallon zip-lock and pour in any remaining horseradish mixture.  Seal and refrigerate for at least 6 hours, but preferably overnight.
Preheat the oven to 500 degrees. Line a baking sheet with foil.
In a small bowl, combine salt, rosemary, thyme, and pepper.  Transfer beef to a baking sheet, and season all over with the spice-herb mix.
Roast in preheated oven until an instant-read thermometer inserted in the thickest part of beef registers 125 degrees, about 40 to 45 minutes for medium-rare. Tent beef loosely with foil, let rest for 15 minutes, slice, and serve with sauce drizzled on top.
Sauce: Melt butter and oil together in a large skillet over medium-high heat. Add shallots and garlic; sauté, until soft and translucent, about 4 to 5 minutes.
Turn off heat; add brandy. Turn the heat back on and bring it to a boil. Continue to boil until the sauce is reduced by half. Whisk in the broth, cream, and horseradish; simmer until reduced and thickened, about 15 minutes.  Stir in thyme, then taste, and season with salt and pepper.
Serves 10 – 12