Easter Eggs and Easter menu ideas
Instead of my usual Silk Transfer Easter Eggs, I went another route this year. On Pinterest, I found Cocktail Napkin Easter Eggs.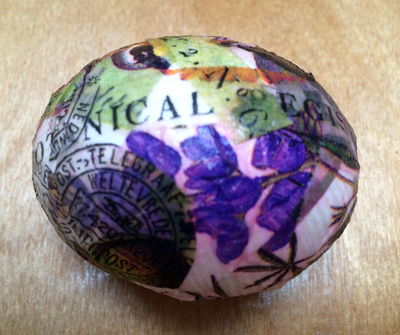 I hard-boiled 9 eggs and used the technique explained HERE for the first eight eggs. Then on a whim, I tried another technique and ended up with the egg above. I love the end results and will show you how to do both.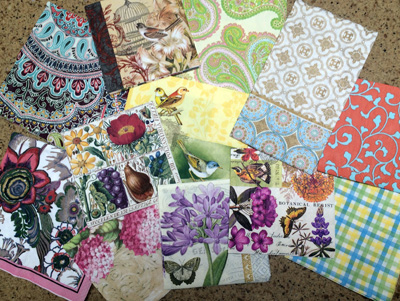 Plus I'm putting up links to all of my Easter recipes as listed on the Complete Recipe Index – over there on the left if you are still trying to figure out what to make.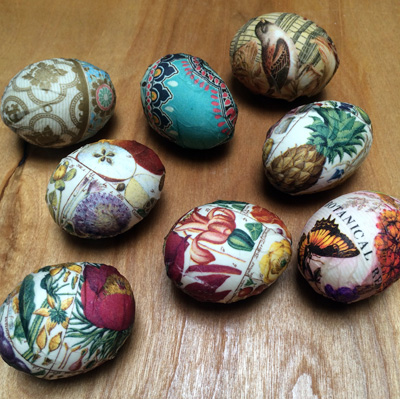 Cocktail Napkin Easter Eggs
8 to 12 white hard-boiled eggs, cold
Printed paper cocktail or lunch napkins
1 egg white, lightly beaten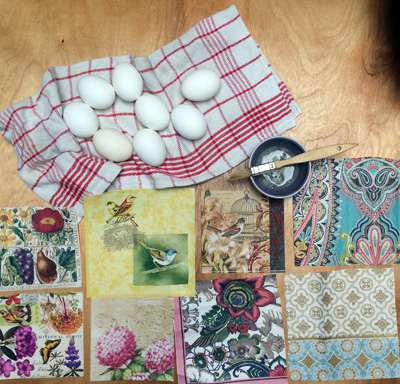 Open the napkins and separate the printed top layer from the plain second layer if the napkin has two layers. Discard any plain sheets.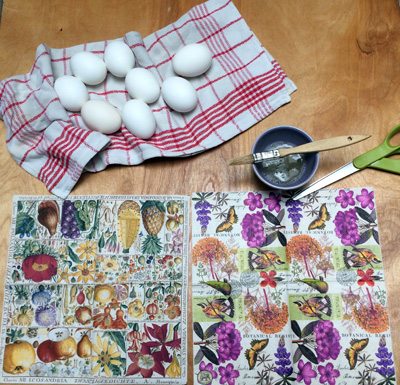 Cut each napkin into four squares, along the folds.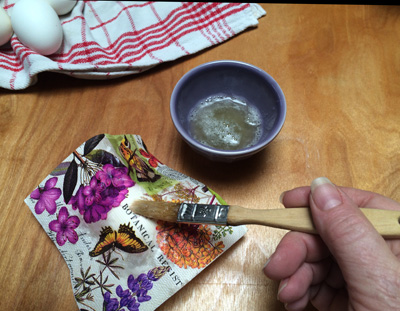 Dip a small pastry brush into the beaten egg white and use to adhere and apply a square onto the front center of an egg.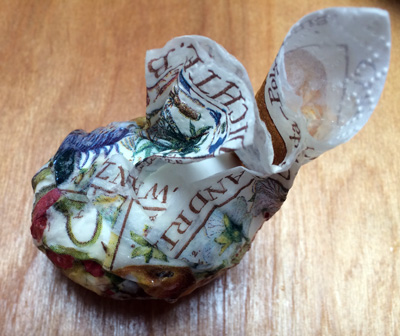 Continue to dip the brush into the egg white and gently apply the napkin to the egg as you smooth the napkin from the center out and around.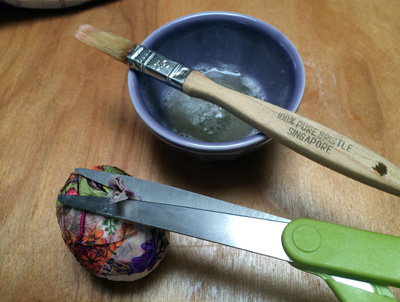 When you get to the backside of the egg, cut off the excess napkin, and let the egg air-dry on a dish towel. Repeat with remaining eggs, egg white "glue" and napkin squares.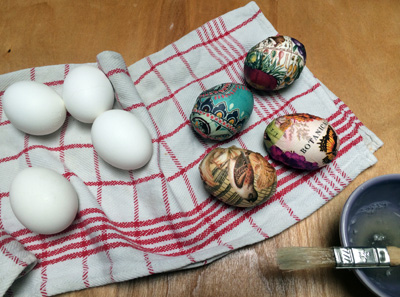 For a glossy effect, once eggs are dry, wipe the eggs with a paper towel that has been dipped in vegetable oil.  Refrigerate eggs until ready to eat.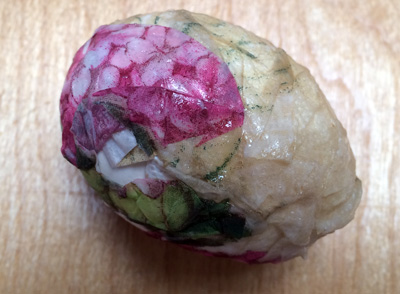 If you end up with an egg looking like the one above, where the napkin is not sturdy enough, bunches, and continually tears as you brush it on … the good news is that the egg is not ruined. Just run it under cold water to remove the napkin, dry well, and start over.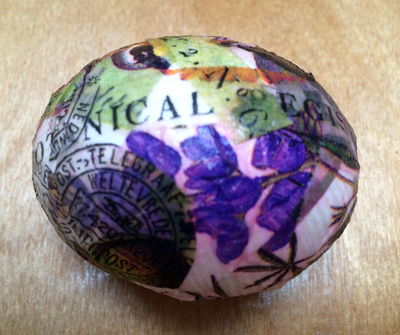 Collage-Effect Cocktail Napkin Easter Eggs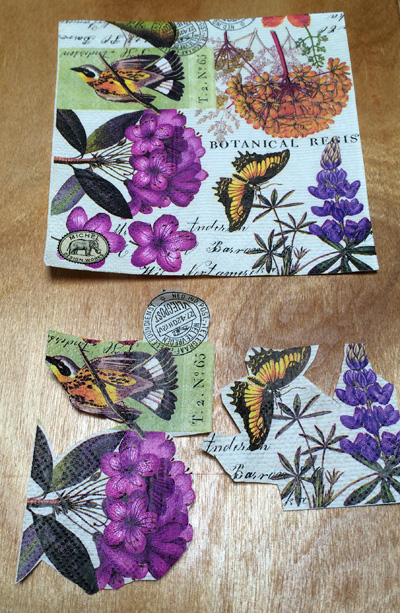 Use the same technique as above, except instead of wrapping the egg in a napkin, use sharp scissors to cut out the various motifs on the napkins and apply them to the egg in a collage-type pattern, covering all or as much of the egg as you please.
I'll be making Easter Supper this year in lieu of our usual Easter Brunch. My dad's birthday is tomorrow, Good Friday, so we won't celebrate until Sunday. Somehow supper seems more appropriate for Easter/Birthday than brunch. I will be serving the following.
Easter Supper 2014
Arugula & Strawberry Salad with Chèvre, Pistachios & Horseradish-Maple Vinaigrette
Pomegranate Molasses Leg of Lamb
Leek, Potato, and Wild Mushroom Gratin
and
Lemon Meringue Pie (my dad's favorite)
 

More

Easter

Recipe

s
Asparagus Terrine with Tarragon Sauce
Banana and Walnut Bread Pudding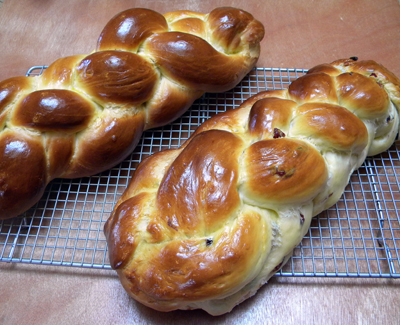 Brandied Wild Mushroom Spaetzle
Chilaquiles (tortilla, egg, chicken dish)
Chocolate-Bourbon Bread Pudding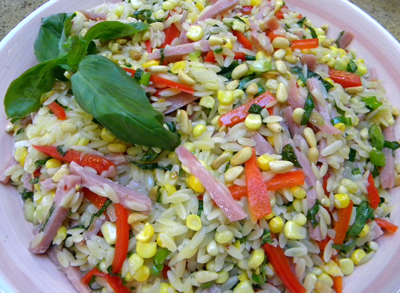 Cold Orzo Salad with Ham, Corn, and Basil
Crunchy Peanut Butter-Nutella French Toast
Cucumber Salad Rings with White Wine Vinaigrette
Double Smoked Potatoes Au Gratin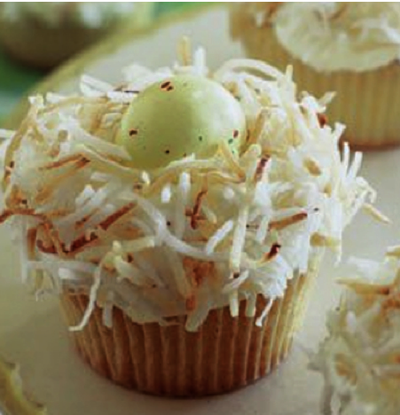 Crispy "Good Morning' Potatoes
Herb Crêpes Eggs Benedict Florentine
Individual Roasted Cherry Tomato, Arugula, Goat Cheese, and Pinon Quiche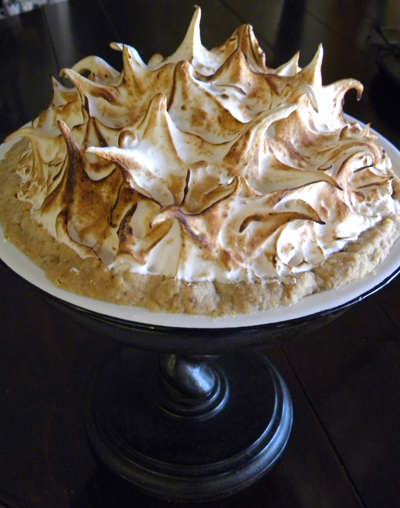 Meyer Lemon Curd "Cinnamonless" Rolls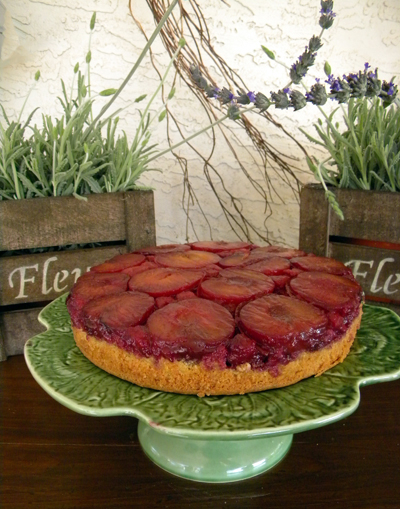 Plum and Raspberry Upside-Down Cake
Pomegranate Molasses Lamb Chops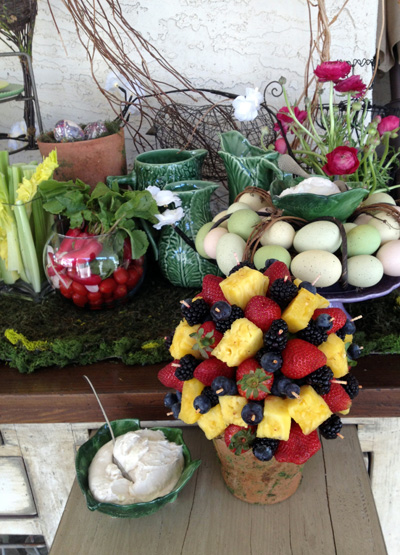 Roasted Leg of Lamb with Red Zinfandel Sauce