breakfast fit for company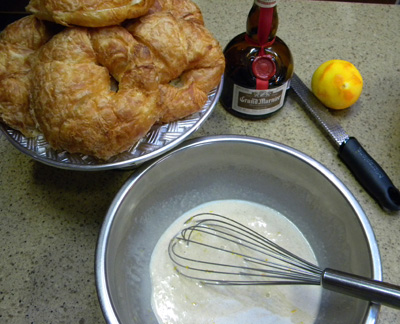 There are some dishes that should be saved for the company, just like some people save the good towels for the guest bathroom. This is one of those dishes, it is a treat and should only be had on rare occasions to keep it that way. We've had a special guest for the weekend, so I made this for the family on Sunday morning. So nice to have you stay with us Albert, have a great semester at UA and practice up on the ping-pong!
Truly Decadent French Toast
5 eggs
3/4 cup heavy cream
1/3 cup Grand Marnier
2 tablespoons sugar
Finely grated zest of 1 orange
1 1/2 teaspoons ground cinnamon
6-day-old croissants cut lengthwise in half
6 tablespoons (3/4 stick) unsalted butter, divided
Powdered sugar
Beat the eggs and cream together in a large bowl.  Add the Grand Marnier, sugar, orange zest, and cinnamon and whisk until well blended.  Pour half into a shallow bowl or pie plate.
Dip each croissant half in the egg mixture, turning once.  Melt a few tablespoons of the butter in a skillet over medium heat.  Add as many croissants as will fit and fry until golden on both sides.  Repeat with the remaining egg mixture and croissants, adding butter to the skillet as needed.
Sift powdered sugar over the hot french toast.  Serve immediately.
Serves 6