Pinterest inspired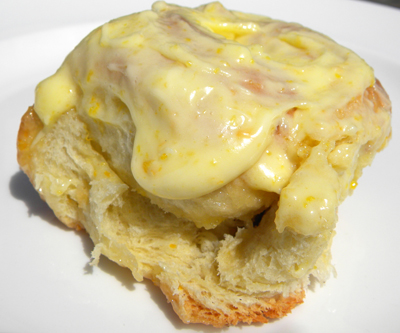 I found this recipe on my friend, Gwen Walter's, Pinterest page. I immediately repinned it and knew I'd be making them someday – today is that day! I have revised the recipe a bit, re-writing the confusing parts and eliminating 1/4 cup of butter… now they are so much healthier … NOT!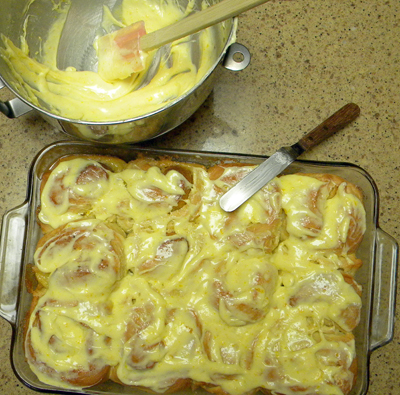 No, these are a once-a-year (at the most) treat… super high in fat and calories, but over-the-top delish!!! As in, "OMG – those are flipping amazing!" They would be perfect for an Easter brunch. They are made like a cinnamon roll but without a drop of cinnamon.
You will only use 3/4 cup of the nearly 2 cups of Meyer lemon curd you make. (Don't have Meyer lemons? Just use regular lemons, it will still be fab!) Cover and refrigerate the rest of the curd and use on your morning toast and try to keep yourself and family members from sneaking in and devouring it with a spoon. To eliminate this serious threat, I used what was left to make a half batch of THESE lemon bars and have frozen them for when Connor comes home in a couple of weeks.  To do the same – just make half the amount of crust the recipe calls for and use an 8×8-inch baking dish. Then substitute this leftover lemon curd for the filling in the original recipe… yum!
These rolls take some time, but do not fear, they can be partially made ahead:  The lemon curd can be made up to a week ahead and the rolls can be assembled (to the point where they are cut and placed in the buttered pan), wrap tightly with plastic wrap and refrigerate up to 24 hours ahead (they will rise while chilling).  The next morning, remove from fridge, keep covered, and let come to room temperature for an hour. Remove plastic wrap just before popping it into the oven to bake.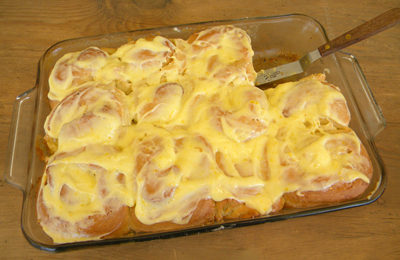 Meyer Lemon Curd "Cinnamonless" Rolls
Meyer Lemon Curd
6 egg yolks
1 cup sugar
2/3 cup juice from 2 or 3 Meyer lemons, plus the grated zest from the lemons
1/2 cup (1 stick) unsalted butter, cut into small pieces
Dough
2  1/4 teaspoons (1 packet) active dry yeast
3/4 cup milk, room temperature
1/2 cup (1 stick) unsalted butter, room temperature
1/4 cup sugar
4 cups flour, divided
1/2 teaspoon salt
1/2 teaspoon freshly ground nutmeg
Zest from  1  1/2 Meyer lemons (reserve remaining 1/2 lemon zest for the filling)
2 teaspoons vanilla extract
2 eggs
Filling
3/4 cup sugar
1/4 teaspoon freshly ground nutmeg
1/2 teaspoon ground ginger
1/4 cup Meyer lemon curd
3 tablespoons unsalted butter, room temperature
Zest of 1/2 Meyer lemon
Glaze
4-ounces cream cheese, room temperature
3/4 cup powdered sugar
1/2 cup Meyer lemon curd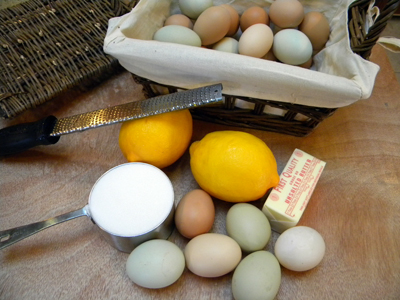 Curd: Whisk yolks, sugar, lemon zest, and juice in a large metal bowl.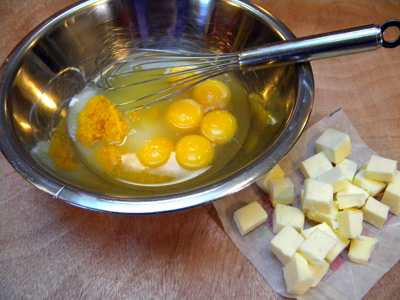 Set bowl over a saucepan of simmering water (do not allow bottom of the bowl to touch the water). Stir constantly with a heat-resistant rubber spatula until thickened, about 8 to 10 minutes. Add butter pieces, a couple at a time, stirring until each addition is melted.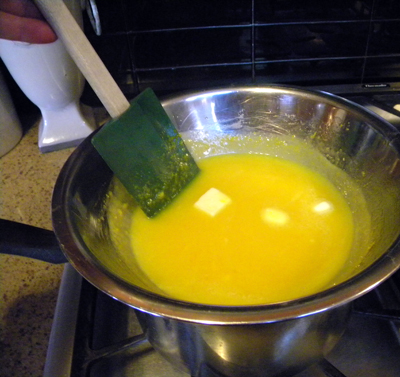 Remove from heat and allow to cool for about 30 minutes, then place a sheet of plastic wrap directly on the top of the lemon curd and refrigerate.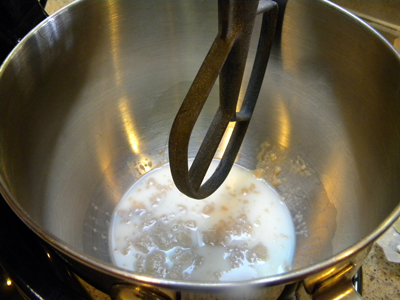 Dough: Place milk in the stand mixer bowl and sprinkle with yeast; leave to proof for 5 minutes.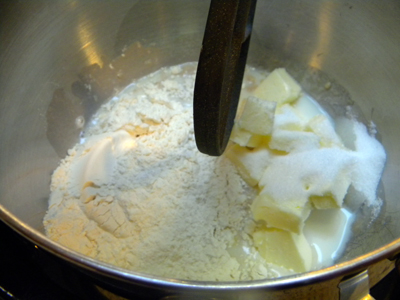 Using the paddle attachment, stir in the butter, sugar, and 1 cup of flour.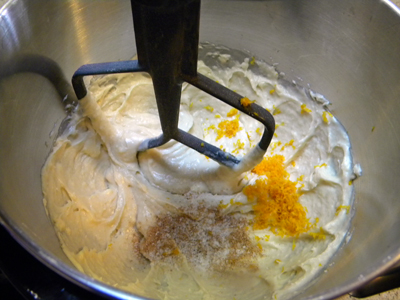 Add the salt, nutmeg, and lemon zest.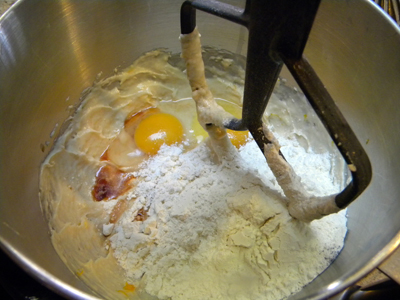 Stir in the eggs, vanilla, and the remaining flour to create a soft and sticky dough.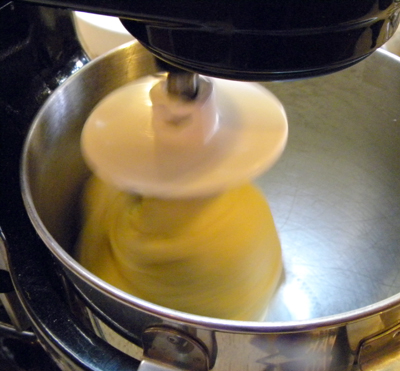 Switch out the dough hook for the paddle and use to knead for 5 minutes, or until the dough is elastic and pliable.
Tuck the dough into a big ball (pinch together at the bottom). Lightly coat the stand mixer bowl with vegetable oil. Turn the dough in the bowl to cover the dough with the oil, and leave, seam side down.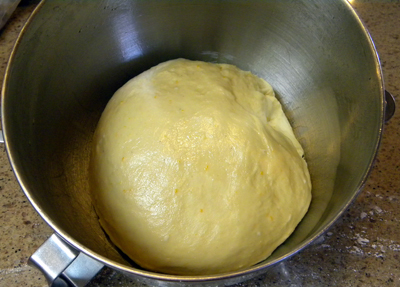 Cover with plastic wrap and a towel. Leave to rise in a warm spot for an hour.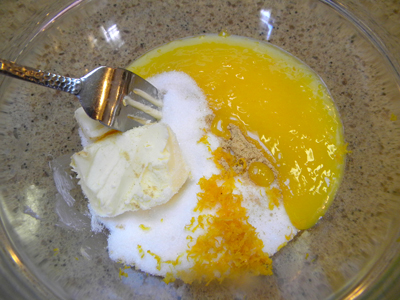 Filling: Use a fork to mix all the filling ingredients in a small bowl until a thick sort of paste forms.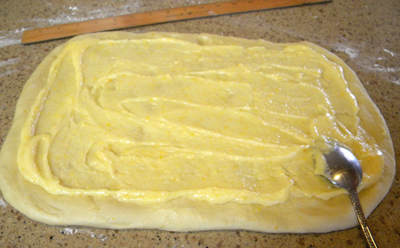 Assembly: Generously grease a 9×13-inch rectangular baking dish with butter. Transfer the dough onto a lightly floured surface and pat with your fingertips to form a 10×15-inch rectangle. Spread the filling evenly using the back of a spoon, leaving free a half-inch space from the edges.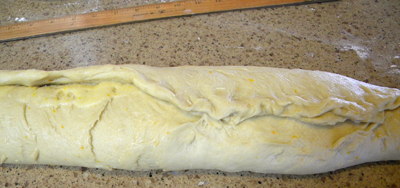 Starting at one long end, roll the dough into a log, pinching it together along the length to keep it from popping open.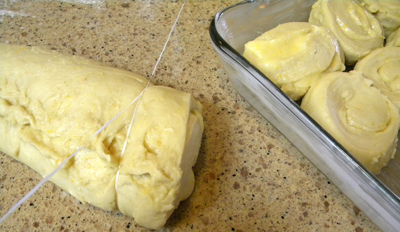 Cut the dough evenly into 12 rolls by using a length of dental floss.  Wrap and cross over the floss, tightening it around the dough, pulling it tight until it cuts through.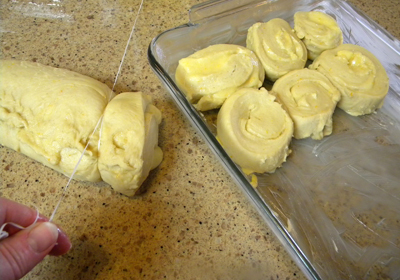 Place the rolls, cut side up, in the prepared baking dish in 3 rows of four. Cover the dish with a kitchen towel and allow to rise in a warm spot for an hour, or until the rolls have doubled in size.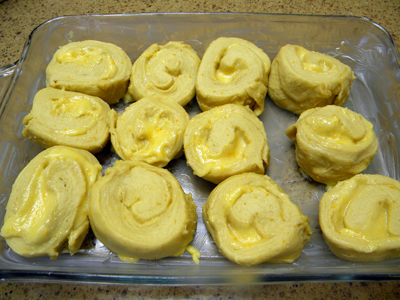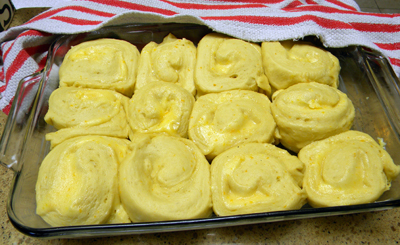 Preheat the oven to 350 degrees. Bake the rolls for 35 to 40 minutes, or until slightly golden on top.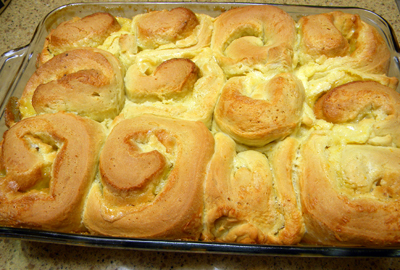 Glaze: While the rolls are baking, whip the cream cheese with a mixer for 2 minutes. Add the powdered sugar and mix until smooth, stir in the lemon curd. Beat for a minute, scraping the sides of the bowl with a spatula as needed.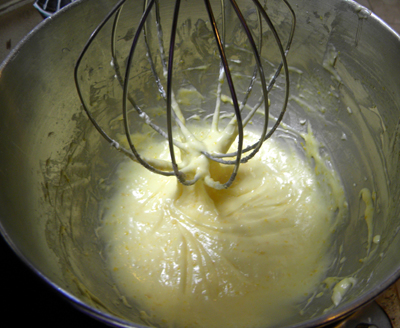 Remove rolls from the oven and immediately spread with about three-quarters of the glaze. Save the remaining glaze for topping individual rolls, just before serving.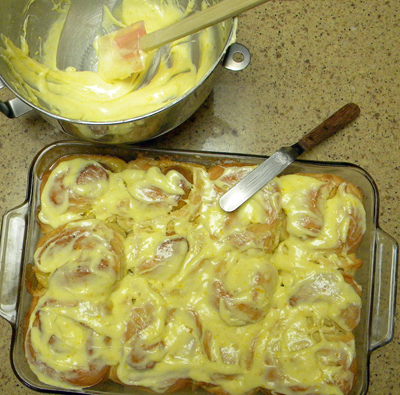 Makes 12 rolls