ring around the…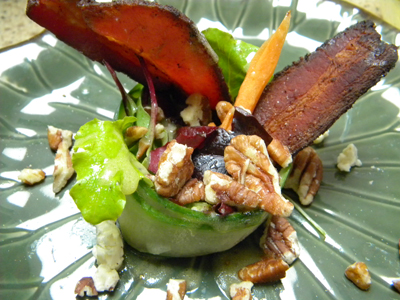 So much for my Meatless Monday postings over each weekend. I think that lasted all of 2 or 3 weeks. I'll keep trying to get up at least one meatless option each week, but scheduling it on a specific day seems to be useless for me.  Of course, you could make this salad meatless just by leaving off the bacon, but the dramatic visual effect of the whole thing would be lost without the bacon jetting out of the ring.
For the julienned carrots, I used a new and really effective little tool I found at Sur La Table called the Kinpira Julienne Peeler.  It is pictured below in case you want to run out and buy one, or you can order it online HERE.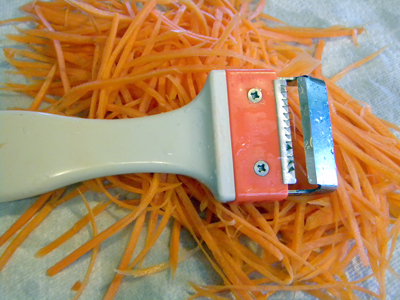 Cucumber Salad Rings with White Wine Vinaigrette
Vinaigrette
1/4 cup white wine vinegar
1 tablespoon Dijon mustard
1 garlic clove, peeled and minced
1 teaspoon sugar
1/2  cup olive oil
Salt and freshly ground pepper to taste
Salad
1 English cucumber, peeled
3 cups mixed baby greens
1/3 cup peeled and julienned carrot
1/2 cup crumbled blue cheese
1/3 cup toasted and chopped pecans
4 thick-cut bacon slices, halved and cooked crisp
Salt and freshly ground pepper to taste
Vinaigrette: Whisk together vinegar, mustard, garlic, and sugar in a medium bowl until well blended. Add oil in a slow, steady stream, whisking constantly until smooth. Whisk in salt and pepper to taste. May be made ahead and stored in the refrigerator in an airtight container for up to 1 week.
Makes about 2/3 cup
Salad: Using a Y-shaped vegetable peeler, peel cucumbers lengthwise into very thin strips, all the way around, just until seeds are visible. Discard the cucumber center.
Shape the largest cucumber slices into four rings, standing rings upright on each of four dinner plates. The cucumber will most likely stick to itself and hold together but secure with a toothpick if needed.
Fill each cucumber ring evenly with mixed greens, carrot, blue cheese, and toasted pecans. Tuck two bacon halves standing upright inside each of the salad rings. Season each with salt and pepper to taste. Drizzle each salad with 2 tablespoons of the vinaigrette, and serve, passing any remaining vinaigrette.
Serves 4