asparagus and santons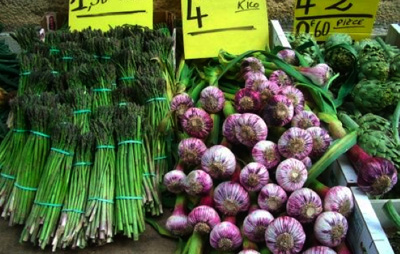 So many of the dishes we made during our stay at La Pitchoune were from famous French chefs and cookbook authors. This vegetarian dish, from Michel Richard, was amongst our favorites.
Another of my favorite things discovered on that first trip to France was the Santons that are so prevalent throughout Provence.  There are actually two styles of Santons, small painted clay figurines or larger clothed clay dolls, it was the dolls that were displayed in La Pitchoune that I fell in love with. Authentic French Santons are hand-crafted in Provence. They represent traditional Provencal characters that existed a few hundred years back in all villages in the South of France. They are made with clay and painted by hand one by one with real-life details.
The origin of the Santons goes back to the French revolution; Santon meaning "little saint" were traditionally used in churches at Christmas time around the "crèches" or nativity scene where they represented characters from the bible and as a result attracted large crowds mostly in the Provence region. In 1789, when the French government abruptly closed all churches, the parishioners were distraught and sought solace in recreating their own nativity scenes which included Santons in their homes. The characters grew from the traditional members of the nativity to the members of life throughout everyday Provincial life, from the baker to the bricklayer. The tradition was strong over the years and today Santons are a part of life in Provence.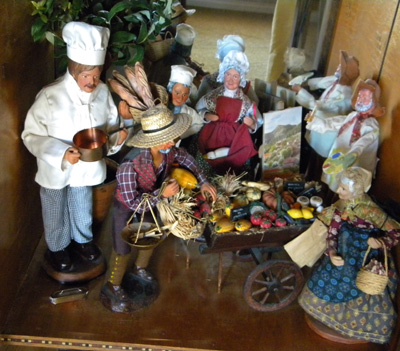 The first picture farther above is of Julia and Kathie's collection… and this second collection is mine. From left to right; tall male chef with a copper pot, a female baker with a huge basket of baguettes, a smiling bonneted woman carrying a duck in a basket, a male artist with a pallet and brunch along with his easel and painting, an angry-looking old bonneted woman shopping at the market, and finally a sweet vendor at the market with his vegetable cart carrying a scale.  Below is the last Santon photo, a more traditional set of the Magi that is always on display in our dining room but is set out to hold a more prominent place during Christmas.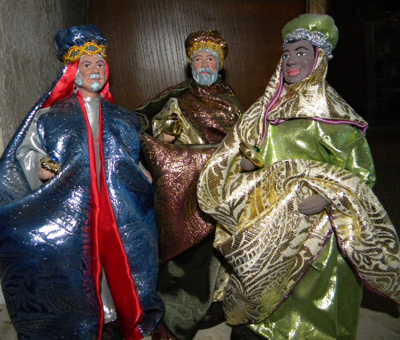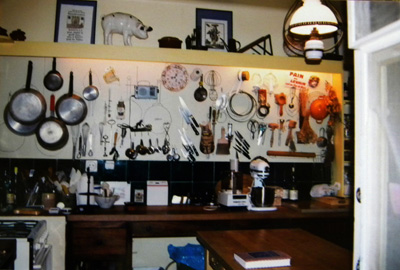 This is another view of Julia's kitchen where we had the joy and honor of cooking during that magical week in 1997.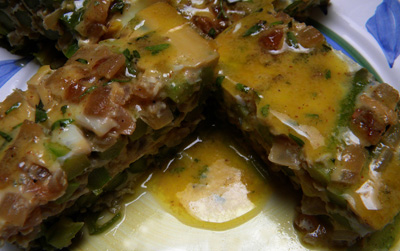 Asparagus Terrine with Tarragon Sauce
(adapted from Michel Richard's Home Cooking with a French Accent)
Tarragon Sauce
1 tablespoon mayonnaise
1 tablespoon Dijon mustard
1 tablespoon white wine vinegar
3/4 cup extra-virgin olive oil
1 tablespoon minced fresh tarragon
Salt and freshly ground black pepper
Terrine
1 tablespoon olive oil
1 large onion, peeled and diced
1/2 teaspoon sugar
3 garlic cloves, peeled and minced
1 tablespoon white wine vinegar
Salt and freshly ground black pepper
2 pounds thick asparagus, ends broken off and peeled
6 large eggs
1 tablespoon minced fresh tarragon
Sauce: Place mayonnaise and mustard in a food processor or blender and pulse until blended.   With the machine running, add the vinegar through the feed tube, then slowly add the oil in a steady stream. Remove to a bowl and stir in the tarragon and season with salt and pepper.  Cover and refrigerate until ready to use.
Terrine: Heat a large skillet over medium heat and add olive oil, swirl to coat the bottom of the pan. Add the onion and cook, covered, until translucent, about 10 minutes, stirring occasionally.  Add the sugar and increase heat to medium-high and stir until onions are browned.  Add the garlic and vinegar and stir until the vinegar has evaporated. Season with salt and pepper.  Transfer to a plate to cool to room temperature.
Fill a large bowl with ice water. Bring a large pot of water to a boil.  Add asparagus spears and cook until almost tender, about 5 minutes. Remove with tongs and refresh in ice water, remove from water, and place on a rack to drain and cool.  Season with salt and pepper.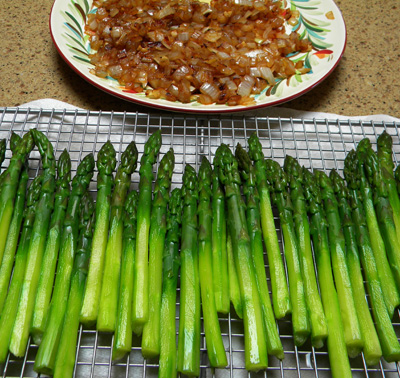 Preheat the oven to 325 degrees.  Butter a loaf pan or terrine and line the bottom with parchment paper.  Turn over the paper so that it is now buttered on both sides.  Trim the asparagus if it is longer than the pan, reserve all trimmings.  Place a single layer of asparagus spears on the bottom of the loaf pan. Fill in any spaces with trimmings.  Scatter 1/3 of the onions over the top. Continue layers with asparagus and onions until all is used.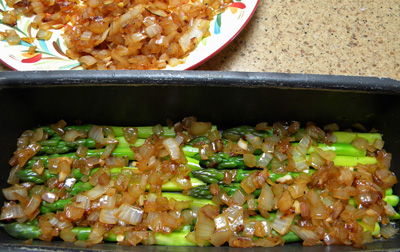 Whisk the eggs in a bowl until well combined. Whisk in the tarragon and season with salt and pepper.  Pour the egg mixture into the loaf pan, moving a paring knife between the asparagus spears to help the egg distribute evenly between the spears and layers. Tap the pan lightly on the counter to even it all out.  Cover the pan with foil.
Set up a water bath by setting the loaf pan into a larger baking dish and pouring boiling water into the baking dish so that the water comes about 3/4 of the way up the sides of the loaf pan.  Place in preheated oven and bake until the eggs are set and a paring knife that is inserted into the center comes out clean, about 50 minutes to 1 hour. (the time will vary depending on the exact size and shape of your loaf pan).  Remove from the water bath and allow the terrine to settle and cool for about 12 minutes.  Run a knife around the edges and unmold it onto a cutting board.  Cut into 1/2-inch slices.  Transfer to serving plates and drizzle with sauce, serve immediately.
Serves 8 to 10