farm fresh eggs, including Araucana!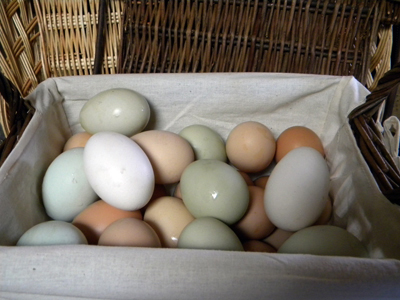 Our sweet little cold spell has come to a screeching halt… it's going to get up into the low 80's today and up to 85 throughout the weekend. Darn, I was soaking up as much of the cold as I could. Yesterday's hot soup may have been the last for quite a while. OK, enough lamenting, back to "Kim Week".
Kim's friend with the urban farm, Chris, sent over eggs from her chickens and duck. Or maybe it's ducks, as in more than one. I haven't visited the garden yet, so I'm not sure. But look at those gorgeous eggs! Kim said that the two white eggs on top were the duck eggs, they look a bit small for duck eggs to me, but maybe they are small ducks! Hopefully, I will learn more soon, after a tour.
Doesn't that basket look sweet in my fridge? Makes me wish I still had my chickens and a cool chicken coop.  There are so many pretty coops on Pinterest, it has me dreaming of one of my own.  Speaking of Pinterest, I've added a "Pin It!" button at the bottom of each post, so if you see something you'd like to share, feel free to pin away!
Even though the basket of pretty brown and colorful Araucana eggs in my fridge makes me feel quite wealthy, I had better use them up. And there is almost no better way to use up eggs than to bake up a quiche or two… or a half-dozen individual quiches.

Individual Roasted Cherry Tomato, Arugula, Goat Cheese, and Pinon Quiche
1 sheet frozen puff pastry, thawed according to package directions
2 tablespoons olive oil
1 teaspoon balsamic vinegar
1 garlic clove, peeled and minced
Salt and freshly ground black pepper
18 cherry tomatoes
3 large eggs
1 cup heavy whipping cream
Dash of freshly grated nutmeg
1 cup arugula, coarsely chopped
4 ounces cold goat cheese (Montrachet), crumbled
1/3 cup toasted pinon nuts (pine nuts)
Preheat the oven to 375 degrees.
Roll out puff pastry on a lightly floured surface, just enough to even out the seams. Place six 4 1/2-inch tart pans on a baking sheet.  Line each with the puff pastry, and trim the edges. Line each pan with foil and fill with pie weights. Blind bake in the preheated oven for 12 minutes. Remove foil and weights and return to oven until crust is golden, for about 8 minutes. Set aside to cool.
Meanwhile whisk together the olive oil, balsamic vinegar, and garlic in a medium bowl.  Season with salt and pepper. Add the cherry tomatoes and toss to coat.  Transfer tomatoes to a foil-lined baking sheet. Bake in the same oven for about 20 minutes or until the tomato skins just begin to split.  Remove from oven and set aside.
Whisk together the eggs and cream in a 4-cup glass measuring cup. Season with salt, pepper, and nutmeg.
Divide the chopped arugula, then the crumbled goat cheese evenly between the cooled quiche crusts. Place 3 roasted cherry tomatoes into each.
Whisk the egg-cream mixture again to blend and carefully pour into the shells, pouring around the cherry tomatoes to keep the tops of the tomatoes clean of any egg mixture. Fill up each shell 3/4 full. Sprinkle each quiche with pine nuts.
Bake for 40 minutes or until the filling is puffed and set and the edges are golden brown.
Makes 6