pomegranate molasses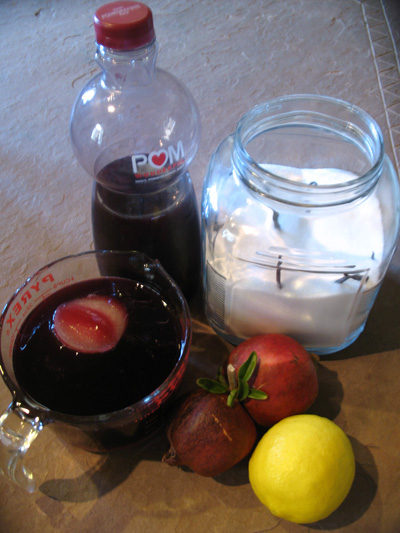 This is one of my favorite recipes of all time. I have served it as an appetizer (using the leg of lamb cubes for little kebabs) and as a main course, as here with lamb chops, to literally hundreds of people and there has never been even one person who didn't love it.
People who had given up on lamb saying that they found it too "gamey" ask for the recipe! The pomegranate juice truly transforms the lamb into the most delicious meat imaginable.
Pomegranate molasses can be found bottled in many Middle East markets, but it could not be easier to make yourself. You can see the 3 ingredients in the photo above.
A couple of items in the photo may look strange – allow me to explain. You ask, "What are those black sticks in your sugar jar?"
Answer: They are dried vanilla beans. You see, every time a recipe calls for a fresh vanilla bean, let's say crème brûlée… once I've finished with the bean, I dry it off, and stick it in my sugar jar. The sugar takes on a hint of vanilla flavor, a bonus for just about any recipe calling for sugar.
Next question – "What is that stuff floating in the measuring cup holding the Pom juice?"
Answer: Frozen lemon juice. Living in Scottsdale, we have an abundance of citrus trees and in December – February, that citrus is coming out of our ears. My one and only lemon tree produced a plethora of lemons this year. I was zesting and juicing lemons daily for months plus giving away boxes upon boxes of citrus. It was a huge pain then, but of course, I am grateful and happy now with all the zip-locks bulging from my freezer.
To freeze the juice, I fill standard-size muffin tins to nearly the top (each muffin cup holds 1/4 cup of juice) and freeze the tins uncovered overnight. The next day, label a gallon-size zip-lock freezer bag with the date and "1/4 cup lemon juice each." Then pop out the frozen "juice muffins" and immediately get them into the labeled zip-locks and back into the freezer. They will keep for about 1 year, just in time to start the process over again.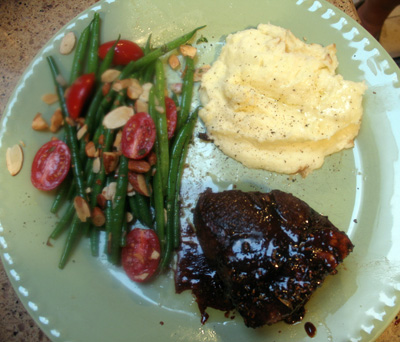 Pomegranate Molasses Lamb Chops
Pomegranate Molasses
3 cups pomegranate juice
1/2 cup lemon juice
1/2 cup sugar
Lamb
2 teaspoons cumin seeds
1/2 cup olive oil, plus 1 tablespoon, divided
4 garlic cloves, peeled and minced
1 tablespoon minced fresh oregano
1  1/2 teaspoons salt
1 teaspoon freshly ground black pepper
1 teaspoon ground cinnamon
1/4 teaspoon ground nutmeg
6 lamb loin chops (about 2 1/2 pounds total)
1/2 cup fresh pomegranate arils (seeds), if available
Pomegranate Molasses: Stir pomegranate juice, lemon juice, and sugar together in a large saucepan and bring to a boil. Reduce to 1 cup liquid, about 20 -25 minutes depending on your stove and what pan you use, watching carefully during the last 5 minutes or it can easily go too far.
Cool to room temperature, then refrigerate until ready to use. This recipe only uses 1/2 cup. Cover and refrigerate the remaining 1/2 cup and save for up to 1 month.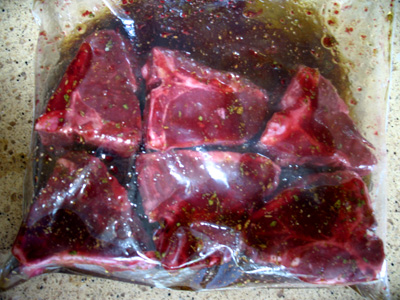 Heat a small skillet over medium heat. Add cumin seeds and stir until lightly toasted, about 1 – 2 minutes. Grind cumin seeds in a spice grinder.
Mix 1/2 cup of the pomegranate molasses, freshly ground cumin, olive oil, garlic, oregano, salt, pepper, cinnamon, and nutmeg in a 1-gallon zip-lock bag. Add lamb; chill at least 1 hour but no longer than 4 hours.
Remove lamb, pour marinade in a medium saucepan and bring to a boil, remove from heat, cool slightly, stir in fresh pomegranate seeds, and set aside.
Heat 1 tablespoon oil in a heavy large skillet over medium-high heat. Add lamb and cook to desired doneness, about 4 to 6 minutes per side, depending on thickness, for medium. Transfer lamb to a platter (do not clean skillet). Tent lamb with foil, to keep warm.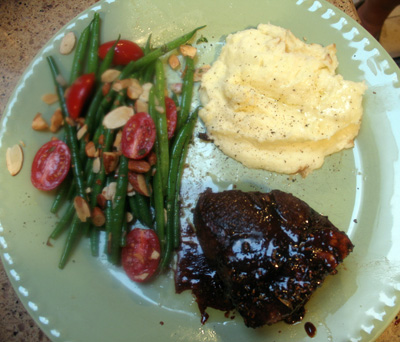 Drain off fat from skillet, return to medium heat and pour the cooked marinade from the saucepan into the skillet to deglaze the pan. Return chops to pan to reheat. Serve chops drizzled with sauce.
Serves 6
Note: If you'd prefer to use a leg of lamb instead of chops – 
Start with a 4 1/2 to 5-pound leg of lamb. Marinate as above and then:
Preheat the oven to 350 degrees.
Heat a large skillet over high heat. Swirl olive oil around the bottom of the skillet to coat. Brown the lamb on all sides. Transfer the lamb to the roasting pan with a wire rack and roast in the preheated oven until the internal temperature reaches 145 degrees for medium-rare, about 1 hour and 30 minutes to 1 hour and 45 minutes. Remove and let rest at least 10 minutes before slicing.
Save