spaetzle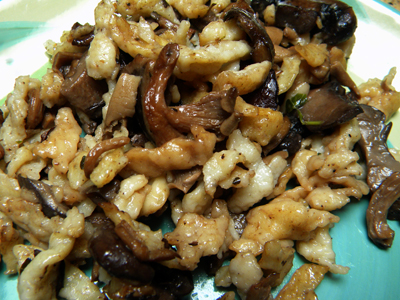 Just like yesterday, today we have a dish that was inspired for our Easter menu by a dish we enjoyed at the new FnB restaurant in Scottsdale (here is the link). The night we went, Dave had the most amazing chicken dish. Mind you, chicken is not something either of us generally orders at a restaurant, but I'd read rave reviews about Chef Char's chicken with spaetzle. Those reviews were right on the mark – fabulous!
Spaetzle is tiny dumpling-like noodle nubbins from Germany and Austria that are made with flour, eggs, milk, salt, and nutmeg. The spaetzle dough can be firm enough to be rolled and cut into slivers or soft enough to be forced through a sieve, colander, or spaetzle-maker directly into boiling salted water. They rise to the top and then are drained and sautéed in butter or mixed with a sauce. Spaetzle literally translates from German as "little sparrow". In Germany, spaetzle is served as a side dish much like potatoes or rice and is often accompanied by a sauce or gravy.

There are spaetzle-makers that consist of a hopper to hold the dough as it slides across a metal plate with holes, others that look like ricers, and a third style that is a food mill with a handle and a paddle to force the dough through the holes of a special spaetzle blade (which is what I have).
I served the wild mushroom spaetzle with my Pomegranate Molasses Lamb Chops which you can find in this previous post.
Brandied Wild Mushroom Spaetzle
Mushrooms
3 cups wild mushrooms (fresh or reconstituted dried)
2 tablespoons unsalted butter
2 garlic cloves, peeled and minced
1/4 cup brandy
2 tablespoons fresh thyme leaves
Salt and freshly ground black pepper
1/4 cup heavy cream
1/4 cup soft goat cheese
Spaetzle
1 cup flour
1 teaspoon salt
1/2 teaspoon ground pepper
1/2 teaspoon ground nutmeg
2 large eggs
1/4 cup milk
Mushrooms: If using dried wild mushrooms, first reconstitute them in hot water until soft. Coarsely chop mushrooms. Melt butter in a large skillet, add mushrooms and garlic, and sauté until mushrooms release their liquids and just begin to brown. Stir in the brandy and fresh thyme and season with salt and pepper, cook for 2 minutes.  Set aside while making the spaetzle.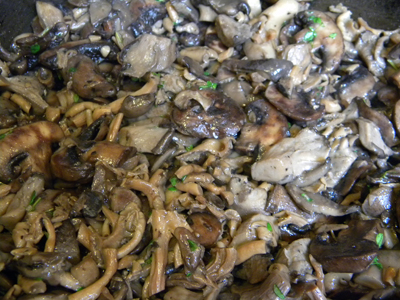 Spaetzle: In a large bowl, combine the flour, salt, pepper, and nutmeg. In another mixing bowl, whisk the eggs and milk together. Make a well in the center of the dry ingredients and pour in the egg-milk mixture. Gradually draw in the flour from the sides and combine well; the dough/batter should be smooth and thick. Let them rest for 10 to 15 minutes.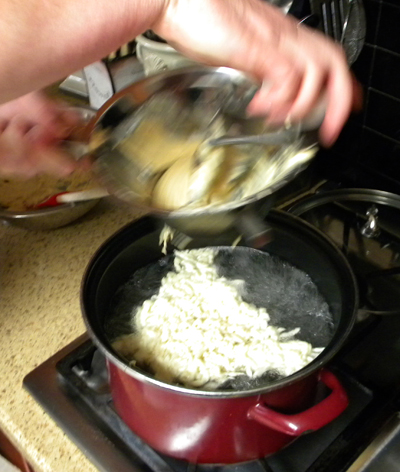 Bring 3 quarts of salted water to a boil in a large pot, then reduce to a simmer. To form the spaetzle, hold a spaetzle-maker or a large-holed colander over the simmering water and process with a maker or push the dough through the holes of the colander with a spatula or spoon. Do this in batches so you don't overcrowd the pot. Cook for 3 to 4 minutes or until the spaetzle floats to the surface, stirring gently to prevent sticking. Lift out the spaetzle with a slotted spoon and into a colander and give it a quick rinse with cool water.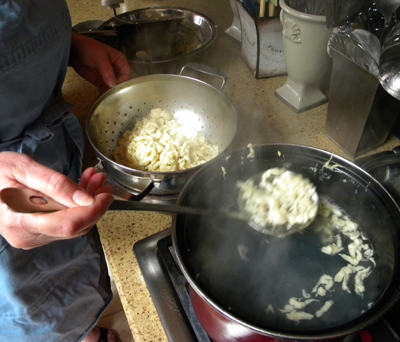 Reheat the mushroom and stir in the cream and goat cheese. Add the cooked spaetzle and sauté the mixture for 3 or 4 minutes to combine and heat through.
Serves 8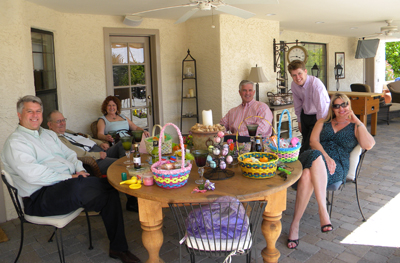 Thank you to Marissa for taking this photo and to Sloane for taking the "action" cooking shots in this post! Dave, Dad, me, Rob, Connor, and Sloane relaxing on Easter morning.