egg bread braid
lasix 140 mg by Linda Hopkins
dove acquistare viagra generico 25 mg a Torino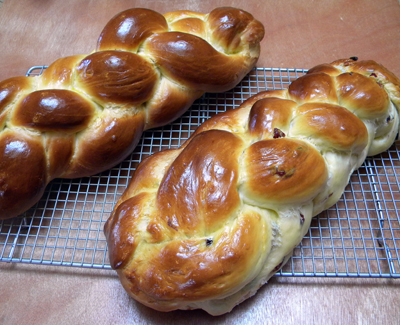 http://maientertainmentlaw.com/?search=is-propecia-pills-available-in-generic Challah is an egg bread that holds deep religious significance in the Jewish faith.
http://cinziamazzamakeup.com/?x=viagra-generico-100-mg-italia-pagamento-online-a-Verona "According to Jewish tradition, the three Sabbath meals (Friday night, Saturday lunch, and Saturday late afternoon) and two holiday meals (one at night and lunch the following day) each begin with two complete loaves of bread.  This "double loaf" commemorates the manna that fell from the heavens when the Israelites wandered in the desert for forty years after the Exodus from Egypt. The manna did not fall on the Sabbath or holidays; instead, a double portion would fall the day before the holiday or sabbath." (excerpt from Wikipeda)
go Challah recipes always make enough dough for two loaves. Three important steps to the perfect challah are; three risings instead of the usual two (one of those being a slow-rise in the refrigerator), using two coats of egg wash for a shiny laquer-like crust, and not over-baking.
low price propecia Challah is delicious used the next day for French toast.  Especially loaves with raisins, or in this case, crasins.  I substituted dried cranberries for the raisins, as my family prefers craisins to raisins. We'll be enjoying the plain loaf with our Easter dinner on Sunday and the craisin loaf for a French toast breakfast on Easter Monday.
enter site Note:  I tried to take pictures of the braiding process, but it became too confusing for my ADD brain – doing a step, picking up the camera to snap a photo, going to the next step, taking a picture… I got so messed up that I had to start over, not once, but twice!  So no snapshots of that. Just do as it says, it seems like it's not going to work… that you're not braiding correctly, but it works, I promise
Braided Challah Loaves
1  1/2 packages (1  1/2 tablespoons) active dry yeast
1 tablespoon plus 1/2 cup sugar, divided
1/2 cup vegetable oil, plus more for greasing the bowl
5 large eggs, divided
1 tablespoon salt
8 to 8 1/2 cups flour
1/4 cup dried cranberries per loaf, if using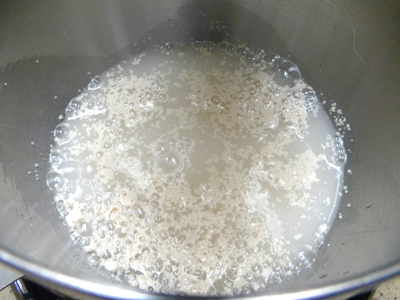 In the bowl of a standing mixer, dissolve the yeast and 1 tablespoon sugar in 1  3/4 cups lukewarm water and let proof for 5 minutes.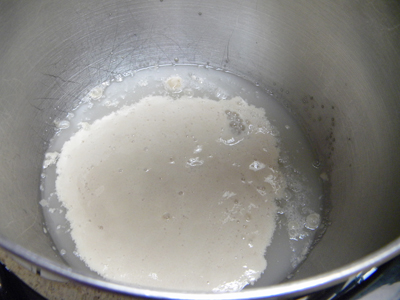 Using whisk attachment, mix the oil into yeast, then beat in only of the 4 eggs, one at a time, along with the remaining 1/2 cup sugar and the salt.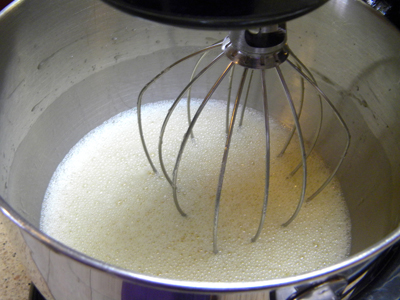 Switch from the whisk attachment to the dough hook and gradually add flour, 1 cup at a time.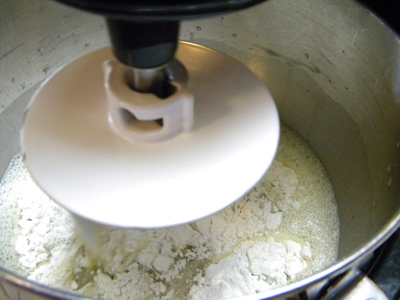 When dough holds together, it is ready for kneading.  Using the dough hook, knead the dough with the machine for about 1 minute.
Turn the dough onto a floured surface and knead for a couple more minutes or until smooth.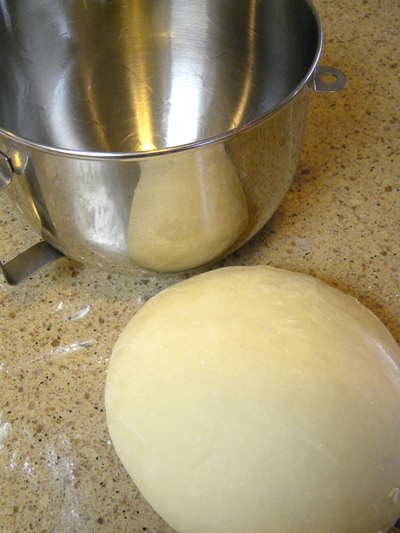 Clean out the mixer bowl and coat it with a teaspoon or two of vegetable oil, then return dough to bowl, turn dough over and cover with plastic wrap.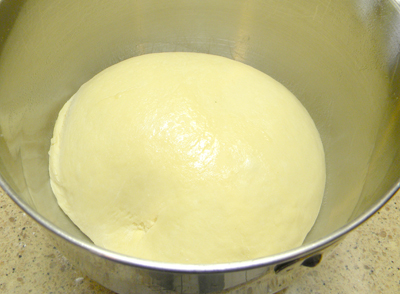 Place in refrigerator to rise for at least 4 hours or up to 8 hours.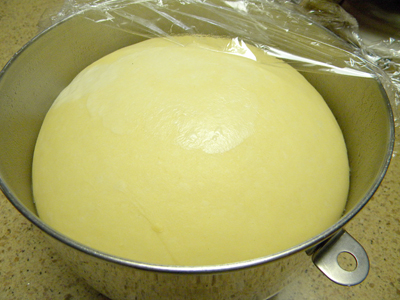 When you remove the dough from the refrigerator and are ready to work with it again, bring it back to room temperature before moving on.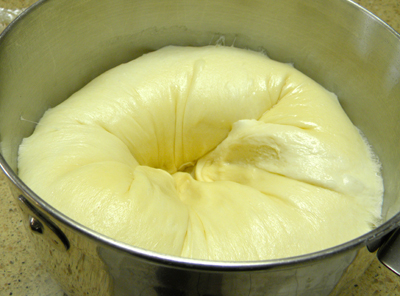 Punch down dough, cover and let rise again in a warm place for another hour.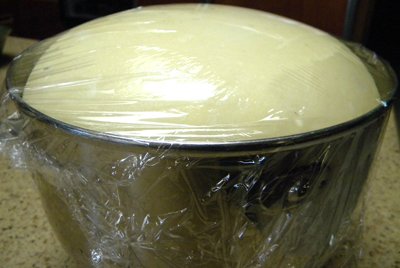 While the dough is on its second rise, plump the cranberries, if you choose to use them.  I decided to put cranberries in one loaf and leave the other loaf plain.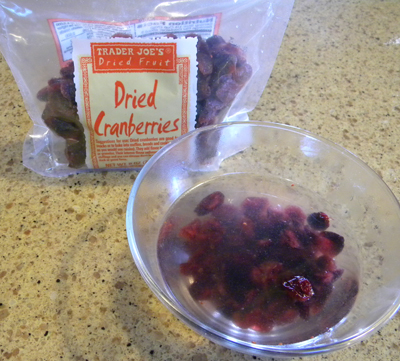 If using, place the cranberries (1/4 cup per loaf) in a bowl and pour boiling water over, to cover. Let plump for 5 minutes, then drain and place on a paper towel.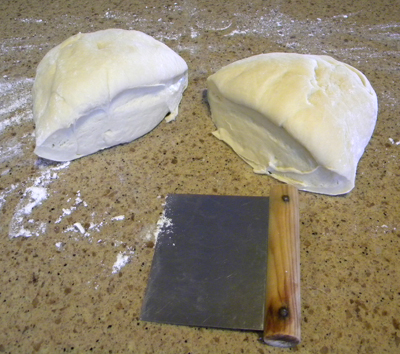 Divided the dough in half.  At this point, you can knead the plumped cranberries into the dough of one loaf or both, if you're using them, before forming the loaves.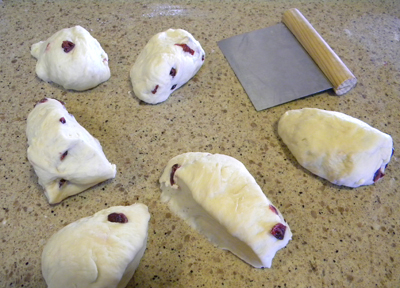 To form a challah braid, take half the dough and cut it into 6 equal pieces.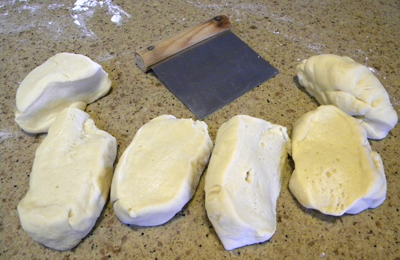 Use your hands to roll each section into a strand about 12-inches-long. Place the 6 strands in a row, parallel to one another. Pinch the tops of the strands together.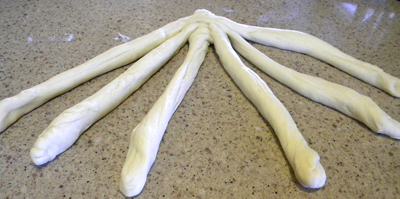 levitra generics To Braid:
Move the outside right strand over 2 strands.

Then take the second strand from the left and move it to the far right.

Take the outside left strand and move it over 2 strands.

Move second strand from the right over to the far left.
Start over with the outside right strand as in step 1.  Continue this pattern until all you can go no further. Tuck the ends underneath.  Make a second loaf the same way.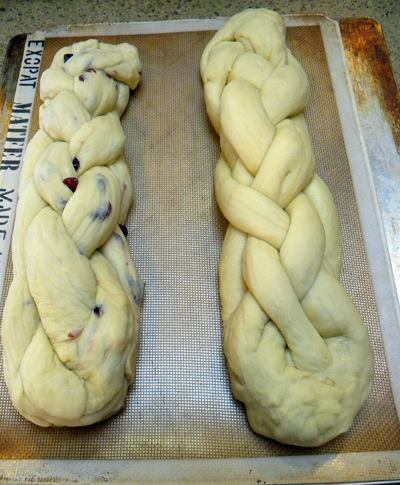 Place braided loaves on a greased or Silpat lined cookie sheet with at least 2-inches in between the loaves.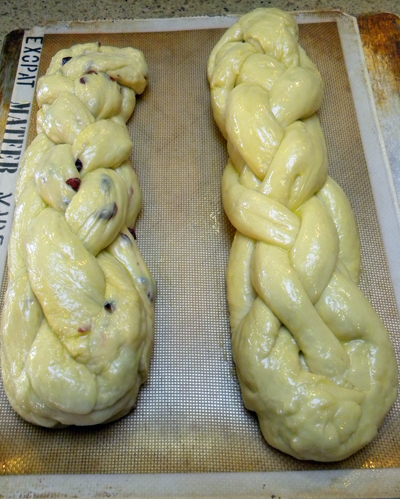 Beat the remaining egg and brush it on loaves (do not throw out any egg that is left, you will be brushing the loaves again before baking). At this point the loaves may be frozen. Either freeze the egg-brushed loaves or let rise (the 3rd rise), covered, for another hour.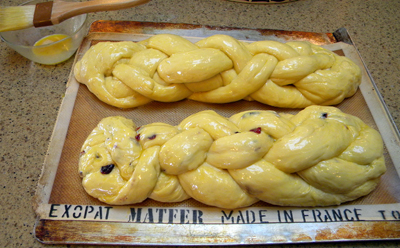 If baking immediately, after 45 minutes of rising time, preheat an oven to 375 degrees.  Brush the loaves with the beaten egg again. If loaves have been frozen, remove from freezer 5 hours before baking and brush with the beaten egg one more time, just before baking.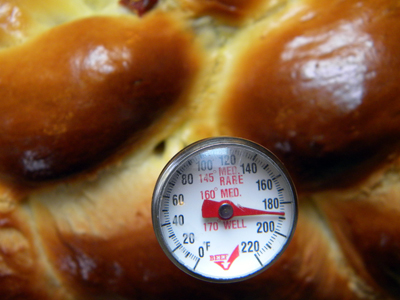 Bake in middle of the preheated oven for 35 to 40 minutes and an instant-read thermometer inserted into the center of a loaf registers 190 degrees.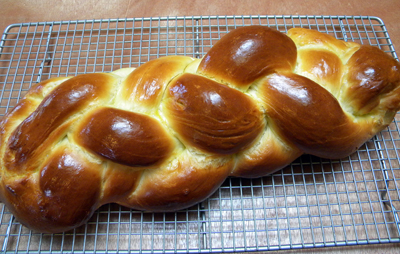 Cool loaves on a rack.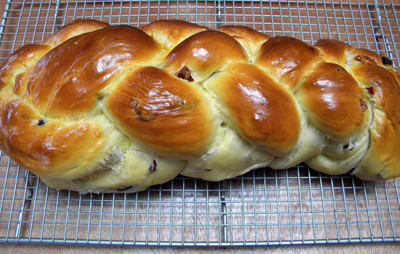 Makes 2 loaves