Herb Crêpes Eggs Benedict Florentine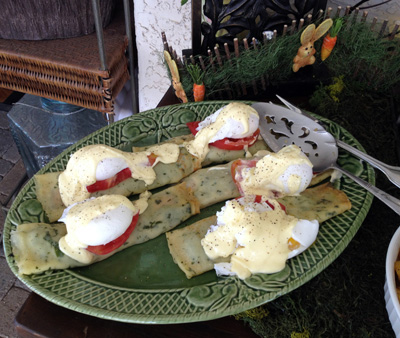 I admit it, this recipe looks VERY intimidating. It is long. There are many components. It looks complicated. But I PROMISE it is not hard to do. In fact, it is a wonderful special occasion entertaining dish. For a crowd, no less!
How is that possible, you ask?
It is because none of the components are difficult and all but one can be done 1 or 2 days in advance. So in reality, it comes together quickly and seamlessly at the end.
Even the final, last-minute component, the Hollandaise sauce, is foolproof. I know, you may be ready to quit reading right now… Hollandaise Sauce – Absolutely Not!
But really it is foolproof! No stove is involved! All you need is a blender. You're still skeptical? This sauce comes from Chef Tyler Florence. It works perfectly and is easy as can be, I may never make traditional Hollandaise sauce again!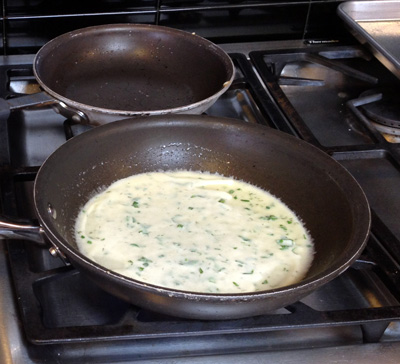 As I was beginning to make the crêpes in my usual crêpe pan, I decided that they were too small, so I switched to a larger skillet. This was a personal choice, if you don't have a medium-size skillet (about 10-inches across the top) a smaller regular crêpe pan is fine. Above you can see the two pans I'm talking about, and below the difference in the crêpe sizes.
Herb Crêpes Eggs Benedict Florentine
Herb Crêpes
2 cups milk
3 large eggs
2 tablespoons unsalted butter, melted, cooled
1 teaspoon salt
1  3/4 cups flour
2 tablespoons mixed fresh herbs: tarragon, thyme, dill, and/or chives
Additional melted butter for the pan

Poached Eggs
Salt
1 tablespoon white vinegar
12 large eggs

Spinach Florentine
1 package chopped frozen spinach, thawed and drained in a colander
1 medium onion, peeled and minced
2 tablespoons heavy cream
Salt and freshly ground black pepper

Assembly
12 slices Black Forest ham or Canadian bacon
12 slices heirloom tomato
Salt and freshly ground black pepper

Tyler Florence's Foolproof Hollandaise Sauce
3 egg yolks
1/4 cup fresh lemon juice
Pinch of salt
Pinch cayenne
2 sticks (1 cup) unsalted butter
Crêpes: Blend milk, eggs, 2 tablespoons melted butter, and salt in blender for 5 seconds.  Add flour, 1/2 cup at a time, blending batter until smooth after each addition. Stir in herbs.  Let batter rest for 1 hour at room temperature.
Whisk batter just before using. Heat a 10-inch nonstick skillet over medium-high heat; brush with melted butter.  Pour 1/4 cup batter into skillet; swirl skillet to coat bottom evenly.  Cook until the bottom of the crêpe is golden, about 30 seconds. Loosen edges gently with a spatula and turn the crêpe over.  Cook until the bottom is brown in spots, about 30 seconds. Turn crêpe out onto a plate.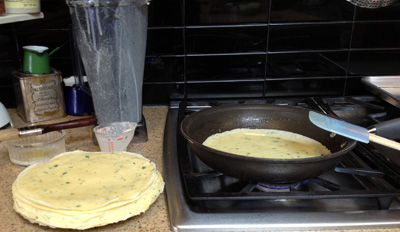 Repeat, making about 16 crêpes and stacking them on the plate.  (May be made 2 days ahead. Let cool to room temperature, then wrap and chill.)
Spinach Florentine: Press the spinach against the sides of the colander to extract as much water as possible, then place on triple-layer paper towels and squeeze out as much of the remaining water as possible. Set aside.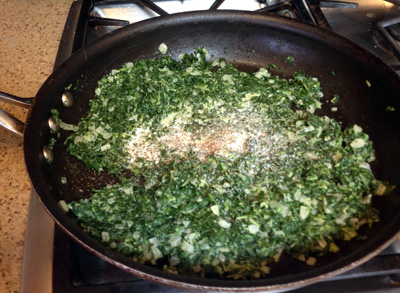 Heat a skillet to medium heat. Add the olive oil. Add the onion and cook until softened, 3 to 5 minutes. Add the spinach and use a spatula to break it up and spread it around the pan; cook until warmed through, 3 to 4 minutes. Stir in the cream and simmer for a minute to reduce. Season with salt and pepper.  Allow to cool to room temperature. (May be made 2 days ahead. Covered and chilled.)
Poached Eggs: Bring a medium pot of water to a boil, salt the water. Reduce the water to a simmer, add the vinegar and swirl a couple of times with a kitchen spoon. Then, first cracking each egg into a cup, gently drop 4 eggs at a time into the simmering water and cook until just nearly set, 2 ½  to 3 minutes.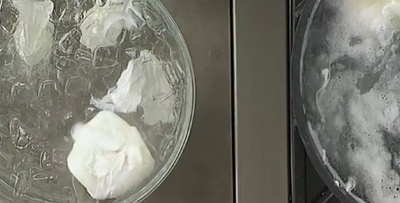 Gently lift the eggs out of the simmering water with a slotted spoon and place them directly into an ice bath to stop the cooking.  Then cover and place into the refrigerator to hold until you are ready to serve. (May be made 1 day ahead.)
Assemble the Crêpes: Line a baking sheet with a Silpat mat or parchment paper.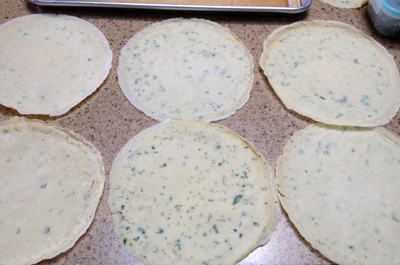 Lay out all the crêpes on a work surface, pretty side down. (This is generally the side that was cooked first in the pan, in the case of these herb crêpes, it is the side with the herbs showing best. The center bottom crêpe above is showing the pretty side.)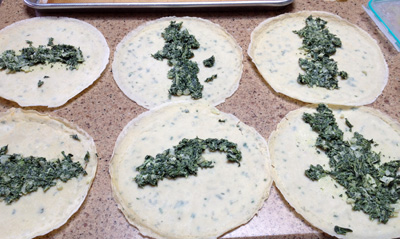 Evenly divide the spinach between the crêpes, creating a stripe down the center of each.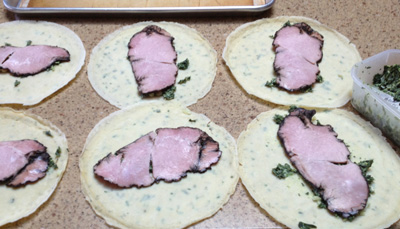 Lay a slice of ham on top of the spinach.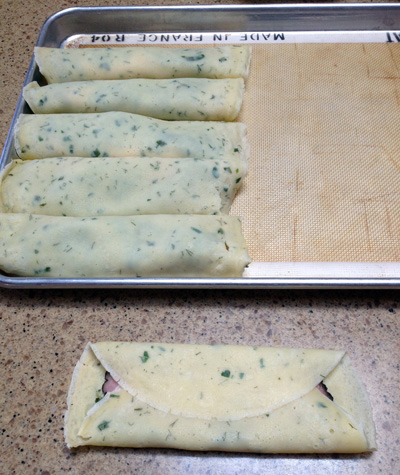 Fold each crêpe in thirds and place, seam side down, as shown above, on the prepared baking sheet. Cover with foil and refrigerate. (May be made 1 day ahead.)
All of the steps above are done a day or two before you plan to serve the dish. On the day of service, it comes together quickly: Here we go~
Heat the Crêpes: Preheat the oven to 350 degrees. Place the foil-covered crêpes in the oven and heat through for 20 to 25 minutes while you make the Hollandaise sauce and reheat the eggs.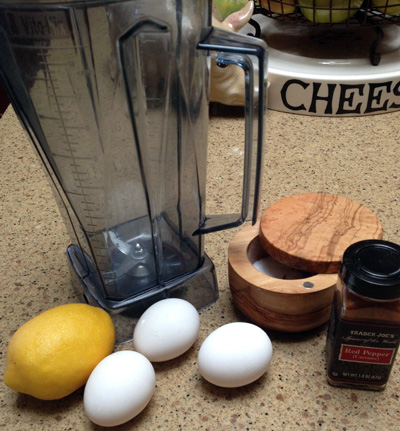 Foolproof Hollandaise Sauce: Combine the egg yolks, lemon juice, water, salt, and cayenne in a blender and blend until light and fluffy, about 1 minute.
Meanwhile, place the 2 sticks of butter in a 2-cup glass measuring cup and microwave until completely melted and hot.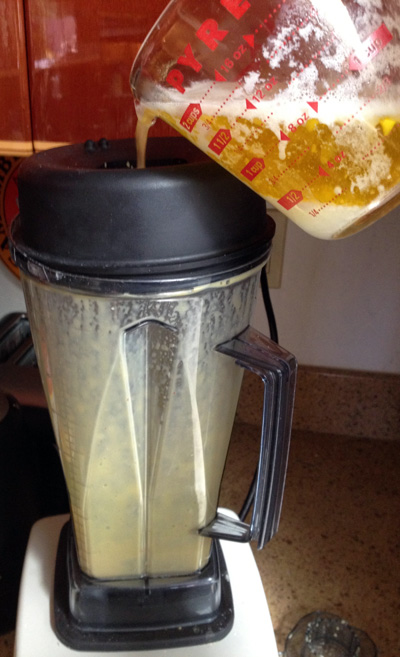 Then, with the blender running, drizzle the hot melted butter in a thin steady stream until all the butter is incorporated. Taste for salt and lemon juice, add more as needed.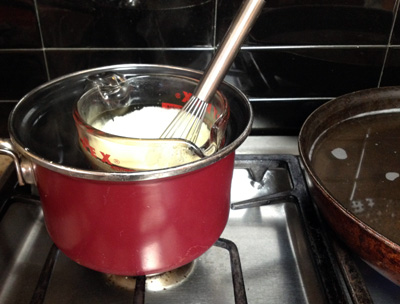 To keep the sauce warm, transfer the sauce back into the glass measuring cup and place it in a saucepan of hot tap water. Set aside while you reheat the eggs. (The sauce must not be placed in boiling water or reheated in a pot or microwave… or it will break. Not sure what that means? Click HERE.)
Reheating Poached Eggs: When you're ready to serve, bring a pot or a large skillet of water to a gentle simmer and give your eggs a final 45 seconds to 1 minute of poaching.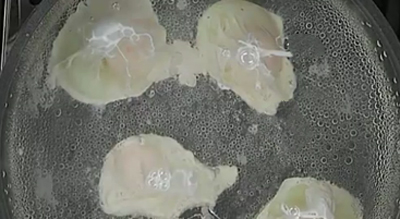 Because the whites are already set, you can heat as many eggs as you need at once without worrying that they will stick together. Gently lift out the eggs with a slotted spoon and drain them on paper towels.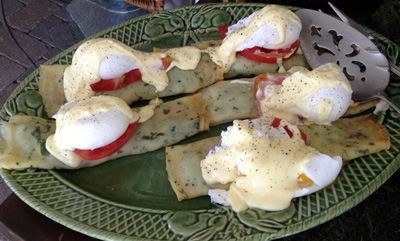 To Assemble and Serve:  Place the warmed crêpes on a serving platter. Top each with an heirloom tomato slice. Top each tomato with a poached egg.  Whisk the Hollandaise sauce and pour over the egg on each crêpe.
Grind fresh black pepper all over.  Serve immediately.
Makes 12