Easter brunch dessert and prep
Happy
Easter
from

our

home
to
yours
.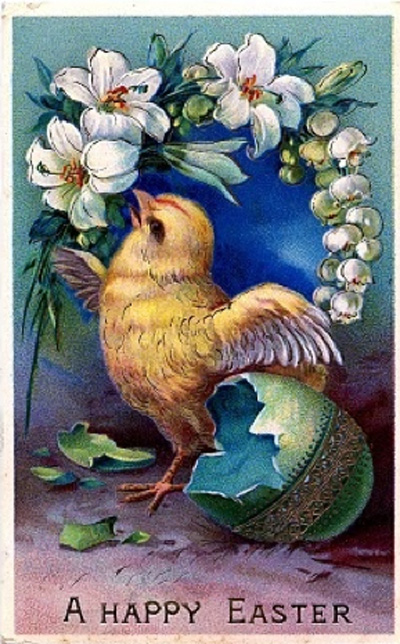 I'm writing this post on Saturday afternoon as I bake, cook, and set up for our Easter brunch on Sunday. I love Easter, not only for the important purpose of the day and joyous celebration – allowing us to focus again on the foundations of our faith. But also for the relaxed family-oriented holiday that it is.
Sunday promises to be a beautiful day! It is expected to be in the mid to high 70's while we are enjoying our outdoor meal.
Today I give you the recipe for our dessert and one of my impromptu decorating ideas. I'll share the rest of the decor, tablescape, and recipes in the week to follow. Until then, I wish you all a Blessed and Happy Easter.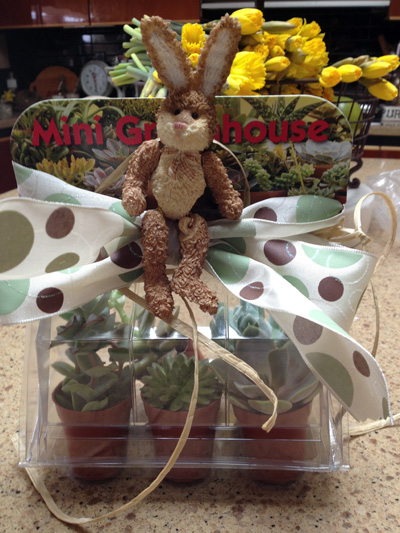 First the decorating…  I mentioned, in yesterday's post, that Amy gave me a hostess gift of a mini succulent greenhouse. It was almost too cute to open but open it, but I did.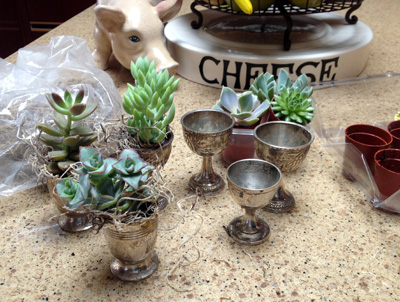 I transplanted all six of the succulents into vintage silver egg cups.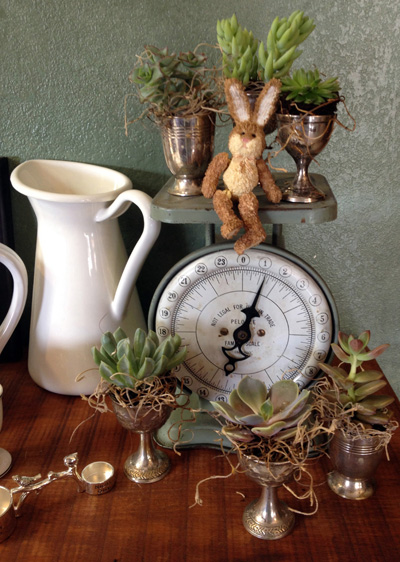 In the morning, I'll incorporate them into the tablescape, until then they are hanging out on the vintage green scale in the kitchen along with the cute wooden bunny that Amy attached to the packaging. Pretty cute, right?
Now for the dessert –
First, a couple of quick notes: It is important to plan ahead for this bread pudding. Instead of the usual bread, I'm using angel food cake. The cake takes longer to dry out than bread would. So give it a good 48 to 60 hours to dry before you put the dessert together.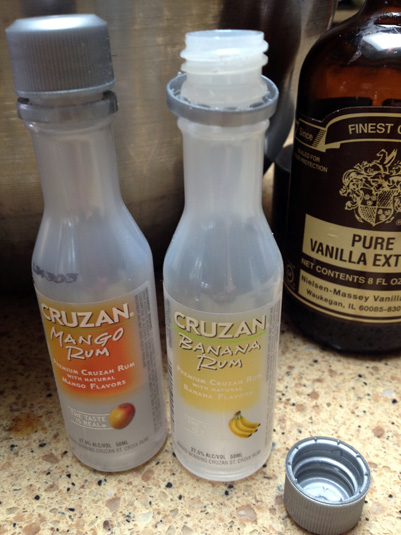 Secondly, I was too lazy to go to the liquor store to buy the amount of banana rum or banana liqueur I needed. I thought I had enough but it turns out the little "airline" bottles only hold 3 tablespoons liquid – I needed 4 tablespoons – so I used 1 tablespoon of mango rum to make up the difference.
Tasted Great!
Point is, to use what you want or what you have on hand. Spiced rum, regular rum, hazelnut liqueur, Galliano, whatever.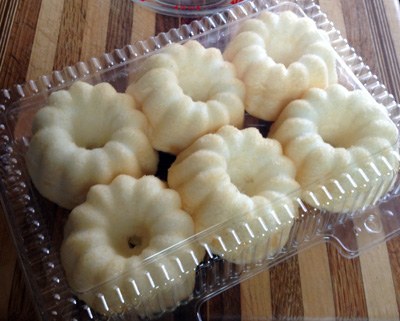 P.S. I found the double package of 6 mini angel food cakes at Costco.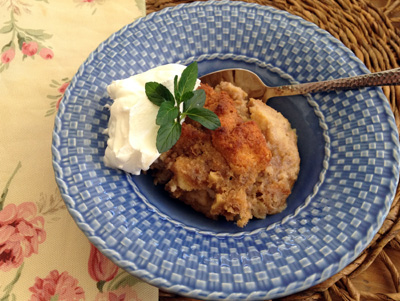 Banana and Walnut Bread Pudding
6 mini or 1 large plain and unfrosted angel food cake, cut into 1-inch cubes, for a total 8 cups of cubes
4 tablespoons unsalted butter, melted and divided
1  1/2 cups whipping cream
1  1/2 cups milk
4 large eggs
1 cup brown sugar
1/2 cup granulated sugar
2 teaspoons vanilla extract
1  1/2 teaspoons ground cinnamon
Pinch freshly grated nutmeg
Pinch salt
1/4 cup banana rum or liqueur
2 cups mashed ripe bananas, about 5 small bananas
1 cup chopped walnuts, toasted
Whipped Cream, for garnish
Fresh mint sprigs, for garnish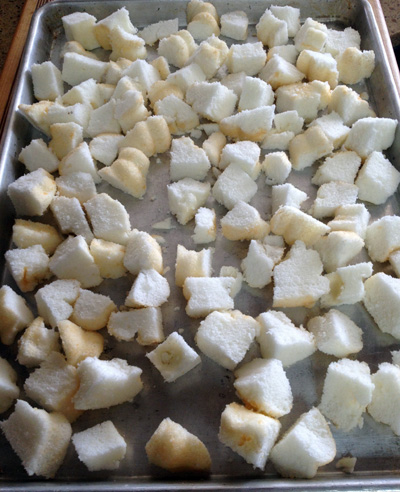 Two to 2  1/2 full days before making the dessert, place the angel food cake cubes on a baking sheet and leave them out at room temperature to dry.
Grease a 9 by a 13-inch baking dish with about 1 tablespoon of melted butter and set the dish aside.
Place the dry cake cubes in a large mixing bowl. Pour the remaining melted butter over the cubes. Using a rubber spatula, toss to evenly distribute the butter.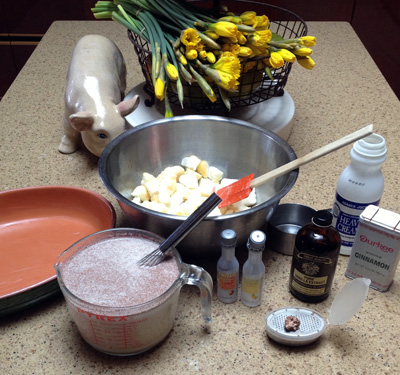 Place the cream, milk, eggs, brown sugar, granulated sugar, vanilla, cinnamon, nutmeg, salt, and banana liqueur in another large mixing bowl or measuring cup, whisking well to combine. Pour the mixture over the cake cubes and stir to combine. Let sit for 45 minutes, or until the cake is soft and has absorbed most of the liquid.
Preheat the oven to 350 degrees.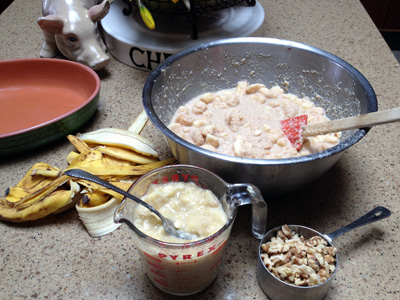 Stir the mashed bananas and walnuts into the bread pudding mixture.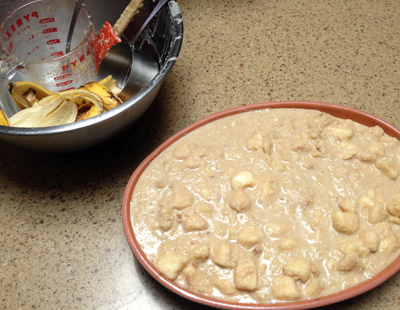 Pour the mixture into the prepared baking dish and bake, uncovered, for 45 to 50 minutes, until the top is golden brown and crispy and the pudding is firm in the center. To test, insert a paring knife into the center, if it comes out clean, it is done.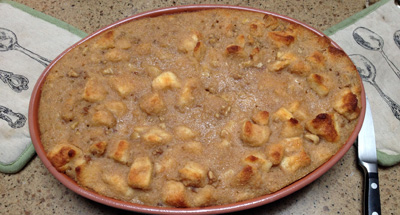 Remove the pudding from the oven and cool on a wire rack for 15 minutes before serving. Serve warm with cold whipped cream and mint sprigs, if desired.
Serves 10 to 12