potato dish for Easter
Along with Arugula & Strawberry Salad with Chèvre, Pistachios and Horseradish-Maple Vinaigrette and Pomegranate Molasses Leg of Lamb and Lemon-Limoncello Meringue Pie I made this scrumptious potato dish for our Easter supper.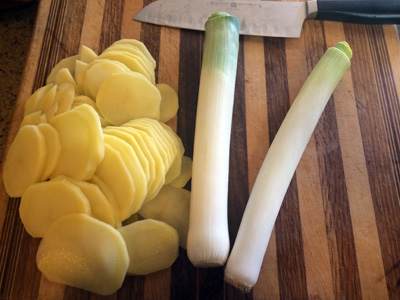 One quick tip:  When shopping for leeks, look for a leek with as much white as possible. The white and pale green portions of the leek are the only parts used, so try to get the most bang for your buck. I found these two perfect leek specimens at Trader Joe's.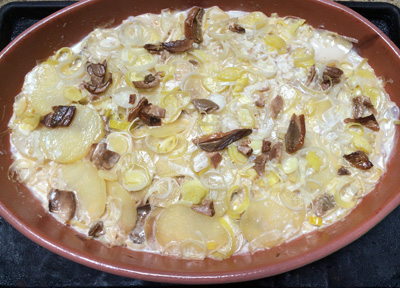 Potato, Leek, and Wild Mushroom Gratin
1 ounce dried porcini (cèpe) mushrooms
1/2 cup mushroom soaking liquid (see below)
2 tablespoons unsalted butter, softened, plus more for the dish
1 cup heavy cream
2 garlic cloves, peeled and minced
1 ½ pounds Yukon Gold potatoes
2 leeks (white and pale-green parts only), thinly sliced and rinsed well
Coarse salt
Preheat oven to 375 degrees. Generously butter a 2 ½ -quart baking dish.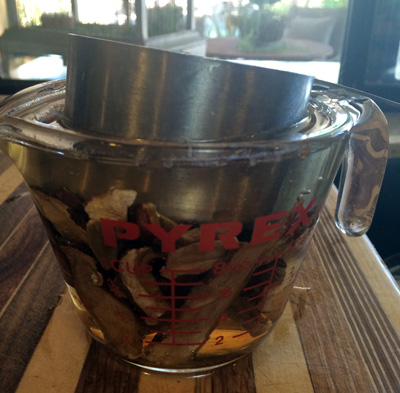 Place the dried mushrooms in a bowl and cover with at least 3/4 cup hot tap water, weigh down with a cup or another bowl to keep the mushrooms submerged for 10 minutes.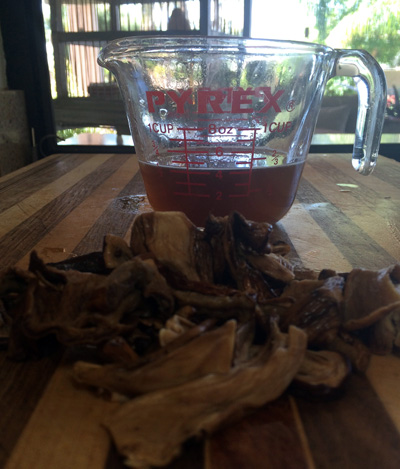 Use a slotted spoon to lift out the mushrooms and coarsely chop, reserving the liquid the mushrooms were soaking in.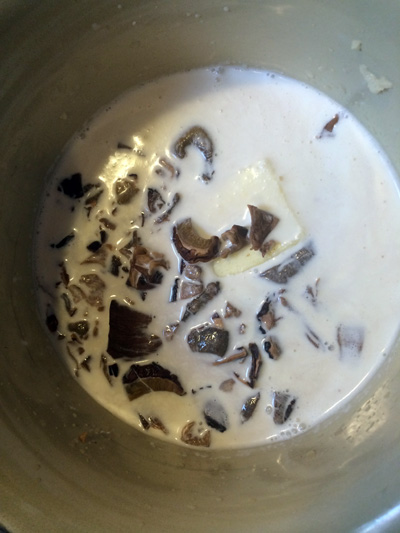 Bring the 2 tablespoons butter, cream, mushrooms, mushroom soaking liquid and garlic to a simmer.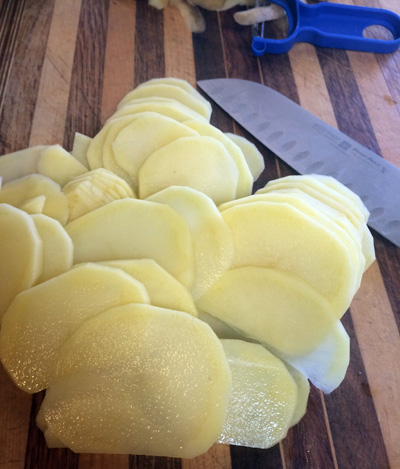 Peel the potatoes, and cut crosswise into thin slices about 1/8-inch thick.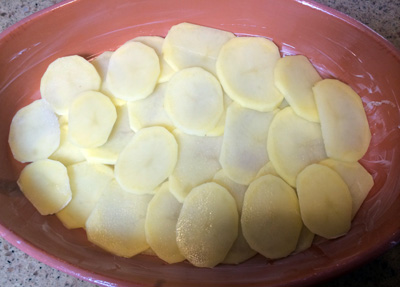 Layer half of the potatoes in the prepared dish, overlapping slightly.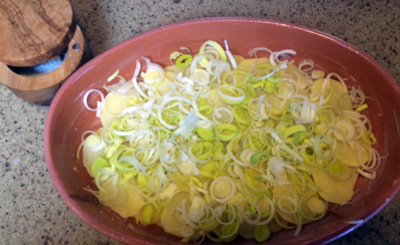 Sprinkle half the leeks over top, and season with salt.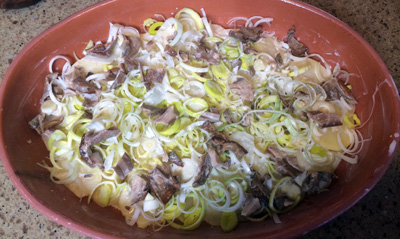 Pour half the cream mixture over top, and use your hands to disperse the mushrooms evenly over the dish. Repeat.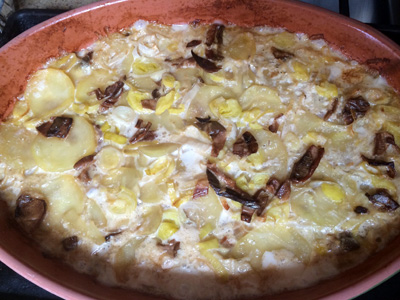 Cover gratin with foil, place the baking dish on a baking sheet, and bake for 40 minutes in preheated oven. Uncover, and bake until the potatoes are tender and golden and most of the liquid is absorbed, 20 to 25 minutes more. Let cool 10 minutes before serving.
Serves 6