tradition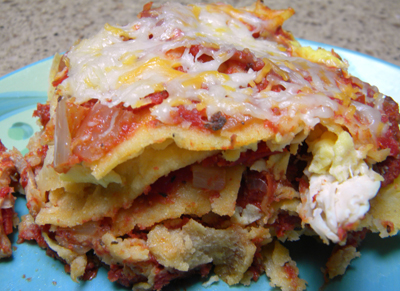 I was inspired to make chilaquiles for Easter brunch after learning about them at FnB, a fabulous new restaurant in downtown Scottsdale, (click here for link) where Chef Charleen Badman traditionally makes them on weekends for the late-night crowd.
Chilaquiles are a traditional Mexican dish. Typically, corn tortillas cut in quarters and lightly fried are the basis of the dish. Red or green sauce is poured over the tortilla triangles, called "totopos." Scrambled eggs and/or shredded chicken are sometimes added. The dish is topped with queso fresco and crèma.  Usually, chilaquiles are eaten at breakfast or brunch. This makes them a popular recipe to use leftover or stale tortillas.
I'll be using two of my favorite "convenience" items – 3 garlic cubes (purchased at Trader Joe's) and 4 chipotle cubes(homemade using empty garlic cube trays – see this previous post on how to do so).  You can too, or just follow the recipe for the "traditional" method of peeling and mincing.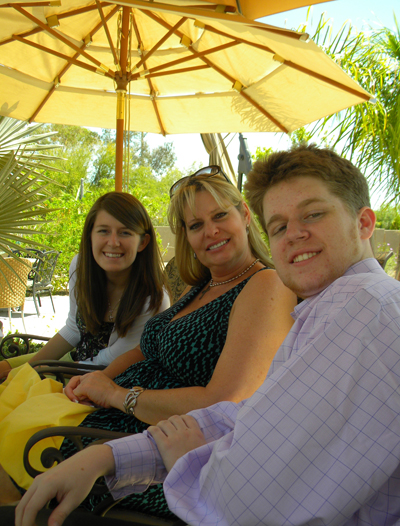 Marissa, Sloane, and Connor in the shade at Easter Brunch
Chilaquiles
Vegetable oil
1 dozen corn tortillas, cut into quarters
1 large white or red onion, peeled and diced
3 garlic cloves, peeled and minced
2 chipotle peppers, finely minced
1 tablespoon ground cumin
2 teaspoons dried oregano
Salt and freshly ground black pepper
28-ounce can crushed tomatoes
2 cups shredded cooked chicken breast
10 large eggs
1/4 cup half and half
2 cups grated queso fresco or Mexican blend cheese
1/3 cup crèma or sour cream
In a skillet heat 1/2 inch of the oil over moderately high heat until it is hot but not smoking, in it fry the tortillas in batches for 10 to 20 seconds, or until they are pale golden and almost crisp, and transfer them as they are fried with a slotted spatula to paper towels to drain.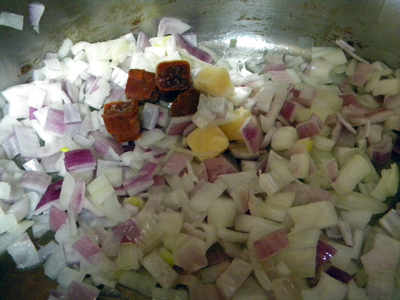 Discard all but 2 tablespoons of the oil and add the onion to the pan, sauté until soft and translucent, then add the garlic, chipotle, cumin, and oregano. Stir for 3 minutes.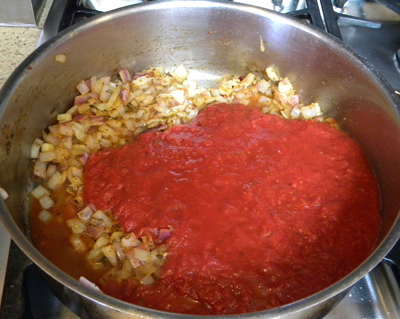 Add the tomatoes and cook until sauce is thick and reduced over medium heat, about 6 to 8 minutes, stirring frequently. Taste and season with salt and pepper.
Meanwhile, lightly beat the eggs and half and a half together in a large bowl. Season with salt and pepper. Melt the butter in another skillet over low heat.  Add the eggs and cook, stirring gently with a silicone spatula or wooden spoon just until the eggs become set but are still creamy about 4 or 5 minutes. Remove from heat, cover, and set aside. Preheat the oven to 350 degrees.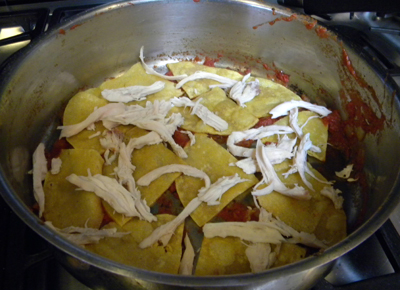 Once the sauce is thick, transfer all but about 1/4 cup of the sauce to a bowl.  Spread the remaining sauce thinly on the bottom of the large skillet it was cooking in. Place a single layer of the tortillas atop the sauce. Top with half of the shredded chicken and then with 1/3 of the sauce. Repeat with another layer of tortillas, then the rest of the chicken and another 1/3 of the sauce.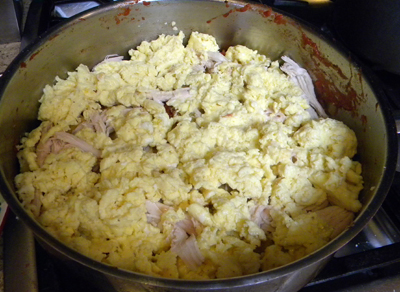 Top with the remaining tortillas, then all of the scrambled eggs. Spread with the last 1/3 of the sauce and sprinkle the cheese on top.
Cover the skillet with foil and bake the chilaquiles in the middle of the preheated oven for 15 minutes.  Drizzle the crèma or spoon sour cream over the chilaquiles and serve.
Serves 10 to 12