convenience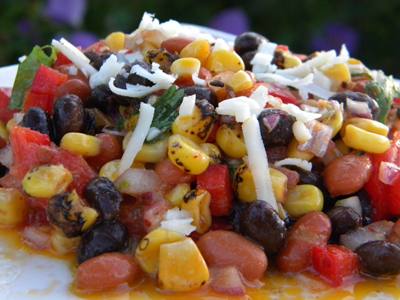 On Sunday, my friend and neighbor, Ronnie had a party to introduce and welcome new neighbors to "the hood".  She made this colorful fresh and flavorful salad that we all went crazy for. It is inspired by a recipe she found in a cookbook by Rick Rodgers.
I had two servings, and would have had a third if I could have gotten away with it! The original recipe called for 3 ears of corn to be roasted on a grill. This simple take on that uses frozen roasted corn kernels found at Trader Joe's.  One medium cob of corn yields about 3/4 cup of kernels. So that is convenience item number one.  
And here is number two … a new way to freeze and store chipotle peppers. As you know, chipotle peppers are sold in cans and they are packed in adobo sauce. The sauce is just about as good as the peppers themselves, spicy and smokey and just so addictive. I can't think of a time when you would use an entire  7-ounce can of peppers. Recipes most often call for just a few peppers and then you have the rest of the can to deal with. In the past, I have placed the remaining peppers on a small greased baking sheet, frozen them, then removed the frozen peppers and placed them in ziplock bags to freeze. But now… I have an even better way. In the majority of recipes the peppers are very finely chopped, so why not freeze them that way?
First place all the remaining peppers and all the adobo sauce left in the can in a food processor and puree it. Next, carefully spoon the puree into the little holes of an empty garlic cube package. What is a garlic cube package, you ask. In a prior post, I told you how much I love to use the minced garlic cubes sold at Trader Joe's. My freezer is full of them… so I reuse those empty containers and now I always have chipotle cubes on hand too.  One chipotle cube equals about 1/2 chipotle pepper. Plus they pop out just as easily as the garlic does.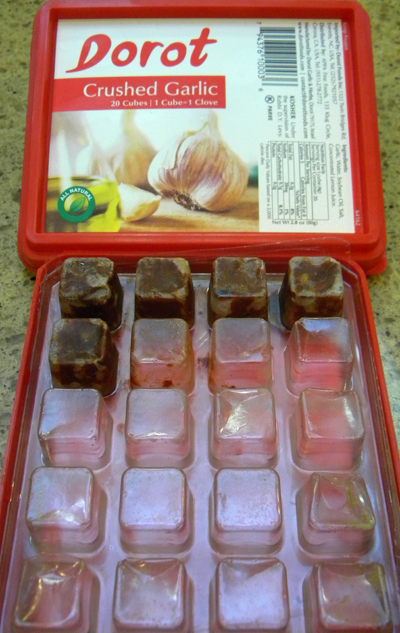 Here is what I did today… I used the five remaining chipotle cubes I had in my freezer (approximately 2  1/2 chipotle peppers), opened a new can, and used 3 whole peppers for the vinaigrette recipe below. Then I pureed the remaining contents of the can and packed it into the empty cube tray.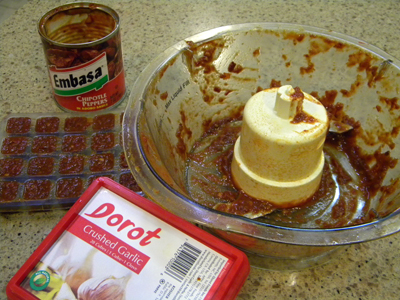 As you can see, there was still a little bit of pureed chipotle in the food processor, so I added 1/2 cup of prepared mayonnaise to that and blended  – an added bonus; not only do I have a whole tray of chipotle cubes but also a little chipotle mayo for sandwiches too!  So there you go, a new convenience item you can make yourself. Oh, and a big "thank you!" to Ronnie and Mike for a lovely Sunday afternoon and a big welcome Flint family to our great community!
Bean and Roasted Corn Salad with Chipotle Vinaigrette
Vinaigrette
Finely grated zest of 1 lime
3 tablespoons fresh lime juice
5 to 6 chipotle peppers in adobo sauce
3/4 cup extra virgin olive oil
Salt and freshly ground black pepper
Salad
2  1/4 cups frozen roasted corn kernels, thawed
15-ounce can black beans, rinsed and drained
15-ounce can pinto beans, rinsed and drained
4 Roma tomatoes, seeded and cut into 1/2-inch dice
1 small red onion, peeled and diced
1 red bell pepper, seeded and diced
1/4 cup chopped fresh cilantro
1 cup (4 ounces) queso fresco

Vinaigrette: Place the lime zest, lime juice, and chipotle peppers in the bowl of a food processor. Puree. With the machine running, add the olive oil in a slow and steady stream through the feed tube. Turn off the machine, taste, and season with salt and pepper.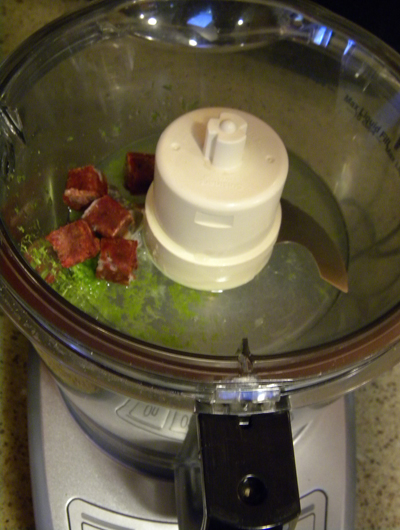 Salad: In a large bowl, combine corn, both types of beans, tomatoes, onion, bell pepper, and cilantro.  Toss with the Vinaigrette and refrigerate until ready to serve.  Toss in the queso fresco just before serving.
Serves 8