I love everything about ahi tuna. It is delicious. It is so easy to make. It is quick. It is perfect in every way… well except the price, it is kinda pricey… but it's worth it!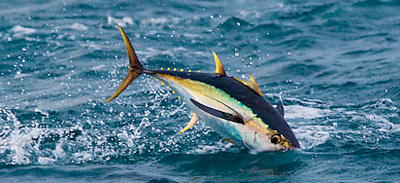 Oh yeah, and it's healthy too. Ahi or yellowfin tuna is low in saturated fat and sodium. It is a very good source of protein, thiamin, niacin, and vitamin B6. It is also a good source of magnesium, phosphorus, and potassium.
If only it was less expensive, I'd most likely eat it at least once a week. I looked back through the "Complete Recipe Index" over there on the left, and I already have seven recipes for ahi tuna … this makes number eight, and I'm certain it won't be the last. Of the previous seven, there have been ahi sliders, appetizer bites, salad, tacos, and more.
This time around I'm marinating the tuna in a mixture of pineapple juice, garlic, and soy sauce. Don't marinate for much more than three hours or the pineapple juice will begin to break down the tuna.
March 27, 2013 1 Comment