mushroom soy sauce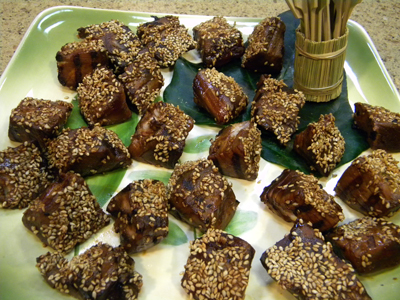 I'm making these quick and easy appetizers for our neighborhood Bunco tonight. I know I've said it before, but I have the best neighbors and the most fun neighborhood! We are very blessed!
The Ahi tuna marinates for only 20 minutes in a mixture of sherry, sesame oil, sugar, and mushroom soy sauce. (Do not marinate longer or the marinate will totally mask the wonderful tuna flavor, and you paid good money for that!) Mushroom soy sauce is a Chinese dark soy sauce that adds straw mushroom essence to the sauce's brew. It has a deep, rich flavor and more body and complexity than regular soy sauce and can be used in place of other types of soy sauce in most recipes. The brand to look for in Asian markets is Pearl River Bridge.

Seared Ahi Tuna Bites
2 tablespoons dry sherry
2 tablespoons soy sauce
1 tablespoon sugar
2 teaspoons toasted sesame oil
1 pound Ahi tuna steaks, cut into 1-inch pieces
3 tablespoons sesame seeds
1 teaspoon Chinese five-spice powder
1 teaspoon vegetable oil
Bamboo picks or skewers
Place the sherry, soy sauce, sugar, and sesame oil in a 1-gallon zip-lock bag and mix together.  Add the tuna, seal, toss to coat, and refrigerate for only 20 minutes.
Meanwhile, toast sesame seeds in a small skillet over moderate heat until they pop and are lightly toasted.  Place on a flat plate and mix in the five-spice powder.
After the tuna is finished marinating, heat a grill pan over high heat. When the pan is smoking, brush lightly with vegetable oil.
Dip each of the Ahi pieces on just one of the larger flat sides in sesame and spices to coat.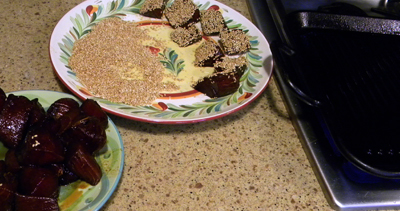 Cook tuna on a hot grill pan for 1 to 2 minutes on each side, searing the sesame seed-coated side last, and transfer to a serving plate. Tuna will be seared on the outside and still rare on the inside.  Place the skewers in a small glass or another container for guests to use to serve themselves.
Makes about 24 bites