Ahi!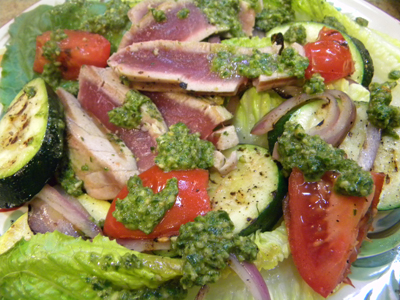 Whenever I'm in Costco, I check to see what fresh fish is available and if I see ahi tuna, I can't pass it up. Seared ahi is light and refreshing, and so is this salad. It was too hot to use the grill the other day when I made it, so I used the grill pan instead, but if the weather permits, use your grill outside and eat al fresco!
Ahi Tuna and Grilled Vegetable Salad
1/2 cup packed fresh basil leaves
1 garlic clove, peeled
1 tablespoon toasted pine nuts
1 tablespoon olive oil
1 tablespoon fresh lemon juice
Pinch of salt
3 tablespoons water
Two 6-ounce ahi tuna fillets
2 Roma tomatoes, quartered
1 medium zucchini, trimmed and cut on the diagonal into 1/4-inch slices
1 medium yellow crookneck squash, trimmed and cut on the diagonal into 1/4-inch slices
1/2 medium red onion, peeled and cut into 1/4-inch slices
Salt and freshly ground black pepper
1 heart of romaine lettuce, torn into individual leaves
Place the basil, garlic, pine nuts, olive oil, lemon juice, a pinch of salt, and the water in a food processor, and process until smooth. Transfer to a bowl, cover, and set aside.
Heat a grill pan over high heat and spray with Pam. Lightly spray one side of the tuna, the squash slices, and the onion with Pam, then season with salt and pepper.
Place tuna on grill pan and sear for 3-4 minutes on each side for medium-rare. Transfer tuna to a plate and tent with foil.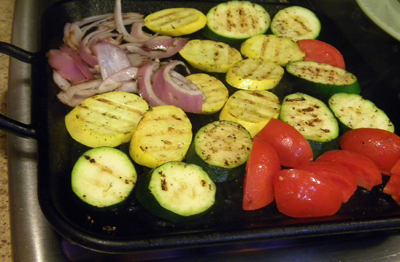 Place both squashes, onion, and tomatoes on the grill pan and cook until tender-crisp; about 5-6 minutes for onion, 3-4 minutes per side for squash, and 1 –2 minutes per cut side for the tomatoes.
Arrange the lettuce leaves on 2 dinner plates, drizzle with about half of the pesto, place the tuna and grilled vegetables on top of the lettuce, and drizzle with the remaining pesto.
Serves 2