The idea for this pizza came from the Corkscrew Cafe in Carmel Valley, California.
I've never been there. I have never had their pizza, but as you well know, I have Meyer lemons… so it is this pizza that I made!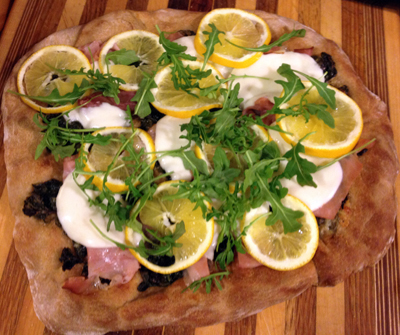 I read the description on the menu, and the plethora of raves about it on Yelp, and I came up with my own Meyer Lemon Pizza.
Are you worried that you may not like this pizza because of the full lemon slices on there? Peel and all! Please don't be. Meyer lemon peel is thinner and sweeter and it is delicious!
In addition, just yesterday, my friend, Amy (Amy's Famous Taco Soup) sent me an email with all kinds of amazing information about lemon peels.
Did you know that lemon peels contain as much as 10 times more vitamins than the lemon juice itself? Lemon peels eradicate toxic elements in the body. The peel is an antimicrobial agent that fights against bacterial infections and fungi, effective against internal parasites and worms, it regulates blood pressure, and is an antidepressant, that combats stress and nervous disorders. And according to the email Amy sent me, lemon kills cancer cells and is 10,000 times stronger than chemotherapy.
Now, I haven't done an ounce of research to back up any of the information in that email, it could be "internet truth." But if even 1/10th of that is true… well get out there and eat your lemons, peels and all… and start with this pizza! If you still are not convinced, you can always look to have pizza delivered to you through a simple online order.
January 23, 2013 2 Comments