The other big change in home decor since Christmas was the display on our sofa table.
We've had the table for nearly 20 years, and for that entire time it has been covered with pewter frames of various sizes that hold family photos.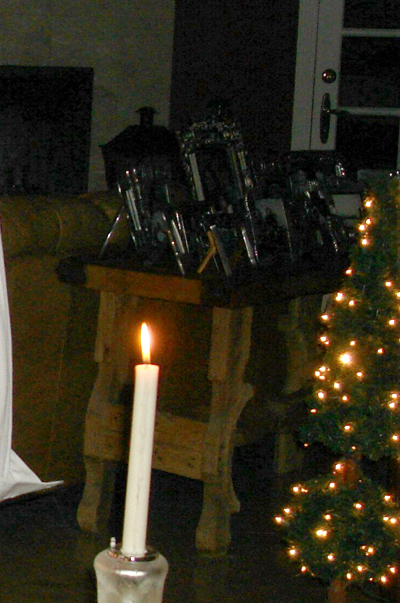 Oddly enough, I am not able to put my hands on a good photo of the table itself. I know photos of it exist, just not on my computer. In other words, said photos were taken before I owned a digital camera. The prints are in photo albums at home… and since I am currently in San Francisco, this sorry image will have to do.
I know it is terrible. That is because I had to really zoom in and then flood it with light.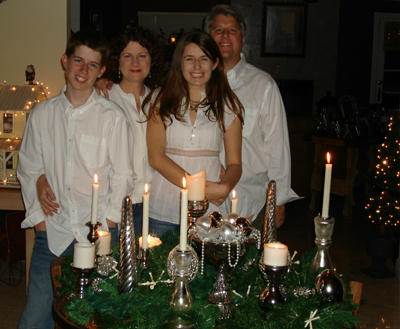 Here is the original photo, which was taken in December 2006. You wouldn't know to look at it, but the sofa table is in the dark background, on the right side of the photo, just off of Dave's elbow. Thank goodness for Photoshop.
Now that you've kind of seen a "before" photo – here is the "after." First a daytime image…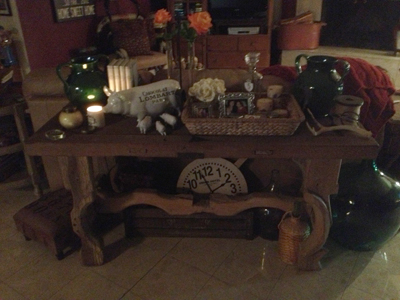 … and next, a nighttime view.
When Dave first saw the "remodel," he was not pleased. He liked the photo gallery better. The same photos that had sat on the same table for 20 years. Honestly, no one ever looked at or actually "saw" the photos anymore. So what was the point of displaying them in such a prominent place in the house? I've moved the frames to a credenza in our sitting room.
Hopefully, the new display has grown on him. I really like it.
Let's take a closer look.
January 27, 2013 6 Comments