Here is a quote from yesterday's post:
"So back to the drawing board. I hope to have it down by tomorrow and post the recipe and my success."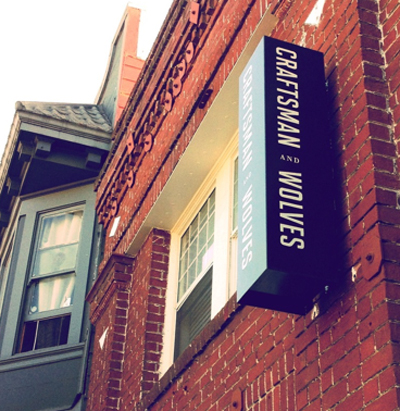 What I hoped to have down was the recipe for "The Rebel Within" from Craftsman & Wolves, a restaurant in San Francisco.  "The Rebel Within" is a buttery, cheesy, sausage flecked muffin with a soft-cooked egg in the center. The egg yolk in the muffin should be soft and runny with the oozing yolk dripping like liquid gold onto the plate.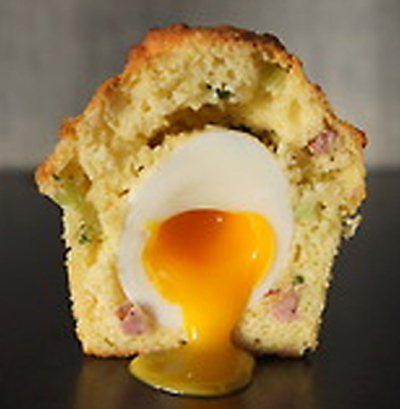 The muffin is named after a Hank Williams III song. Williams is the grandson of the legendary Hank Williams and the son of Hank Williams, Jr.
So, the big question is… did I get it right? Was I successful? Was the liquid gold running onto my plate?  No. No. and No!
I really wanted to name this post "Muffin Extraordinaire" but it's honestly only "Muffin Almost There."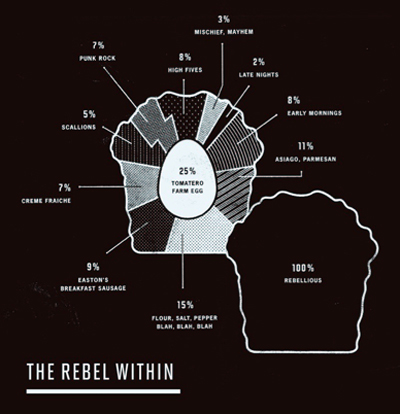 I developed the recipe by using the blueprint of the muffin that I found on the restaurant's website. It's a tongue-in-cheek blueprint with a hint of what ingredients to use, but it has no real portions. At least it gave me a starting point.
First, I tried soft poaching the eggs for 3 minutes in simmering water and then shocking the cooked eggs in ice water, as with THIS method. But once the muffins were baked, the yolks were firm, not even close to runny.
The second go-round, I tried only poaching three of the eggs for one minute and shocking them in the ice water. I cracked the remaining three eggs directly into the bottom layer of batter in the muffin tin.
I imagined that the 1-minute poached eggs would work and that the raw eggs would run all over the place and make a mess.
Once the muffins were baked, I anxiously cut into one of each type of muffin. The result? Exactly the same as the first time around. The yolks were cooked firm. The raw eggs did not run and make a mess, as I anticipated, they were firm right in the center of the muffin, just as the poached eggs were.
Even though the yolks didn't turn out as I had hoped, I am going to share the recipe I developed while trying to get it right, because even without runny yolks, the muffin is AMAZING! Wonderfully scrumptious. Somehow the muffin is dense, yet still fluffy and fabulously flavorful.
Instead of naming my version "The Rebel Within" I shall name mine "The Easter Egg Within."
January 31, 2013 9 Comments