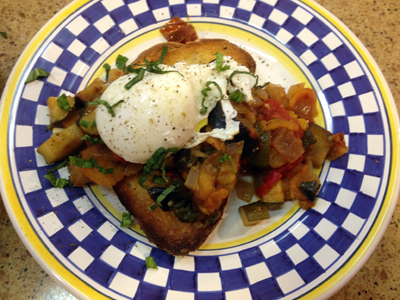 This is the final recipe from our dinner party with Karen and Bob. As with the other recipes, I found this in a food magazine, this time from the February issue of Food & Wine.
The changes I made; two large onions seemed like too much, so I decreased it to one. The recipe was called Ratatouille Toasts with Fried Eggs, it is now Ratatouille Toasts with Poached Eggs. Poached eggs are easier and able to be done ahead, a huge bonus when entertaining.
To do so; poach your eggs as normal, but under-cook them slightly. About 30 seconds off of your normal cooking time should do the trick. Just make sure the whites are nearly set. Lift the eggs directly out of the simmering water and into an ice bath to stop the cooking.  Then place them into the refrigerator until you need them.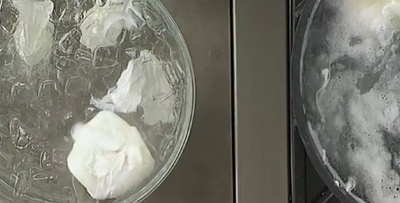 When you're ready to serve, bring a pot of water to a gentle simmer and give your eggs a final 45 seconds of poaching. Because the whites are already set, you can heat several eggs at once without worrying that they will stick together. This takes much less time than poaching all the eggs at the last minute.
I usually poach the eggs the night before or the morning of a dinner or brunch. In the recipe below, I have instructions as if you are going to serve the eggs immediately, just in case that is how you would prefer to do it. Use the instructions above for making ahead.
January 25, 2013 1 Comment