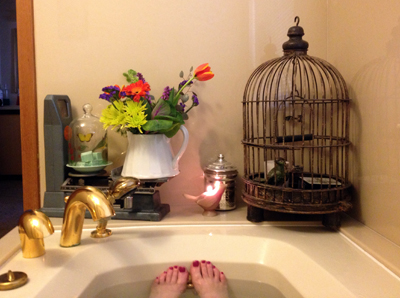 The last two days were dedicated to the dessert I served at dinner with our friends on Friday night. Today, we'll start at the beginning. The very beginning… in my tub where the menu inspiration hit me early one morning – in the wee hours when I should have been sleeping!
No, I did not have the foresight to actually take a tub photo at that moment, this was taken the next day, in fact, the flowers were a hostess gift from Karen and Bob. But this pretty spot is where quite of bit of my inspirational thoughts develop.  So quiet and relaxing. Nothing like a calming soak in the hot tub to clear the mind.  OK, enough of that… on to the tablescape.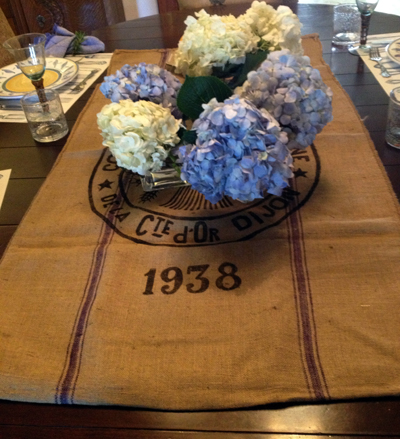 I wanted the evening to be easy, casual, and relaxed. Nothing too fancy, so I laid out a 1938 French grain sack as the table runner. Soft and pretty white and blue hydrangea blooms in square glass containers were the no-fuss centerpiece.
January 21, 2013 1 Comment